Israeli Elections Will be Another Referendum on Netanyahu | Opinion
I find it hard to believe I am writing about Israel's fourth Knesset election in two years. As Israel copes with its third wave of the COVID-19 virus, and will likely enter its third lockdown, the Israeli parliament has officially disbanded, automatically triggering a new election. The technical cause for the fall of the government was its failure to pass a state budget—in this case, the budget for 2020. This is the first time in Israel's history that a government fell for this reason.
Following the most recent election, Blue & White Party head MK Benny Gantz was tasked with forming the next government. However, after two members of his faction (Tzvi Hauser and Yoaz Hendel) refused to back a government supported from outside the coalition by the Arab Joint List, Gantz had no means of forming a governing coalition.
It was then, a mere eight months ago, that Gantz agreed to enter into a coalition with Prime Minister Benjamin "Bibi" Netanyahu, branded as an "emergency coronavirus government." Blue & White voters had relied on Gantz's word that he would never join a government headed by Netanyahu. By doing so, Gantz shocked and disillusioned his supporters, who had overwhelmingly voted for him in hopes of replacing Netanyahu. The agreement Blue & White reached with Netanyahu's Likud supposedly guaranteed Gantz would become prime minister for the second half of the government's three-year term; until that time, Gantz would control half the government ministries. Israel's Basic Laws were modified to reflect this new arrangement.
When the agreement was signed, an eager Netanyahu promised "no tricks, no shticks." However, it soon became clear he had a significant tactical maneuver up his sleeve. Under Israeli law, a national budget must be passed by a specific date, and if no budget passes by that date, the parliament is automatically dissolved. Gantz did not believe passing the budget would pose a problem, since part of his agreement with Netanyahu stipulated that a two-year budget would be passed by August—and the Likud had demanded authorization of a two-year budget.
But August came, and Netanyahu's confidant, Finance Minister Yisrael Katz, did not present a budget. So, a compromise was reached to change another Basic Law to extend the date of the budget presentation for the current year until December 20th, with the additional promise to pass both the 2020 and 2021 budgets. It became apparent that the reason Netanyahu refused to pass a budget was to give himself maximum flexibility regarding when new elections would be held—in such a way that would prevent Gantz from serving as prime minister in the interim. (The Netanyahu-Gantz agreement mandated that if the government fell as a result of a no-confidence vote, Gantz would become prime minister for the time leading up to the election. There was no provision for that to happen if the Knesset disbanded because a budget was not passed.)
As December neared, Blue & White explicitly stated it was unwilling to allow a one-year budget for 2020 to be passed without a budget for 2021, which would ensure that Gantz would replace Netanyahu as prime minister when it was his turn, and also provide Israel with additional economic stability. At the same time, Netanyahu wanted to keep open his escape route from his agreement with Gantz, which he could only accomplish by not passing a 2021 budget.
Netanyahu seemed unconcerned about a government that has been operating without an updated, approved budget for the last two years. Moreover, the prime minister believed holding elections in late spring or early summer would be better timing for him than heading to the polls in late March. As such, it was in his interest to pass the 2020 budget without approving a budget for 2021. Netanyahu hoped that, by late spring, most of Israel's population would be vaccinated against the coronavirus, allowing society and the economy to be on their way to recovery, and Israelis would be more likely to forget his government's failures.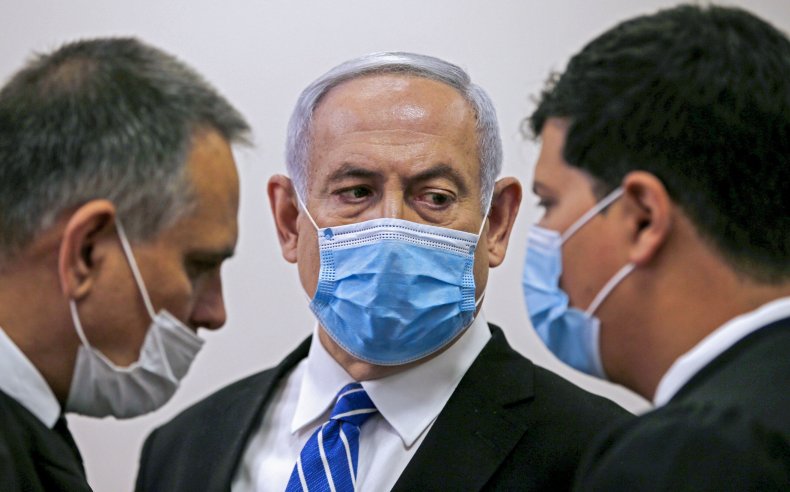 Despite his continued denials, Netanyahu seemed more than willing to hold new elections, if he could avoid turning over the prime ministership to Gantz. However, Netanyahu's willingness to precipitate elections changed on December 8th, when MK Gideon Sa'ar, (a lifelong Likud loyalist) announced he would leave the Likud and form a new party to oppose Netanyahu. Initial polls show that Sa'ar's new party could do quite well in the next election. That has only been strengthened by others from the Likud who have joined Sa'ar in the last week.
Sa'ar, whose views are on the right wing of the Israeli political spectrum, makes a difficult target for Netanyahu, whose standard attack is calling opponents "radical leftists." Having Sa'ar (who has pledged not to enter into a government with Netanyahu) in the picture makes Netanyahu's prospects of reelection seem less likely.
Realizing the significance of this shift in political alliances, Netanyahu reopened serious negotiations with Blue & White. While the talks did make progress, Netanyahu was unwilling to give in and accept the initial agreement without added concessions from Gantz relating to the Ministry of Justice, which is indirectly overseeing Netanyahu's trial. While Gantz appeared willing to go along with some of the prime minister's demands, several Blue & White members were less inclined.
During the evening of December 21st, with the Knesset set to automatically dissolve at midnight, a last-minute attempt was made to extend the deadline by amending the law requiring a budget pass by the 22nd. Some members of Blue & White had COVID-19 and others were in quarantine. Several refused to support another extension, and a couple of Likud members aligned with Sa'ar suddenly voted against the government. Thus, despite Netanyahu's efforts, the vote failed and on March 23rd, Israel, which has no means of remote, or mail-in voting, will hold its fourth Knesset election in two years—amidst a pandemic.
Six weeks ago, a former Likud leader told me privately that Netanyahu had better agree to the rotation with Gantz, because if elections are held, Netanyahu would lose. Over the years, election pollsters have compared the strength of the right wing and the left wing. This time, that seems to be less of a factor. Instead, pollsters have been presenting the strength of the "pro" and "anti"-Bibi parties. If elections were held today, and if the pollsters are correct, Netanyahu has no path to form a new government.
Still, no one should underestimate Netanyahu's raw abilities as a politician. The prime minister has significant successes to which he can point, including arranging for Israel to receive a massive number of coronavirus vaccines exceedingly early, and peace agreements with four Muslim states signed during the last few months. That being said, three months is a long time in Israeli politics, and the upcoming election will be conducted in the shadow of Netanyahu's corruption trial. It should also be noted that Netanyahu failed to win a governing coalition in any of the past three elections.
Much can happen in the next three months—creation of new parties, mergers of old parties, entrance of new and veteran leaders joining the political scene. Yet, to most Israelis, this upcoming election will feel very much like groundhog day. Once more, the only real issue on the ballot will be, should Netanyahu continue as prime minister? Stay tuned.
Marc Schulman is a multimedia historian.
The views expressed in this article are the writer's own.