Israeli Embassy Tweets Images of Jihadist Mona Lisa and Michelangelo's David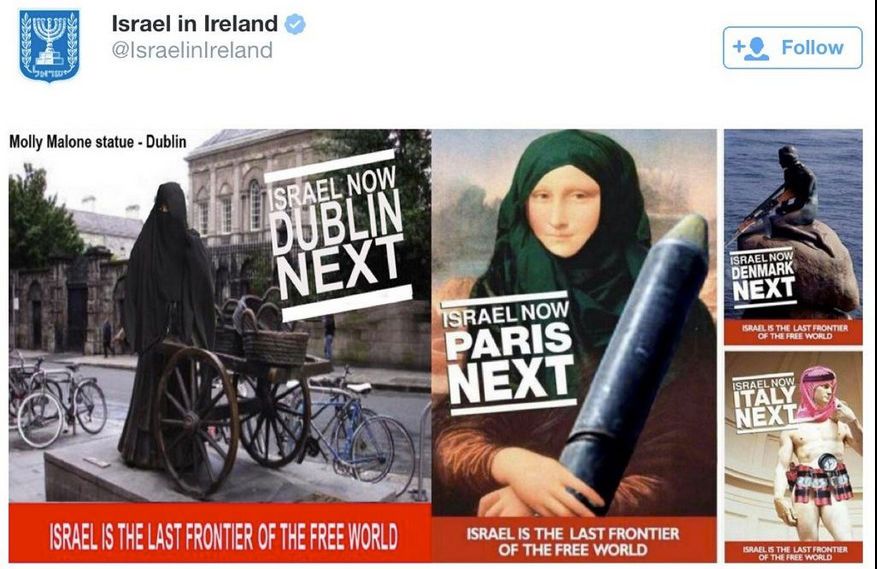 The official Twitter account of the Israeli embassy in Dublin has taken down a series of controversial tweets depicting European artworks such as the Mona Lisa and Michelangelo's David reimagined as Islamist militants. The images are captioned "Israel is the last frontier of the free world".
Dublin's own statue of Molly Malone was portrayed wearing a niqab, with a caption reading "Israel Now, Dublin Is Next."
An image of the statue of David wearing a skirt of explosives and Palestinian headscarf was addressed to Italy - "Israel Now, Italy Is Next" - while a portrait of Mona Lisa in a hijab brandishing a large rocket bore the caption "Israel Now, Paris Is Next".
Copenhagen's Little Mermaid statue was pictured holding a gun and a message reading "Israel Now, Denmark is Next".
"There was no intention to cause insult or offense to anyone," the Israeli ambassador Boaz Modai's office told Newsweek. The tweets have since been removed.
Modai's office said the images were taken from Israeli daily news website ynet.com and were taken down "immediately" after a follower of the Twitter account complained.
"I was quite shocked to learn this material came from a diplomatic source," Ghaffar Hussain, managing director of the Quilliam Foundation, a UK-based anti-extremism group, told Newsweek. "It is the kind of crude propaganda that you associate with the far-right."
"The material itself played on fears of a Muslim takeover of Europe and as such was grossly irresponsible and dangerous in that it could damage community relations by promoting negative stereotypes of Muslims," he added.
This is the second time in two weeks the Dublin embassy has caused controversy on Twitter, as the same account posted a photo of Adolf Hitler superimposed on the Palestinian flag last Monday.
Ambassador Modai's has been an unusually outspoken supporter of the offensive in Gaza, even calling the UN Human Rights Council the "UN Terrorist Rights Council" on Irish radio station Newstalk last week.
"We have no further comment to make at this stage due to our ongoing duty to show the daily terror of Hamas rocket attacks," Modai's office told Newsweek.