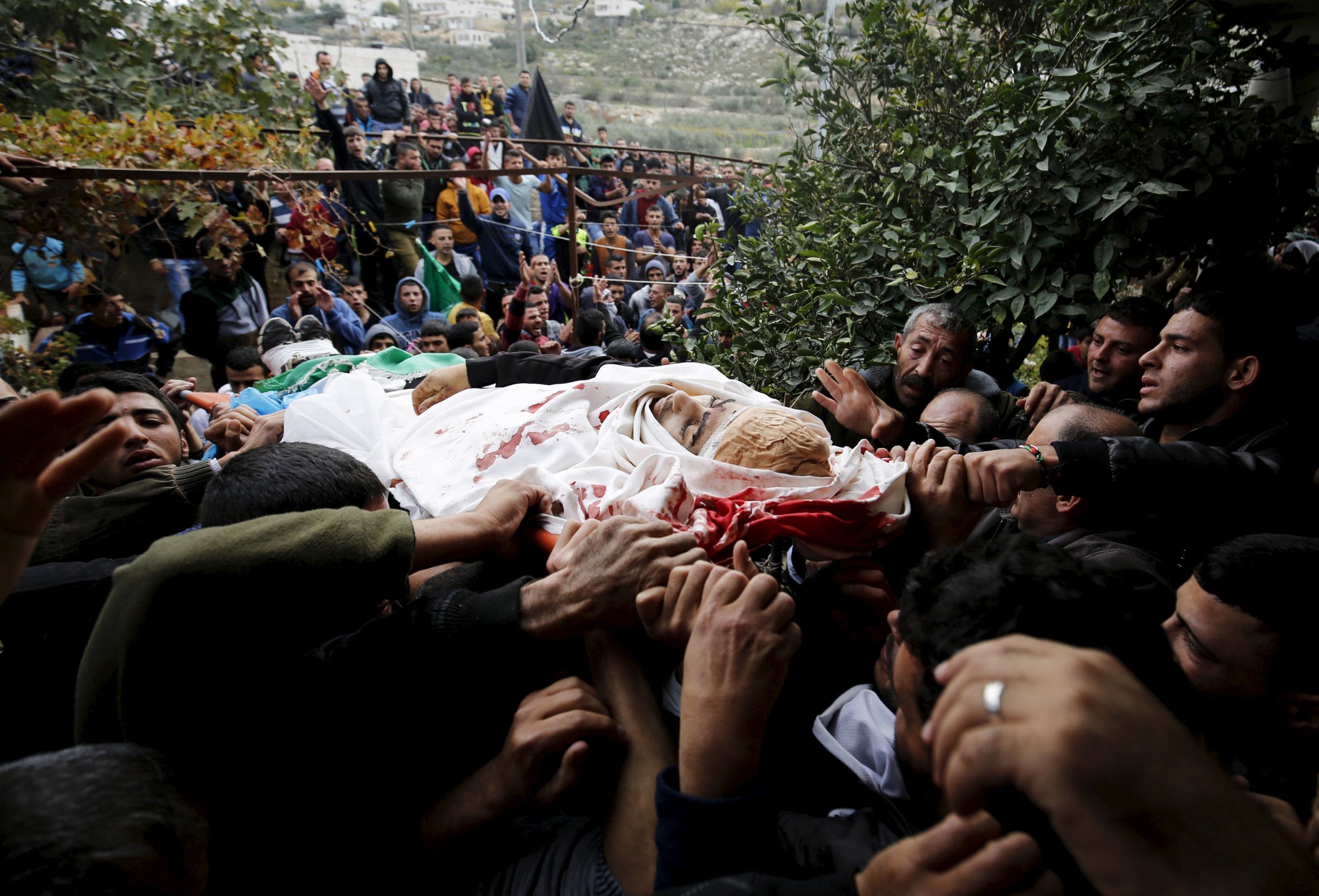 JERUSALEM (Reuters) - Military commanders and the Netanyahu government argued over the right strategy to end two months of stabbings and shootings on Thursday as Israeli troops killed three Palestinians in confrontations in the occupied West Bank.
The attacks, many of them carried out spontaneously by young Palestinians, have killed 19 Israelis and an American since Oct. 1. Israeli forces have killed 91 Palestinians, some while carrying out assaults and others in clashes with police and troops. Many of those killed have been teenagers.
While the bloodshed has in part been stoked by Muslim anger over Jewish visits to the Aqsa mosque compound in Jerusalem - a site holy to both Muslims and Jews, who refer to it as Temple Mount - Israeli security services have echoed Palestinian officials in identifying failed peace talks as another cause.
That is at odds with the Israeli government's view that the main driver is incitement by the Palestinian leadership and weak security enforcement by President Mahmoud Abbas.
On Thursday, Israeli soldiers raided the village of Katane, near the West Bank city of Ramallah, in what the army said was a search for militants and weapons. It said locals threw petrol bombs and rocks at the troops, who fired at one of them. Palestinian officials said a 21-year-old man was killed.
At a checkpoint near Nablus, Israeli paramilitary police shot dead a Palestinian who they said had charged at them with a knife. The Palestinian health ministry gave his age as 51.
A third Palestinian, aged 20, was shot by Israeli forces during clashes in al-Arroub refugee camp near Hebron, and died in hospital, the ministry said.
Abbas Says Palestinians Losing Hope
"Disappointment, despair and loss of hope in the future led our youth to reactions like those we are witnessing," Abbas told reporters.
"The current Israeli government has failed every chance to make peace, and destroyed the foundations of the political, security and economic agreements, which makes us unable to implement, alone, signed bilateral agreements," he said.
Israeli military officers, as well as foreign observers, have credited Palestinian security forces with containing some of the violence with pre-emptive arrests of potential attackers.
On Wednesday, Israeli media quoted an unnamed senior military officer as recommending the government head off what he described as a "limited uprising" by admitting more Palestinian laborers, freeing low-risk Palestinian prisoners and better arming Abbas's forces.
On Thursday, the commander of Israel's premier paratrooper brigade, Colonel Nimrod Aloni, said tackling Palestinian violence was a matter of "a great degree of confusion".
"Is there a chance of winning? I think this is really, really not a military question, that it is very, very much linked to government decisions," he told Israel's Army Radio. "At this stage we are playing defense, almost at our goal-line, and trying to prevent the next terrorist attack from happening."
But a senior Israeli government official said there was no internal division over how to tackle Palestinian violence.