Israeli Hospital Ad Showing Fetus as Soldier Accused Of Militarizing the Unborn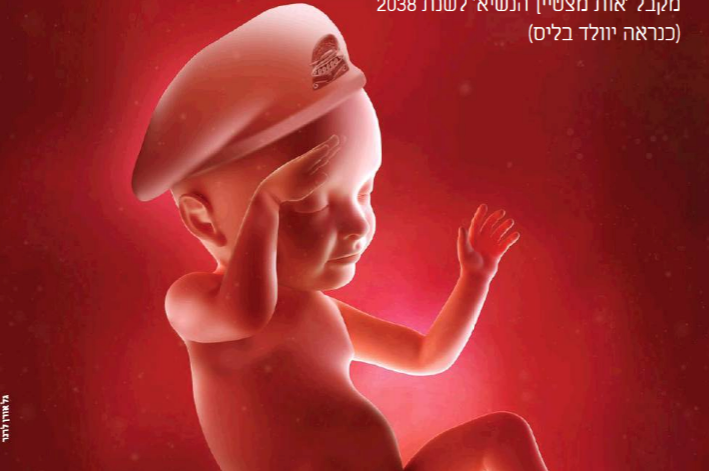 An advert for an Israeli maternity ward has been accused of militarizing children before they are even born, as it portrays a fetus doning a military beret and performing an army salute.
The ad for the Lis Maternity Hospital in Tel Aviv was published in the newspaper Makor Rishon, which is affiliated with right-wing political parties such as Likud and Jewish Home.
Published in the weekly broadsheet, it features an unborn child wearing a beret with the caption underneath reading "received the President's Award for Excellence, 2038." The award is a high military honour handed out on the even of Israel's Independence Day. Most Israelis are conscripted into the army at the age of 18 for between two to three years, although exceptions are made on religious, physical and psychological grounds, and a small minority chooses conscientious objection.
The image has been published at a sensitive time, especially with Israeli forces facing heavy international criticism for the killing of 60 Palestinians during a march on the border with Gaza last week after the opening of the U.S. Embassy in Jerusalem.
Also, last week, Israel's ambassador to the United Nations Danny Danon called for a U.N. response to his claims that Hamas, which controls Gaza, used children as human shields, the Times of Israel reported.
But journalist Mairav Zonszein expressed outrage, and wrote on the Tel Aviv-based website +972 Magazine: "Portraying an unborn child as a soldier is disturbing in its own right, regardless of country.
"In Israel, an occupying power whose military has for over five decades been primarily concerned with maintaining control over a civilian population, this ad is even more charged and offensive," she said.
"The notion that a good hospital will produce good soldiers is pathological. That a top hospital believes the best way to get women to choose their maternity ward is by convincing them their baby is destined to be a successful soldier in the Israel Defense Forces is also a genuine indication of just how militaristic Israeli society is," Zonszein added.
The webzine published an emailed response from a spokesperson for Ichilov Hospital, which the maternity wing is part of, stating: "This was a one-time ad published in Makor Rishon."
The ad has attracted criticism on social media. Sarah Wilkinson tweeted: "Pathological advert for an Israeli baby-unit depicts a fetus as a subservient, militarised, choiceless Israeli 'soldier'," while Kamel Hawwash wrote: "Disturbing and disgusting. Where is Israeli society heading?"