Israeli Justice Minister Gets Armed Escort After Death Threats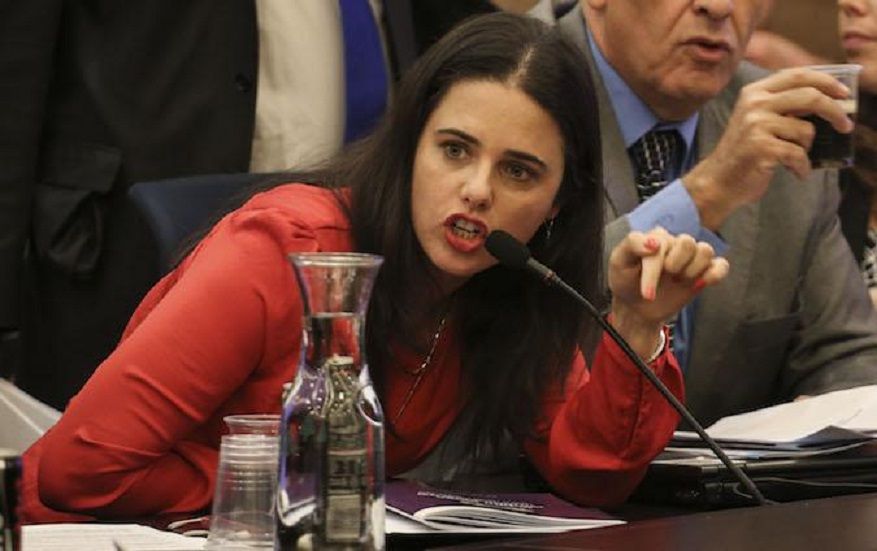 Israeli politician and incoming justice minister, Ayelet Shaked, has been assigned her own security detail because of death threats made against her on social media.
The detail, which includes armed guards, was employed after mocked-up photos showed Shaked in a Nazi SS uniform. Knesset speaker Yuli Edelstein confirmed the new bodyguards on Monday, saying that it was the Israeli parliament's responsibility to protect its members.
"We were stunned by the explicit threats made against MK Ayelet Shaked, in the form of photos of her in SS uniforms, and the Knesset officer announced that she shall be secured," he said.
Shaked is a rising star in the right-wing Jewish Home party and was selected for the justice minister position in prime minister Benjamin Netanyahu's coalition cabinet after the party's leader Naftali Bennett threatened to withdraw Jewish Home's support of Netanyahu and remove his one-seat majority if she wasn't.
The new justice minister, who has no legal background, caused controversy before and during last summer's Gaza conflict, writing "Who is the enemy? The Palestinian people" on her Facebook page a week before the kidnap and murder of 16-year-old Palestinian Mohammed Abu Khdeir by Israeli extremists. She later quoted comments that Palestinians are "little snakes" and that Palestinian civilians had "blood...on all their heads" for facilitating acts of terror against Israel.
After the announcement of her appointment to the justice ministry last week, left-wing Israelis and online activists criticised her record, using the comments she made last year to accuse her of supporting genocide.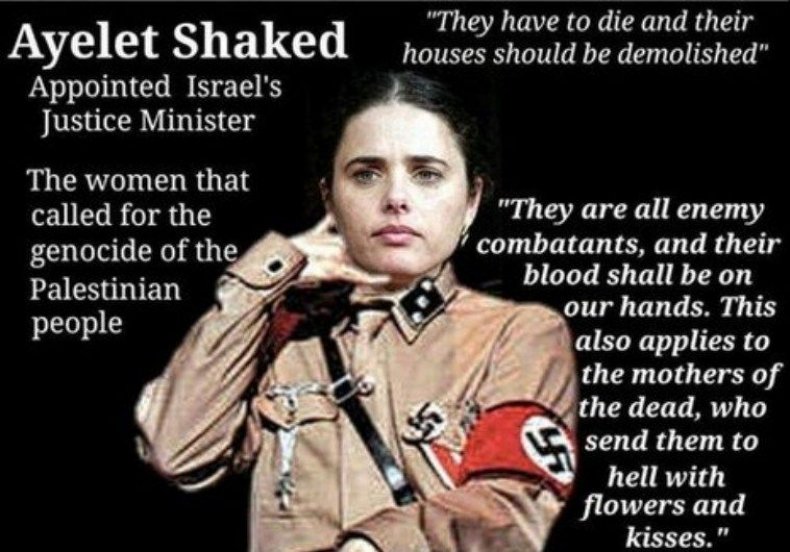 International condemnation also followed the Facebook post last year, with Turkish president Tayyip Recep Erdogan comparing Shaked to Adolf Hitler. "An Israeli woman said Palestinian mothers should be killed, too. And she's a member of the Israeli parliament. What is the difference between this mentality and Hitler's?" he asked.
However, Tzipi Livni, herself a former justice minister and opposition Zionist Union member in March's general election won by prime minister Benjamin Netanyahu, condemned the threats against the minister despite disagreeing with her political views.
"I heard on the radio this morning that in addition to the ugly chauvinistic statements against Ayelet Shaked, they dressed her in SS uniforms," ​​she said.
"I profoundly disagree with the views of Ayelet Shaked, members of Jewish Home and the new government in general - but I strongly condemn the chauvinistic attitude of these images, especially those with the SS uniform."
Ron Gilran, vice-president of the Tel Aviv-based geopolitical risk consultancy the Levantine Group, says that the Nazi-related social media posts hold significance because of their link to the previous assassination of Israeli leader Yitzhak Rabin by a right-wing Orthodox Jew in 1995.
"Assigning bodyguards to MKs (members of the Knesset) is relatively rare in Israel. Usually it happens several times in a Knesset term, usually due to threats," he says.
"In this case, there were pictures depicting her in SS uniforms. In Israel, there is a very symbolic meaning, not just because it is Nazi uniforms, but because they used to dress up Rabin like this in protests just before his assassination."
In March's election, the Jewish Home party's standing in the Knesset declined by four seats to just eight seats from the 12 they had won in the previous 2013 election. Shaked will officially become justice minister next week when the new government is sworn in.
A representative for the Arab-majority Joint List bloc was not immediately available for comment.
This story originally quoted Ron Gilran as saying 'mini
Correction: This story originally quoted Ron Gilran as saying 'ministers', it has been updated to reflect that he said MKs (members of the Knesset).
Israeli Justice Minister Gets Armed Escort After Death Threats | World