Although Israel has not joined the U.S. and Europe in sanctioning Russia in response to its attack on Ukraine, it is warning lawmakers to keep their distance from Jewish Russian oligarchs who may use the country to avert the sanctions.
Foreign Minister Yair Lapid recently told Cabinet members they "have to be very careful because those guys have connections and they can call you on the phone and ask you for things."
"Don't commit to anything because it could cause diplomatic damage. Say you can't help them and give them the number of the Foreign Ministry," Lapid said.
Anyone of Jewish descent is automatically granted citizenship in Israel, and an estimated 1 million Jewish people from Russia and other former members of the Soviet Union have moved to the country, the Associated Press reported. Several dozen Jewish Russian tycoons are believed to have begun residing in Israel in recent years under the citizenship rule.
Lapid's comments that warned Israeli lawmakers to be wary of the oligarchs were first reported by Israeli media, which cited officials who attended the Cabinet meeting and spoke on condition of anonymity.
The foreign minister issued another warning Monday while in Slovakia, as Israel seeks to balance its citizenship commitment to all Jews and pressure to stop the tycoons from using the country to avoid the sanctions.
"Israel will not be a route to bypass sanctions imposed on Russia by the United States and other Western countries," Lapid said.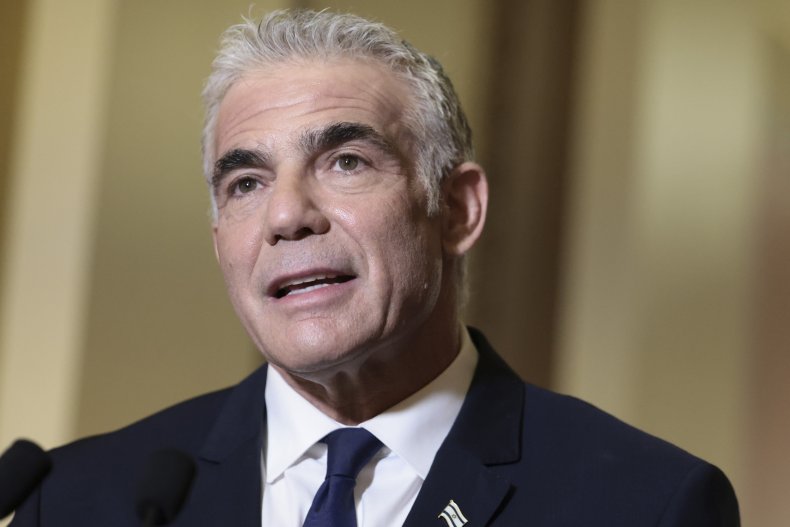 He said the ministry was collaborating with other government entities, like Israel's Central Bank, to make sure that oligarchs aren't using the country as a shield against the economic measures, the AP reported.
The Israeli government has also created an inter-ministerial committee that will monitor the sanctions concerns, including what happens to the tycoons who are supposed to be subject to them, Foreign Ministry spokesperson Lior Haiat said.
Israel's Foreign Ministry declined to offer any additional comments to Newsweek.
Several Jewish Russian tycoons are facing global sanctions for alleged ties with Russian President Vladimir Putin, including Chelsea Football Club owner Roman Abramovich, Mikhail Fridman, Petr Aven and Viktor Vekselberg, the AP reported. Some of the sanctions existed before Russia launched its assault on Ukraine.
Abramovich, who became an Israeli citizen in 2018 when his British visa was not renewed, has already experienced fallout from Russia's invasion, within and beyond Israel. Yad Vashem, Israel's national Holocaust memorial, said last week that it was halting a reported donation from Abramovich, worth tens of millions of dollars, "in light of recent developments."
Earlier this month, Abramovich said he would be selling Chelsea FC, a decision he said was "in the best interest of the Club, the fans, the employees, as well as the Club's sponsors and partners."
"Please know that this has been an incredibly difficult decision to make, and it pains me to part with the Club in this manner. However, I do believe this is in the best interest of the Club," he said in a statement.
Update 03/14/22, 5:15 p.m. ET: This story was updated to reflect that Israel's Foreign Ministry declined to comment.