Israeli Minister Bans Artwork by Students Who Displayed Support for Palestinians Killed in Gaza Clashes
Artwork created by some students at the Bezalel Academy of Arts and Design in Jerusalem was banned from being displayed at an international science conference by an Israeli minister after the students showed support for Palestinian protesters killed on the Gaza border. At least 60 protesters have been killed by Israeli forces during demonstrations against the relocation of the U.S. Embassy.
Science, Technology and Space Minister Ofir Akunis said he supports freedom of expression but "will not permit freedom of humiliation," Haaretz reported.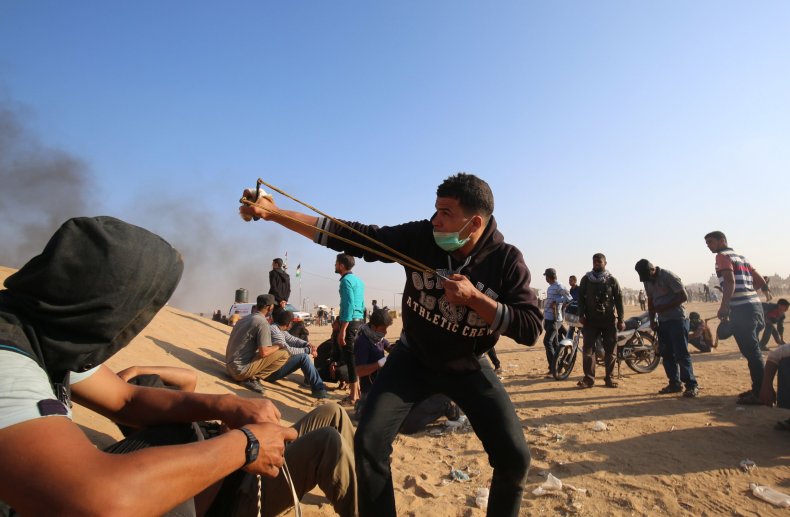 It all began after a group of students mounted a display Wednesday in solidarity with the protesters who have been killed. According to the Walla News Hebrew-language site, students hung up posters at the art academy with the names of 60 Palestinians killed during clashes.
Haaretz reported that students also posted a map of the Gaza Strip with the caption "I'm not your toy." The quote is a reference to lyrics from the song "Toy" by Israel's 2018 Eurovision Song Contest winner, Netta Barzilai.
The Palestinian Health Ministry in Gaza announced that 62 protesters were killed Monday and Tuesday. Israeli officials claimed that many of the Palestinians killed were members of Hamas and the Islamic Jihad organization, The Times of Israel reported.
On Wednesday, Hamas claimed 50 of the Palestinians killed were members, while Islamic Jihad officials confirmed Tuesday that three of the casualties were members of the group's military faction.
Akunis, a member of the right-wing Likud Party, said he is "always in favor of freedom of expression and creativity" but "will not permit freedom of humiliation," Haaretz reported.
"Even Hamas has already announced that the fatalities on the Gaza border are their people, meaning terrorists," he said. Akunis could not be immediately reached for comment.
The display by Bezalel was met with outrage from fellow students. Dudi Eltsufin, who leads the academy's student group associated with the right-wing Im Tirtzu movement, called the display "hateful posters."
"Again we are witnessing a shocking phenomenon in which hateful posters expressing pride for terrorists are distributed," Eltsufin told The Times of Israel. Students also hung posters with the names of Israelis who have been killed in militant attacks.
Jerusalem Mayor Nir Barkat criticized the display and called on the school to take it down. "I was shocked to see the names of terrorists who assaulted the Gaza-Israel border with the goal of killing Jews displayed on the walls of the Bezalel Academy," he wrote on Twitter.
In a statement to local press, Bezalel Academy stood by its students. "The academy at Bezalel is a safe zone for freedom of speech in Israel, and it enables the students to engage in free, critical and creative discourse in the various subjects that interest them," it said.
The school did not immediately respond to a request for comment.