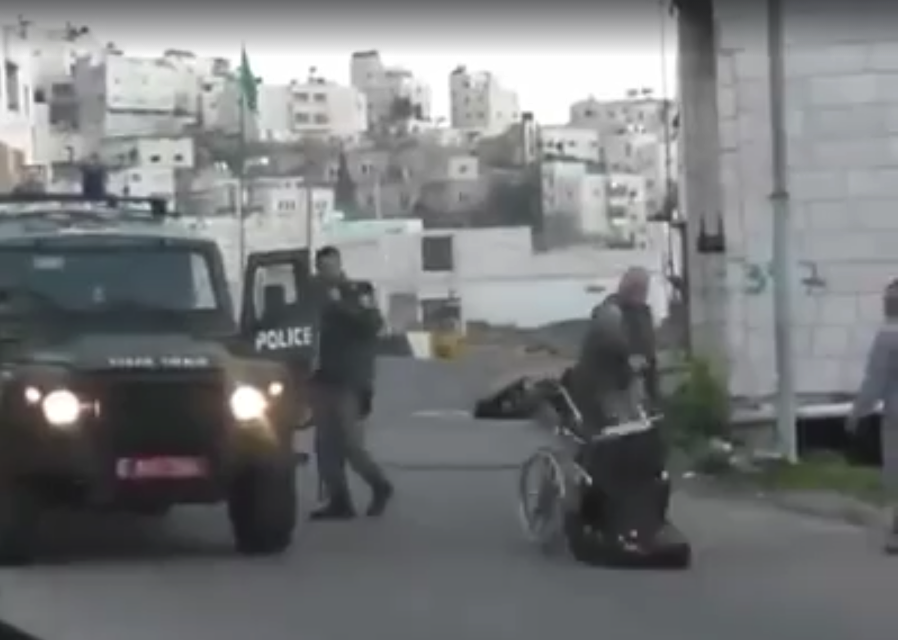 Bystanders near the West Bank town of Hebron filmed an Israeli border police officer pushing a wheelchair-bound Palestinian man to the ground on Sunday, in the aftermath of an attempted stabbing attack by a Palestinian teenager, according to footage circulating on social media.
The video footage shows the unidentified officer tipping the Palestinian man out of his wheelchair near the city's historic Tomb of the Patriarchs. Palestinian news agency Shehab posted the footage to its Facebook page, amassing more than 130,000 views and 2,500 shares.
Palestinians had gathered at the scene of the attempted attack in a bid to reach the shot and injured Palestinian attacker. Israeli forces were attempting to clear the area before the officer shoves the man, who then hits his head on the ground.
Palestinians at the scene then approach the man, before another Israeli officer appears to kick a Palestinian away and a stun grenade is thrown, forcing the Palestinians gathered to flee.
While Israeli daily newspaper Haaretz said the Palestinian man was disabled, his condition is unknown. A number of Palestinian attackers have disguised themselves in order to carry out attacks against Israeli soldiers.
In the Gaza conflict of 2014, Palestinian gunman dressed as Israeli soldiers and in October 2015, a Palestinian man dressed as a press photographer to conduct a stabbing attack against an Israeli soldier.
After Sunday's attempted stabbing attack, border police said that riots took place in the area and Israeli forces used crowd dispersal measures to quell the unrest.
Micky Rosenfeld, spokesman for the Israeli police, said that the footage had been passed to the Justice Ministry department responsible for the investigation of police officers and an investigation had been opened.
"A few minutes after a terrorist attack had taken place by a woman terrorist adjacent to that area, a crowd gathered and attempted to get into the area where the attack had taken place," he said in an email statement released to Newsweek.
"Border police dispersed the crowd and used non-lethal means. The man in the wheelchair was part of that crowd that had gathered. The footage of the incident is being looked into by the ministry of justice that examines those types of incidents of border police behavior."
On Sunday, Israeli forces shot and killed five suspected Palestinian attackers in Jerusalem and the West Bank. Since the beginning of this prolonged wave of violence in October 2015, Israeli security forces have killed at least 163 Palestinians, 107 of which Israel said were attackers, while Palestinians have carried out stabbing, shooting and car-ramming attacks that have killed 27 Israelis and a U.S. citizen.