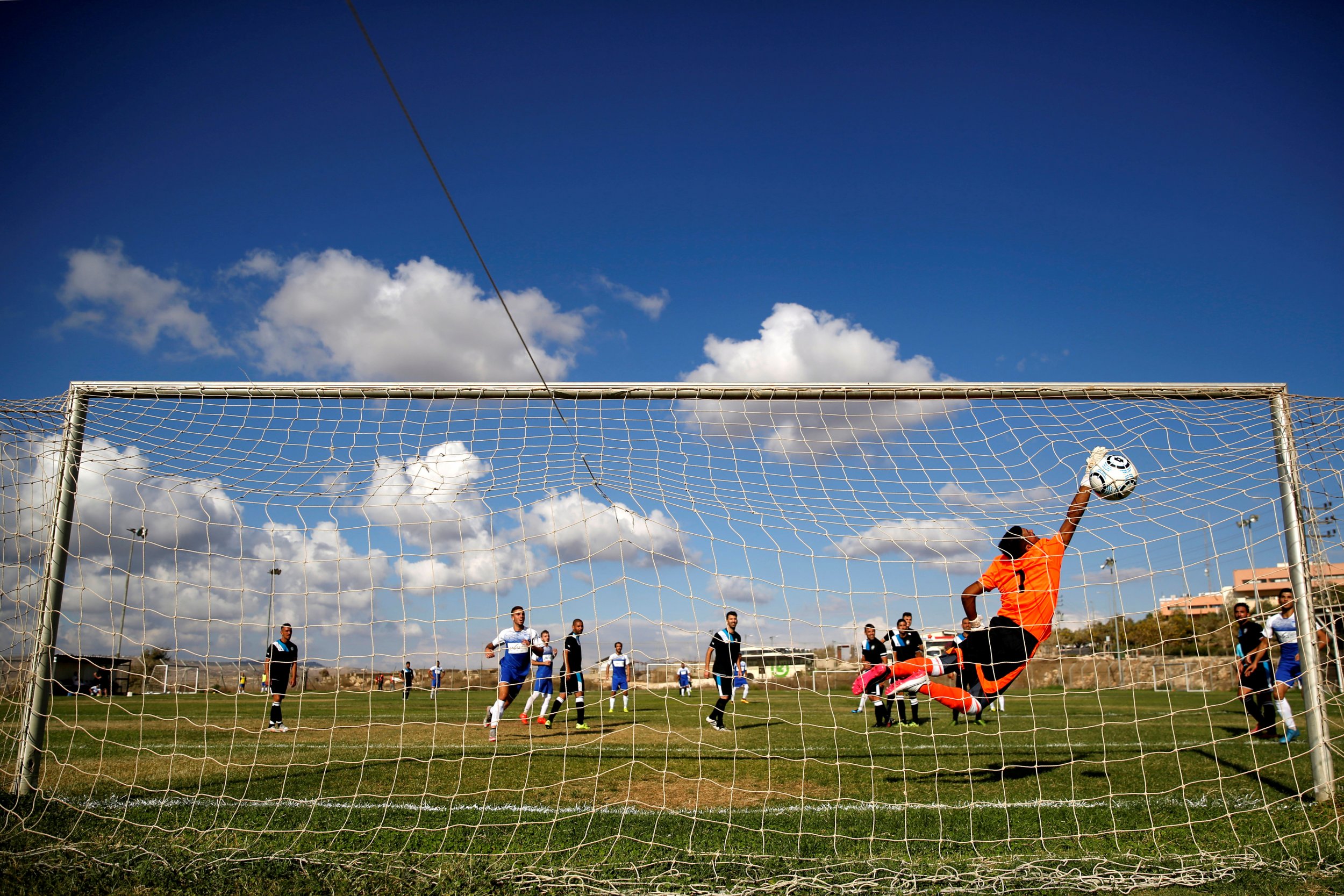 Blue and white flags, emblazoned with the Star of David, on one side ; green, white, black and red on the other. Two sets of fans—Israeli and Palestinian. Two enemies in a decades-long conflict—not one about land, but over who can score the most goals.
This is the ambition of Israeli Football Association (IFA) President Ofer Eini, who in May revived disgraced former FIFA Sepp Blatter's 2015 proposal for a match for peace between Israel and the Palestinians. The game, he said, would act as a "bridge to bring people together," with all profits going to a joint Israeli-Palestinian football academy.
Eini made his offer at FIFA's annual congress in Manama, Bahrain's capital, on May 11, after the Palestinian Football Association (PFA) once again failed to persuade members to vote on its motion to ban six Israeli teams from playing in West Bank settlements Ma'aleh Adumin, Kiryat Arba, Ariel, Oranit, Givat Ze'ev and a cluster of settlements in the Jordan Valley.
FIFA President Gianni Infantino and a majority of his members (73 percent) delayed the vote on the same day as Eini's offer, setting a deadline of March 2018 for a decision on the Palestinian motion to ban the clubs. In a statement, FIFA said it was too "premature" to decide on the final status of the clubs. He said he would put the issue on the agenda of a FIFA council meeting in October. It is the fifth year FIFA has delayed a decision on the issue.
The body largely avoids involvement in political issues, but the conflict between Israelis and Palestinians is one of the most unrelenting in the world and the most popular sport in the region cannot help being pulled into its political quagmire.
While Israel wants the sport to be free from politics, ordering its ambassadors around the world to lobby against the vote, the Palestinians want to put politics at the center of the playing field. For them, like Blatter's earlier proposal and an invitation from Barcelona to play against a mixed team of Israelis and Palestinians in 2013, the offer of a peace match comes at a particularly bad time.
'Masters and slaves'
The PFA argues that the settlement clubs' membership of the Israeli FA contravenes FIFA's statutes, and their involvement in Israel's football leagues is little more than an attempt to normalize Israel's occupation of the West Bank. It says dropping the motion would be a justification of Israeli violations.
"We like the idea, and we have said that many times," PFA President Jibril Rajoub tells Newsweek by email. "But before it happens, as with any other grand enterprise, let's meet the conditions and the pre-requirements and pave the road for it."
But, for Palestinians, the hope of Israel meeting those requirements anytime soon is far-fetched. Israel continues its military occupation of East Jerusalem and the West Bank, its soldiers have raided the PFA headquarters, and it has imposed travel restrictions on football teams from Gaza and the Palestinian national team (to play abroad Palestinians must fly via Israel's Ben Gurion airport in Tel Aviv or leave via the Israeli-controlled Allenby crossing into Jordan).
Palestinians have also accused Israel of detaining football players and bombing a stadium in Gaza in 2012—an act condemned by footballers, including Chelsea's Eden Hazard in a joint statement. Israel cites security concerns for its policies.
On what the requirements would be for such a match to happen, PFA vice president Susan Shalabi says peace moves do not happen "between masters and slaves," but those who "recognize they are equals, and entitled to exactly the same rights"—just as the rules of football provide the players of the game.
"Once they take a real step toward us, they will find that we are ready to take two steps toward them," she adds.
The settlement teams play in territory that much of the international community views as illegally occupied and that the Palestinians have earmarked for a future sovereign state. Rights groups say part of the territory the teams play on is actually privately-owned Palestinian land. Article 83 of FIFA's own statute dictates that the football clubs of its members "may not play on the territory of another member without the latter's approval."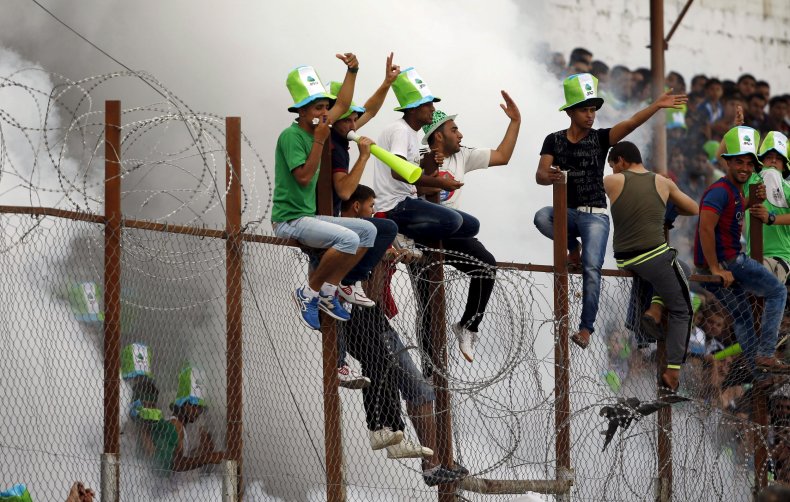 'Hebron, Jerusalem, Tel Aviv, Bahrain'
But Israeli Prime Minister Benjamin Netanyahu, who directly intervened in FIFA's vote and called on Infantino to remove the motion, argues that the clubs are legitimate as they sit within Area C of the West Bank, the more than 60 percent of the territory where Israel has full security and civil control under the 1995 Oslo II Peace Accords. Israeli officials say a successful Palestinian motion would punish more than 1,000 children playing on the other side of the Green Line, the boundary between Israel and the Jordanian-controlled West Bank before the 1967 Six-Day War.
Israel's government believes the teams should remain able to play in the territory right-wing lawmakers refer to by the biblical terms Judea and Samaria. The IFA wants the peace match to demonstrate that the sport need not be used as a political tool at the international level. The authority says it is willing to host the game wherever is necessary to make the proposal a reality.
"We will come to every place," IFA spokesman Shlomi Barzel tells Newsweek by phone. "Hebron, Jerusalem, Tel Aviv, Bahrain."
But what impact—besides perhaps quelling the Palestinians' bid to ban the settlement teams—would such a match have on a conflict where peace process after process has failed? For Israelis, it could improve the atmosphere at a time when a solution appears more unattainable than ever, since the last peace negotiations collapsed in 2014.
"Such an event might be a psychological gamechanger if it is honored by both leaders...using this event as a sort of ceremony for resuming the political process," says Kobi Michael, former head of the Palestinian desk at Israel's Ministry of Strategic Affairs, and now a lecturer at Ariel University in the settlement of the same name where one of the Israeli teams plays its matches.
But sport is not always a path to peace. Both North and South Korea have faced off on the football pitch several times, but remain at war. A planned peace match between Colombian government forces and FARC guerrilla rebels failed to materialize in April 2014. Matches between Beitar Jerusalem, which has a notorious far-right section of hardcore supporters, or "ultras," known as La Familia—bitterly hostile to Arabs—and Bnei Sakhnin, the only Arab team in Israel's top division, take place only with heightened security.
Chants from both sets of supporters are vitriolic. Beitar fans have bellowed "Death to Mohammed," and Sakhnin's have held aloft signs bearing "Jerusalem is ours." Beitar has never signed an Arab player and in 2014, its fans verbally abused and forced out two Chechen Muslim players.
The Israeli football team and the Palestinian national team, which FIFA recognized in 1998, do not ever have to play each other as the former is a member of UEFA, Europe's footballing body, and the latter plays in Asia. Israel hosted the Under-21 European Championships in 2013, despite Palestinian pressure on UEFA for the competition not to be awarded to the country. In 2012, the PFA hosted the Nakba Cup, named after the 1948 displacement of hundreds of thousands of Arabs from what is now modern-day Israel by Jewish forces, an event that Palestinians view as a national tragedy. Two years later, it hosted the Palestine International Cup in 2014, a friendly competition against Jordan, Pakistan and Sri Lanka.
West Bank Jews, known as "settlers," could not feasibly play for the Palestinian national team, but Arabs have played for Israel's national team—though it's an uncomfortable situation for many Palestinians. When Abbas Suwan, an Israeli Arab national team player who previously received abuse from Jewish fans, scored a last-minute equalizer against Ireland in a 2005 World Cup qualifier in Tel Aviv, fans chanted: "He's Jewish! He's Jewish!"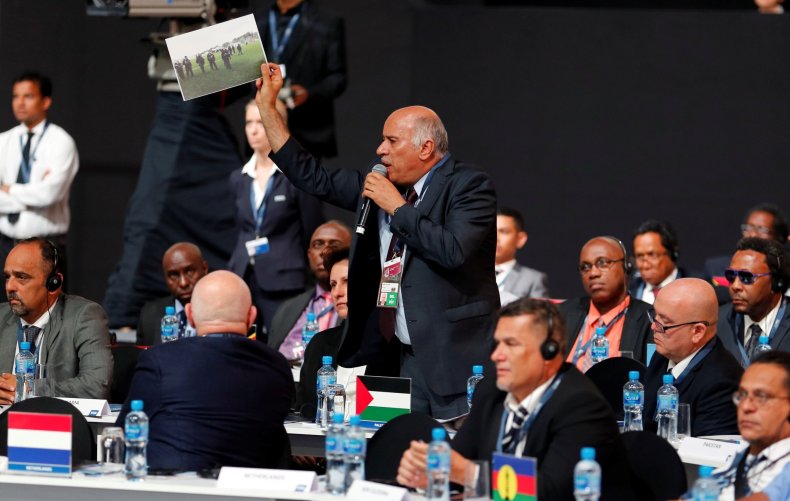 Sabotage and security
With the proposal at an early stage, the location of a potential match and its participants are not immediately clear. It would be unlikely to take place in the West Bank or Gaza Strip because of Israel's security concerns—but, on the other hand, many Palestinians would not accept the match being played in Israel, a move that may appear to be a tacit recognition of the state that many still refuse to acknowledge.
Shay Bernthal, manager of Ironi Ariel, one of the settlement teams that would be banned by the Palestinian motion, instead proposes a match between his team and a Palestinian team from one of the nearby Arab villages. "I give my hand to them genuinely for peace. Football should be a bridge between people, not war," he says. "If I need to I will convince the IDF (Israeli Defense Forces) to organize such a game without any conditions."
But this is an option that almost all Palestinians would reject on the basis of their vehement opposition of the settlement enterprise. The same for the Israeli military. Deadly knife and car-ramming attacks by Palestinians in the West Bank against Israelis have taken place inside and around settlements and allowing Palestinian players and fans into an outpost would be too great a risk, Bernthal concedes.
The other option is to play the match outside of the region in Europe. "But what does that signal?" asks Michael.
As Israeli and Palestinian leaders continue to search for a sporting breakthrough, skepticism remains on the streets of Israel and the West Bank. Eden, a 20-year-old Israeli soldier and Beitar supporter from Tel Aviv, who declines to provide his last name, says "politics doesn't connect to football" and steps towards peace may be tarnished "by some radicals from both sides" who will sabotage such a match.
Other key issues standing in the way of a match, he says, are two-fold: the Palestinian refusal to "recognize Israel as a [Jewish] state," and that "every day we have terror situations here." In a wave of violent attacks by Palestinians against Israelis from September 2015 onward, 49 people lost their lives. Israeli leaders point the finger at what they say is incitement violence by their Palestinian counterparts; the Palestinians blame the military occupation and settlement enterprise.
Alaa, a 23-year-old student from the West Bank city of Ramallah, who also declines to give his last name, cannot bring himself to support the spectacle. "From my point of view, I will not support [the match]. I do not support the occupation," he says, calling Israel a "killer" and a "robber" for its policies toward his people.
Palestinian political will and positive public opinion for a peace match are in low reserve—at least until both sides feel confident of changes on the ground and improved trust. Officials are still waiting for a Palestinian response to their offer. Will it come? "We can only hope," says Barzel.