Israeli and Palestinian Teens Confront Each Other Peacefully at a Camp in Maine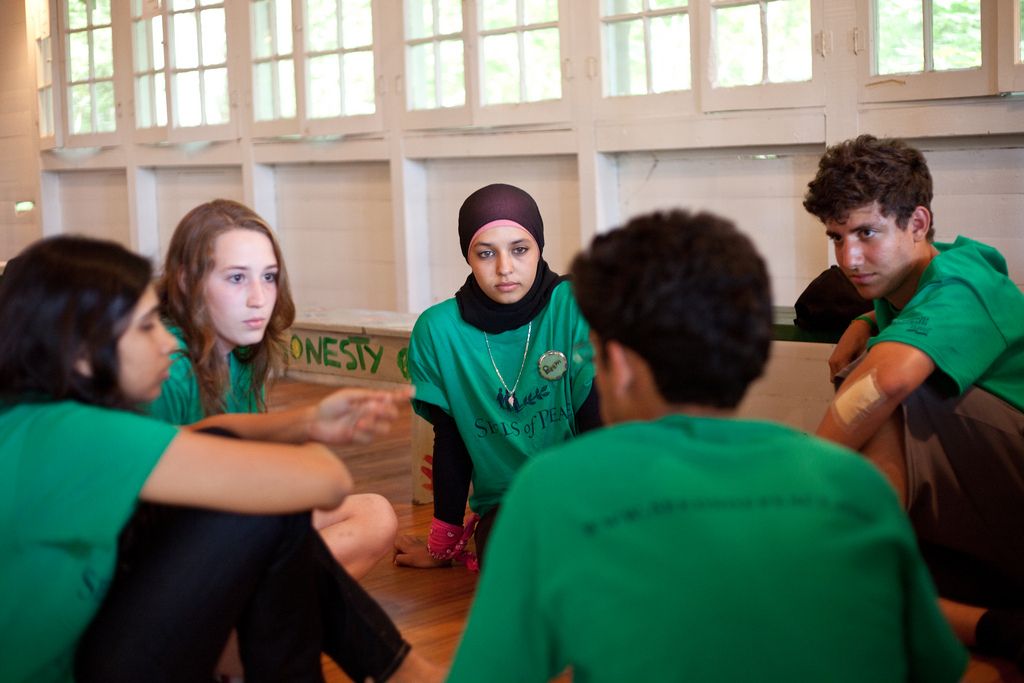 As Israeli and Palestinian leaders begin to engage in peace talks—albeit indirectly, during a 72-hour cease-fire—they would do well to follow the example set by some of their nations' teenagers who have already started the difficult conversation.
Dialogue sessions began on Saturday at Seeds of Peace International Camp in Otisfield, Maine. Though this is the camp's 22nd summer in operation, it is far from a smooth one, given the circumstances that the 95 Israeli and Palestinian teens left back at home last week. Upon arrival at the lakeside camp in the woods, they were joined by 87 other young people from Jordan, Egypt, India, Pakistan, Afghanistan, and the United States and welcomed by Seeds of Peace co-founder Bobbie Gottschalk, who introduced camp as "the way life could be."
Over the course of the three-week program, each camper participates in fifteen 110-minute small group dialogue sessions led by professional facilitators. Sitting down to face people that they are accustomed to considering their "enemy," these teenagers directly confront the difficult issues. They are encouraged to speak openly and honestly with one another about their own experiences of, beliefs about and raw feelings associated with the conflict, while learning to listen to and consider the perspectives of those on the other side of it.
The courage it took for these kids to even come to camp this year is something that the program's associate director Wil Smith emphasizes. He says, "The kids are always courageous for doing so…but particularly for doing so this year," because they decided to come despite being "under fire from their peers, [who are back home] thinking that they're coming here to collaborate with 'the enemy,' when they're really coming to understand and be better understood by their so-called 'enemy.'"
Though campers may not reach agreement on the issues, they do learn how to communicate effectively and, above all, to see each other as fellow human beings—capacities necessary for leaders to begin building real peace. As Yaron, a 17 year-old camper only a year away from military service in the Israeli army, told NBC's Andrea Mitchell, "The other side is also a people. They have a face, a personality." Smith honors the kids for realizing this, saying, "Even facing that reality that the 'enemy' is human is a giant step and a courageous step and a difficult step"—and "something we could all learn from." He told Newsweek on Tuesday, "Just because you have strong feelings against someone, doesn't mean that you should dehumanize them to the point that you won't sit down and talk and listen to them."
The camp posts daily reports online, and according to Tuesday's update, "The daily dialogue sessions are definitely heating up. It isn't easy to be confronted by your peers for actions taken by your government. That is one thing campers will learn: none of the teenagers at Camp is responsible for the violence back home… but this will take time."
One of the ways the campers start to learn this is through play. When they take part together in all the fun activities typical of a summer camp (swimming, sports, scavenger hunts, etc.), the barriers begin to break down, allowing the teenagers to see each other as people independent of their national identities. "Direct contact goes a long way towards humanizing the other person," says Smith.
Furthermore, many of the activities are team-building challenges that "appear impossible to achieve until the campers work together to find creative solutions." The idea is that the problem-solving mindset and can-do attitude "carries over to their dialogue sessions," Tuesday's report explains. However, according to Wednesday's update, that process is a slow one. Staff anticipate that once the campers tire of "making well-rehearsed comments...There will be more 'I' statements and fewer 'you people' statements. Their vocabulary will expand beyond 'terrorists' and 'murderers.'"
Smith points out that "trying to balance [the daily life of camp] with remembering the reality of what's going on back home," generates a "lot of complicated feelings for teenage kids." He explains that, in addition to worrying about the safety of loved ones, many campers feel a "certain amount of guilt" for playing and having fun in a safe and beautiful place, while people are dying or living in fear back home.
Smith says that news updates in the campers' native languages are posted on a bulletin board twice each day and that the reality of life outside of camp is never far from their minds. "It's important for people to realize that we're not sitting around in a circle, holding hands and singing 'Kumbaya,'" he says.
At the camp's flagraising ceremony on Sunday, a 17-year-old returning camper from Gaza, whom the Palestinian delegation elected as its representative to speak at the event, invited her fellow campers to close their eyes for a moment of silence, according to the organization's August 4 Facebook post. Requesting that they think of the ongoing violence and loss of innocent lives, consider their commitment to basic human rights for all, and look ahead, Salma asked, "Is this what you want the world to look like?"
For that ceremony, the Israeli delegation chose to have both a Jewish and an Arab speaker coordinate their remarks. There were also speakers from Afghanistan, India, Pakistan, Egypt, Jordan, and the United States. The camp's report from that day says that the "speeches were creative, thoughtful, reality-based, and hopeful."
Campers do not pay to attend, but rather they apply through a competitive process within the school systems in their home countries. The $6,000 cost of each camper's attendance is paid by donors to the non-profit organization.
While the world waits with cautious hope to see if the 72-hour cease-fire and any subsequent truce will be honored, the campers, staff, and 5,200 alumni of Seeds of Peace remain committed to their cause.
The organization's Facebook page posted a note from a 1998 Egyptian camper, Aly, on August 1: "People always ask me how I can simultaneously be both pro-Israel and pro-Palestine. The truth is," Aly wrote, "one can have a principled stance on this conflict, and that principle is nonviolence."
A July 5 post on the Facebook page includes a note from a 2009 Israeli camper, Yaala, who wrote, "While I realize that many question the validity of SOP and organizations similar to it . . . the memories I have made and the friendships I have formed there help me cope with the helplessness and powerlessness that I feel. I am hoping for the safety of all Palestinians and Israelis tonight."
In a July 24 note on the page, the Seeds of Peace program director in Gaza describes having his 30-person extended family huddled in his home after the fighting displaced them from theirs. Mohammed writes, "The power is out and soon food will rot, and we will not have water now since we can't pump it. Sewage is running in the street. The banks are closed, so there is no money. And sick people cannot go to the hospital… bombs…are dropping… [yet] I keep doing my job because I believe in peace."
Israeli and Palestinian Teens Confront Each Other Peacefully at a Camp in Maine | World