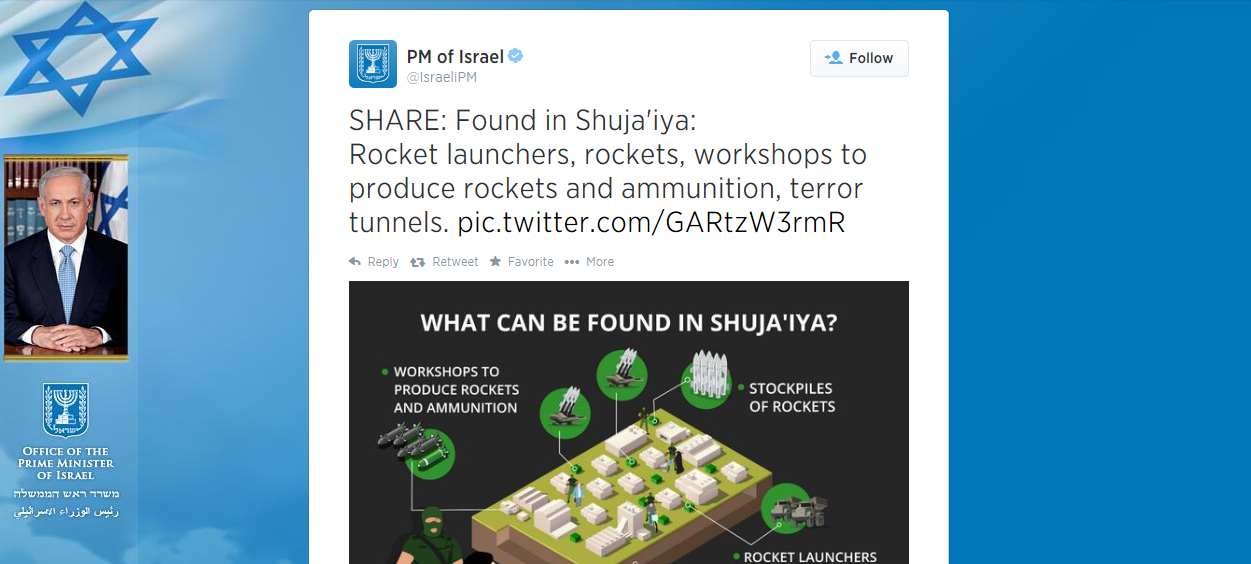 Now in its 14th day, the conflict in Gaza, which has claimed more than 500 lives, has moved online. As one Twitter user noticed today, Israeli Prime Minister Benjaman Netanyahu's account has begun paying for promotional pro-Israel tweets to appear in users' feeds.
Israel has a history of using social media to support actions in Gaza. As The New York Times reported back in November of 2012, the Israel Defense Forces took to Twitter and Facebook to threaten members of Hamas.
In this most recent case, however, the official account of Israel's prime minister appears to be paying Twitter to promote tweets, which causes them to appear in the timeline of unsuspecting Twitter users.
In the past few days, the official account has published a handful of messages about the escalating conflict. On Sunday, the account tweeted an infographic explaining that rockets, rocket launchers, and rocket building equipment were all discovered inside a neighborhood of Gaza City.
It is not clear which tweets are promoted when viewed through the prime minister's feed. But photos of at least one promoted tweet have been circulating on Twitter.
Twitter told Newsweek that the company won't comment on matters concerning individual accounts.
In general, however, promoted tweets appear in users' feeds based on several criteria set out by Twitter. According to the company's site, "You can target Promoted Tweets to non-followers by gender, geography, language device, interests, keywords, tailored audiences or those who tweet or engage with selected keywords."
Promoted tweets are clearly marked in a user's feed. However, it is not clear from a promoted Tweet what criteria the prime minister's account used to target Twitter users.