The Israeli School Where Children of All Faiths Learn Side-by-Side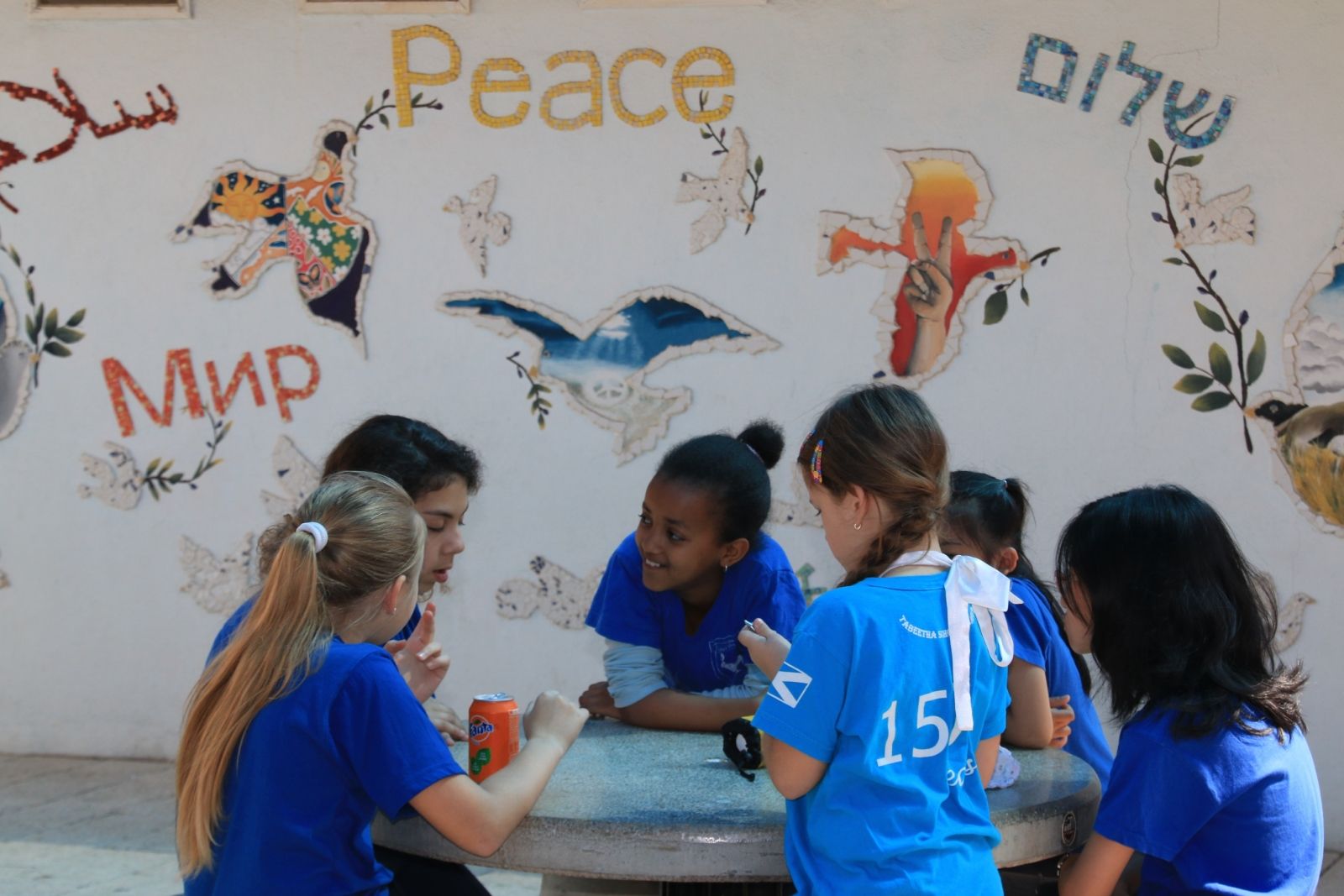 The Ethiopian Jewish customs officer at the West Bank border crossing is not convinced by my story. "And what is the purpose of your visit to Israel?" He flicks through my British passport, pausing over my Arab surname. I explain again: I'm making a personal pilgrimage to Jaffa's famous Tabeetha School, where my father once studied. This seems unsatisfactory. He gives my passport to Shin Bet security. So begins a 10-hour wait, watching long queues of Palestinians negotiate a weary homecoming. As night falls I try a desperate tactic and, a few minutes later, security officials are gathered round my iPhone, reading a Newsweek article about my parents a Jew and a Palestinian, who in their different ways see this land as home. My Ethiopian nemesis looks at me in disbelief or, perhaps, disapproval. "Talk about stuck in the middle," he says. When I finally crawl into darkening Tel Aviv, the city's Ethiopian Jews are rioting. Anger at discrimination by Israel's Ashkenazy elite has erupted into violence, met by mounted police and tear gas. Radio pundits predict widening rifts across "Bibi's Israel", as I cross the virtual divide separating gleaming skyscrapers from rambling, Arab Jaffa.
My father's Jaffa
My father was shaped by Jaffa and I know it as a city of myths and memory, a multicultural jewel of the Arab Levant. He was the eldest son of a wealthy Muslim orange farmer. His boyhood was spent playing among Jaffa's dazzling assortment of identities in souks run by Mizrahi Jews, in orange groves owned by Christian and Muslim Arabs and in houses built by Armenians, Europeans and Americans, whose families did business together.
Then, over a few short days in April 1948, many of them vanished. Jaffa's Arab population collapsed from around 100,000 to fewer than 4,000 as Jaffa fell to advancing Jewish forces. None ever returned. My father could have been one of them. But then he found something that changed him, and our family, for ever.
I first heard from Tabeetha School last year after publication of my novel Ishmael's Oranges, based on my parents' unlikely marriage. It unleashed a torrent of emails from ex-Tabeethans, who had just celebrated the school's 150th anniversary. They were thrilled to rediscover an old friend and none of them seemed at all surprised that Mahmoud Hajaj would marry a Jewess. Why should they be? They were Jews and Muslims and Christians who had all known and loved each other from childhood.
These relationships were built in Tabeetha's classrooms amid bitter divisions. In the chaos that followed 1948, tens of thousands of children were swept into Jaffa displaced by the fighting, or arriving on wings of Israel's Aliyah, the immigration of diaspora Jews. So Tabeetha threw open its doors to boys and girls, to Arabs and Jews, promising a non-political education for all it sheltered.
It's a promise Tabeetha keeps to this day. Half a century after my father graduated, I stand outside the school's iron gate set in a high wall on a quiet street beyond Jaffa's tourist centre, painted the colours of sea and stone. The gate has stood since 1863, when Scottish governess Jane Walker Arnott chose this spot to bequeath a respectable Christian education to Jaffa's poor girls. The Church of Scotland still plays a role in the school's governance today. Here, the Bible says, St Peter slept after raising a local woman from the dead Tabitha, famed for her good deeds. It's a fitting namesake for a school that has survived so many upheavals.
Waiting to greet me in a classroom is my father's old schoolmate and fellow survivor of the Palestinian "catastrophe" of 1948 Mohammed Abou Kaoud. At eight, he hid with his mother in Jaffa's French Hospital while Irgun mortars rained around them and his handyman father struggled to keep the lights on and the water running. "I remember crouching under the table and hearing the bombs, as if the table would save me. Everyone was fleeing and we wanted to go as well. But the head nurse told my father, we have operations, we need you. So we stayed."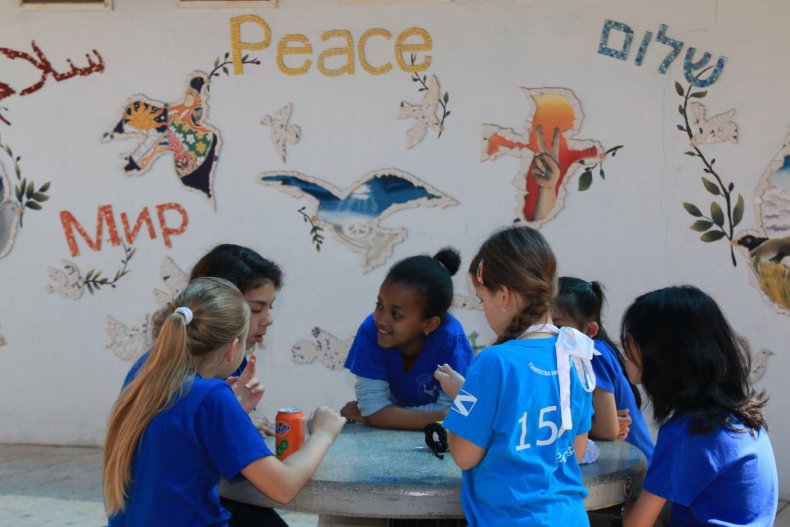 When the first post-war Jewish influx arrived, Abou Kaoud played with the children in Jaffa's devastated neighbourhoods, picking up Bulgarian, Yiddish and Hebrew. And at 10, he enrolled in Tabeetha the first Muslim to do in those early, difficult years. Fifties Jaffa was a broken place scarred by internment, hunger, military supervision and the loss of Arab homes and livelihoods. But to Abou Kaoud, Tabeetha was a haven, insulating the pupils from the worst of bitterness. "To us, the Jews were not complete strangers. We played together, learned together. Some told us stories that were just terrible. They showed us the numbers on their arms, and we sympathised with them."
Abou Kaoud has never left Tabeetha. Sixty-six years later, he remains a revered mathematics teacher who seems almost blind to political differences. "As a teacher, the words Jew or Arab mean nothing to me. A child is a child." He is delighted to see me to trace my resemblance to his old friend. We look at pictures of their schooldays bizarre and wonderful of Jewish girls with beehive hairstyles and Peggy-Sue dresses locking arms with laughing Arab boys in white shirts. One of those girls now a grandmother was among the first to contact me from her home in Tel Aviv. "I never had such friends in my life," she wrote. My father kneels quietly in the foreground of one snap; in another he bends his head over homework next to a fair Jewish-Canadian boy with a bomber jacket and a cigarette. The subtitle says: "Pretending to study."
Long shadows
The children streaming past Abou Kaoud's classroom door look heart-wrenchingly similar to those 1950s photos, snapshots of diversity reincarnated in modern colour. But between then and now lie long shadows: 1967, 1973, the Lebanon wars, two intifadas and three brutal Gaza conflicts. A Right-wing coalition has been re-elected in Israel, its 1.6 million Arab citizens painted as a threat. After more than 60 years in Jewish democracy, Arab communities are Israel's poorest and least employed: a fifth of the population, they generate just 8% of Israel's GDP. Can institutions like Tabeetha still bridge a gulf that seems deeper and blacker than ever?
Tabeetha's headmaster Anthony Short believes so. "You have to start teaching co-existence really young, and you have to involve parents," he says. Short, a committed Christian, moved his family from South Africa to Israel in 1999; his wife, Darya, can trace her family roots to the Jews of Hebron. "By six or seven we're already hearing, 'Mummy says you can't come and play because you're Jewish or Arab'. It's usually from parents who aren't ex-Tabeethans."
In my father's day, there were equal numbers of Jews and Arabs learning at Tabeetha. But I learn that the Jewish student body is dwindling. Jews now represent under a tenth of all students. Where are all the Jewish children going? Short says most are now in Israel's well-funded Hebrew public schools, offering a state-approved curriculum and guaranteed Hebrew fluency.
Several other prestigious international schools have also opened drawing away the wealthiest students. With so much competition around, and relationships between the communities so fraught, why would anyone sign up for Tabeetha's brand of mixed education?
"It's a tricky balancing act," Short admits. When he took up the headmaster's mantle at Tabeetha seven years ago, the school had faced down financial crisis more than once. To survive Israel's realities, he believes Tabeetha has to do more to promote itself as a centre of academic excellence. His introduction of baseline testing for new entrants was, he says, a controversial step for a school originally founded to provide a local, Christian service. "Now we only look at the results of the test not whether they're children of alumni, not whether they're Christian, Muslim or Jewish. And that can be difficult for people who believe the school should protect access for certain groups."
Walking through Tabeetha, it's hard to visualise it as an institution under pressure. At break time, children jostle over a football against the backdrop of a painted peace wall their faces shaded dark and pale, a blur of Semitic and European features. Others tend a sustainable greenhouse grown from local seeds. But memories also haunt the campus, some from past dramas and some from more recent troubles.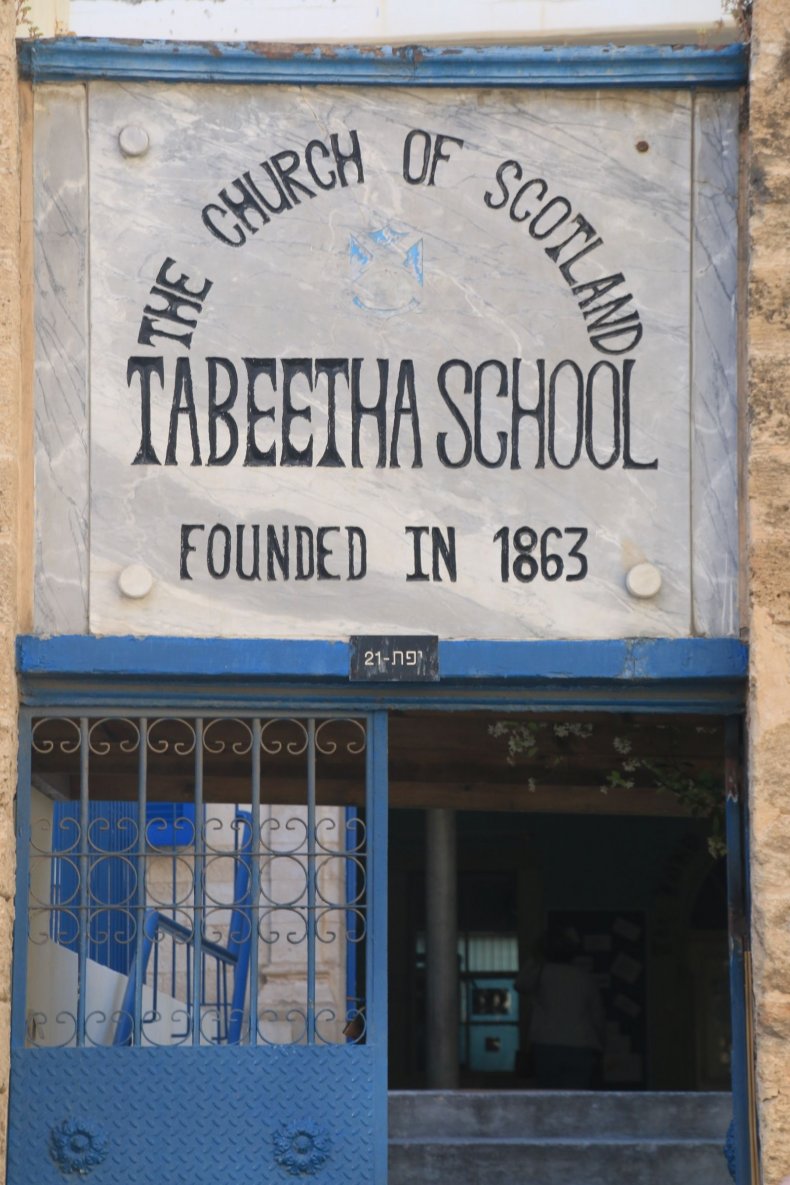 Weidad Andraus, an elegant septuagenarian from one of Jaffa's leading Arab families, remembers when Jewish Orthodox groups attacked the school in the 1960s. "They thought we were converting our Jewish pupils to Christianity. It was very frightening."
During the first Gulf war the school was evacuated to Cyprus, nearly bankrupting the institution. And when rockets fell during the recent Gaza incursions, pupils did emergency drills in a school hall equipped with food, medicines, masks and water supplies. Did the fighting put a strain on student relationships? "We teach the children not to blame one side or faith," Short says. "But in reality, they do feel pulled both ways. Some of the Arab kids have family in Gaza and yet they are here, being shot at. It's confusing. They say 'Why are they shooting at us? We're Arab too'."
Racial expulsion
Jaffa itself feels pulled both ways between a cherished past and an accelerating present. In this once wealthy city, 17,000 Arab residents now face an onslaught of modernisation. Each generation is being pushed further away from the sea and towards the slums as development fever seizes coastal areas. The value of land in my old family neighbourhood of Ajami home to Arabs and also Mizrahi and Sephardic Jews like my Ethiopian border guard has more than doubled more in the past few years.
Pressure on local owners to sell up is intense and up to 500 long-standing property disputes have defaulted into eviction notices, almost all against Arab families. Weidad Andraus and her sisters Laila and Suad who holds an MBE for services to the British Foreign Office drive me past the home of an old friend whose run-down villa was recently put on the market. "They asked 12 million shekels (2.8 million euro)," she says.
Gentrification whether driven by normal economic pressures or (as many claim) a de facto racial expulsion policy is creating another urgent conundrum for Jaffa's Arabs: how and where to educate their children. This decision affects economic prospects, political identity and cultural survival. All Israel's public schools teach a Zionist curriculum and narrative. The Arabiclanguage schools are notoriously underfunded and unhappy; dropout rates in Jaffa's Arab secondary schools have been unofficially assessed at a sky-high 49% (although one official national study claims lower figures around 11%).
So a growing number of Arab children now try their luck in the Hebrew system; Hebrew fluency is a prerequisite for university admission. But here, too, dropout rates are twice as high as for Jewish children suggesting a deep struggle on both sides to adapt. Tabeetha is a way out of this Hobson's Choice for those who can still afford it. The student base is two-thirds local Arabs, joining expatriates and Jewish immigrants whose parents value an English education away from political agendas.
In Tabeetha's ninth-grade comparative religion class, Arab children sit next to children of all faiths from Romania, Mexico, America and Nigeria. Ronan, 15, has an Israeli-Jewish mother and a Chinese father. "In other schools, they do demonise," he says. "But in Tabeetha you are surrounded by opposites."
Behind him, Sally and Dona sit whispering to each other. Dona was born here to Jewish parents, returning after a spell abroad. She tried a Hebrew school but found it oppressive. "Here you don't have to be Israel supporter or an Arab supporter. Here I have space." Her best friend Sally, an Arab girl from a nearby village, agrees. "You get to know that what they say about Jewish people is not true. I'm not sitting next to my enemy. I'm sitting next to my best friend."
These are beautiful sentiments. But I wonder what fruit they will bear. Outside Tabeetha's protective walls, Israel's competing narratives Zionist progress and Palestinian loss do not make such happy neighbours. The erosion of Jaffa's Arab identity is painfully visible. Jaffa's famous Clock Tower Square has become a lonely island, surrounded by tourist shops with Hebrew names. Its souks and city walls have been reincarnated in neater versions with carefully mounted wall plaques and pedestrian pathways filled with Russian tour groups. Renovated apartment blocks sell for millions of shekels to Israel's up-and-comers, predominantly Jews. A renowned Arab city once dominated by men like my grandfather a freemason and a Rotarian now seems to exist only as a second language on street signs.
Armed robbery
Jaffa's transformation has sparked a political awakening for a new generation. Sami Abu Shhadeh is one of those leading the fightback, as director of the Popular Committee for the Defence of Housing and Land Rights in Jaffa. "What Jaffa has gone through, is going through," he says, "is armed robbery."
Abu Shhadeh's nephew attended Tabeetha, and he takes issue with its apolitical stance. "This school communicates mainstream Jewish national identity to its students," he says. "It does not give space to protest. If you are a Palestinian and you are wearing a hatta, they don't accept it. They are not able to see why this is important to restoring justice in this country."
Jaffa's high dropout rate, Abu Shhadeh says, springs from a deep identity crisis that he believes conscientiously objecting schools like Tabeetha cannot address. "Our Palestinian children have nowhere to aspire to," he says. "We are a nation of more than 1.5 million developing without a majority Arab city. A Palestinian living in Jordan can be prime minister, can control the intellectual dialogue. But Israel does not allow us to control anything."
In 2013, Abu Shhadeh and a group of Arab and Jewish parents lobbied Tel Aviv Municipality to introduce a different kind of co-learning model already running in four other mixed communities. Called Yad B'Yad (Hand in Hand), it envisages fully bilingual classrooms with two teachers one Jew, one Arab offering both national narratives.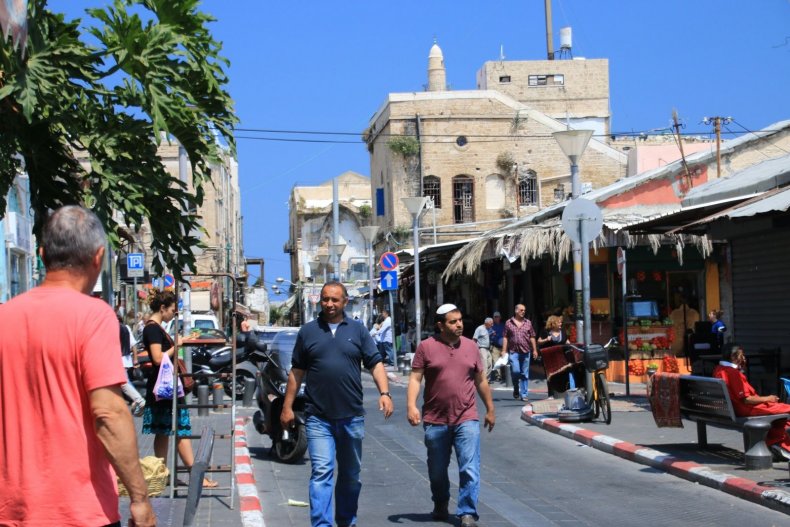 They found an unlikely ally in Ami Shavit, head of the Municipal Authority for Developing Jaffa. Shavit convinced the Tel Aviv Municipal Education Department to co-fund the project, which so far has 100 children in three kindergarten classes hosted by another local school. They hope to open a first grade in the coming school year.
"My personal view is that giving space to both Zionist and Palestinian narratives in the classroom is essential to help us understand each other," Shavit says. "In any other country this would be obvious but the obvious in Israel is surprising."
Shavit and Abu Shhadeh claim that many parents want a nationwide, integrated education option. They also believe that demand is rising, paradoxically, as politics becomes more polarised. But it's never easy to marry practicalities and ideologies. Several "co-learning" experiments have foundered and Jaffa's is already running into problems. "For example, the public school hosting us celebrates only Jewish cultural holidays," Shavit says. "But Yad B'Yad schools should have combined Jewish, Christian and Muslim holidays." To date, they still can't agree how to make it work for everyone.
Although they differ on approach, Yad B'Yad and Tabeetha both share the conviction that education is the key to equality and that equality must be the foundation for a future both Arabs and Jews can live with. For one side, equality cannot come without redress and Arabs who learn otherwise in their schoolrooms have "accepted their inferiority". But sitting in Mohammed Abou Kaoud's apartment, over tea with his wife, it occurs to me that to him, equality might wear a different face.
Pictures of Abou Kaoud's beloved pupils line the walls, alongside images of his sons who flourished and built worthwhile lives. One is a judge in Jerusalem, one a wealthy pharmacist. All went to Tabeetha and learned to think beyond identity politics. His eldest, Hassan, still teaches mathematics and physics at the school. Abou Kaoud plans to retire this year, to rest and enjoy time with his grandchildren.
"I'm proud to be an Arab and proud to be a Muslim," Abou Kaoud says. "But frankly we have to accept that we are Israeli. This gives us rights, and also commitments. I will obey Israel's laws, even if I don't agree with all of them. But I also want to be able to go to Netanyahu and the Knesset and say, 'Look, give me my right as a citizen'."
It's hard not to be touched by his faith by the unlikely devotion of this class of Arabs and Jews, outlasting decades, wars and even a drift, for some, towards extreme positions. On the last page of Abou Kaoud's school album I see them gathered again, for Tabeetha's 150th anniversary celebrations: in their seventies, smiling arm-in-arm, defying half a century of rage. The images are bittersweet. For every seed of hope planted, a few have inevitably withered. My father and mother lost each other to a widening political divide. But two other Tabeethans a Palestinian and Jew received the school's "longest marriage" award at the alumni dinner. Maybe in another 50 years, Sally and Dona's friendship will have demonstrated a similar staying power. But to make a real difference in this fractured nation, millions will have to follow finding ways to fit individual jigsaw-pieces of history into a common vision of the future.
My visit is supposed to end with a trip to our old family orange groves where my grandfather once hosted Abou Kaoud, the Andraus sisters and my father for an after-school picnic. But we talk so long that we run out of time. Abou Kaoud consoles me by telling me that the groves have all but vanished, eaten up by a new intersection two years ago. He shakes his head, sad as I am at these moments of opportunity that pass so quickly and are so hard to recapture. Like the opportunity for peace with his generation, which he believes was needlessly thrown away. "I remember the days of Peres, of Rabin," he says. "I felt that something special was happening."
He looks over his balcony at the remains of Jaffa's orange groves, a few scattered trees against yellowing walls. "I was so proud," he says, lost in memory. "I would have fought for Israel then."