Two Israeli students were sent home after they were caught on camera dancing naked at a Nazi death camp in Poland.
Staff members at the Majdanek concentration camp near Lublin called the local authorities when they spotted the students' behavior at the memorial site on security cameras, Haaretz reported.
The Times of Israel, however, said that it was only one student who had exposed his buttocks.
Majdanek death camp was set up in the occupied Polish city in 1941 and operated until 1944. It was the first concentration camp liberated by the Allies, and according to its museum, 78,000 prisoners, including 60,000 Jews, were murdered there.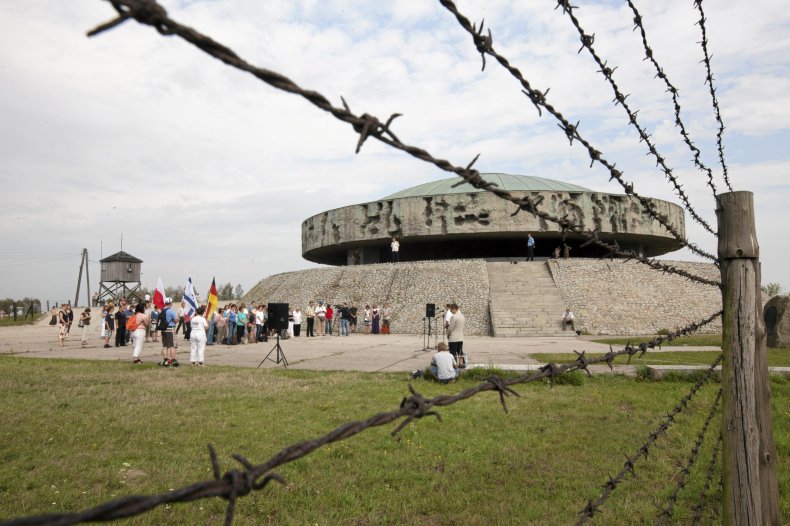 The staff detained the two 12th-grade students and accused them of inappropriate behavior. The student who exposed himself was released after he paid a fine, and his friend was given a warning, the Times of Israel reported.
The students attended a high school under the control of the Emek Hamayanot Regional Council, which described the incident as "a severe disciplinary violation."
It also said that "both students returned to Israel on Sunday, with an educator. There will be an investigation of the case to prevent other such cases."
Israel's Education Ministry said it "views with great severity any behavior that could harm the status and values represented by the trips to Poland.
"In the case in question, due to the students' improper and inappropriate behavior, disciplinary actions have been taken against them to the fullest," it added.
Haaretz described the incident as one of the most serious cases of bad behavior by Israeli students on trips to Poland, which thousands visit each year.
Under Polish law, those who desecrate a monument or other public place commemorating a historical event can be fined or jailed.
In 2014, officials said eight shoes of former prisoners were stolen from the museum. Last year, some students vandalized walls at Auschwitz. In 2016, students hung an Israeli flag at a memorial site in the Lopuchowo forest with the writing "Death to the Leftists."
In May, Israel's education ministry announced a new curriculum outlining each European country's role in the Holocaust to be taught in high schools, which now devote two hours of instruction per week to the subject.