Israelis, Gaza Militants Fight On, Defying Truce Efforts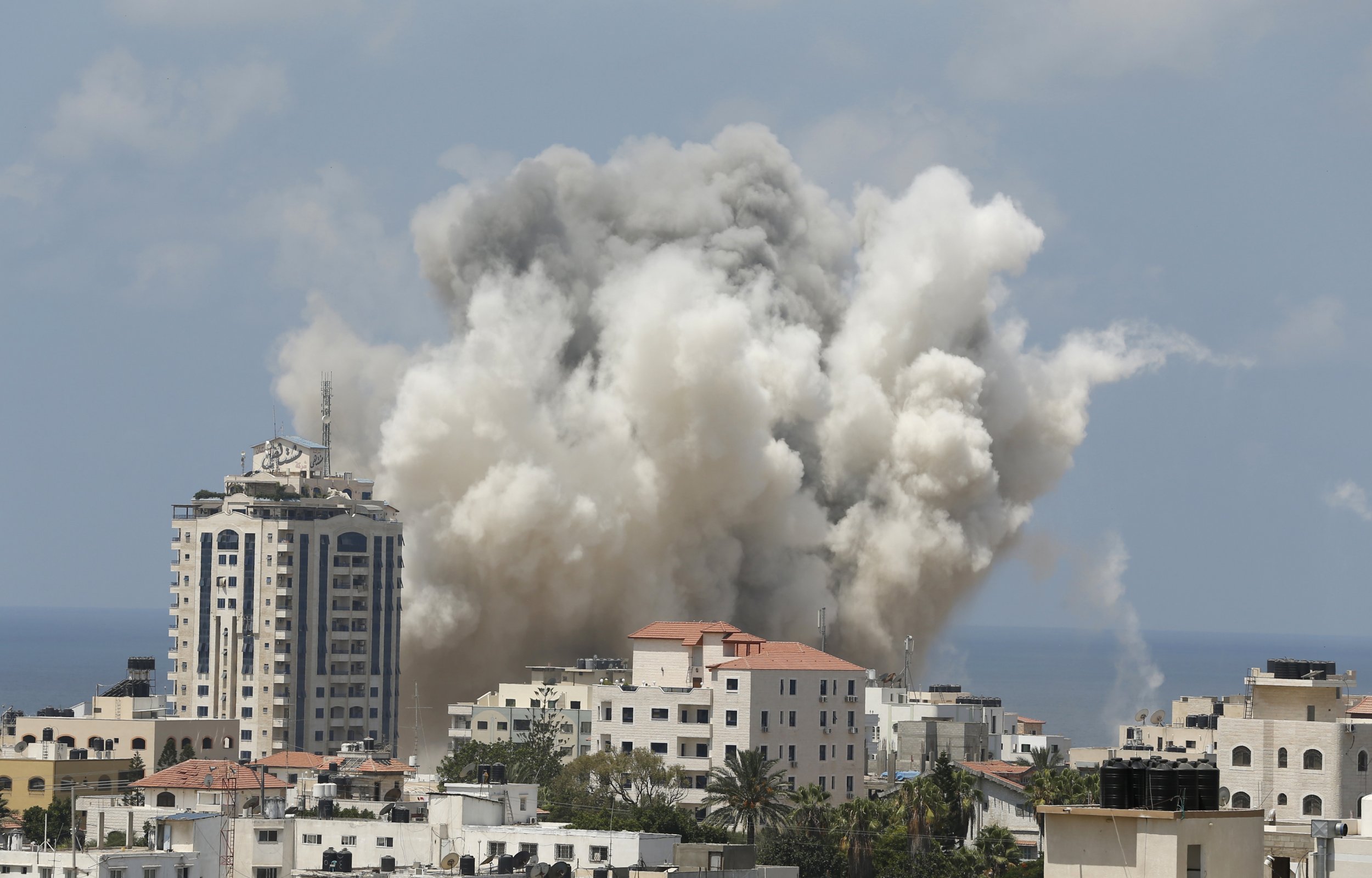 Israel launched more than 30 air attacks in Gaza on Saturday, killing seven Palestinians, and militants fired rockets at Israel as the conflict entered a second month, defying international efforts to revive a ceasefire.
The violence seemed to delay any progress in talks brokered by Egypt aimed at securing a permanent truce. Israel had no plans to send negotiators back to Cairo "as long as the shooting goes on", an Israeli official said on condition of anonymity.
Medical officials in Gaza said two Palestinians were killed when their motorcycle was bombed and the bodies of three others were found beneath the rubble of one of three bombed mosques.
Two Palestinians were killed in an air strike on a car in the southern town of Rafah, Gaza medics said. An Israeli military spokeswoman said the men targeted were Hamas militants.
Another attack reduced a security complex belonging to Gaza's dominant Hamas faction to a huge cloud of smoke, but there were no casualties. Elsewhere, three houses were bombed, and fighter planes strafed open areas, officials said.
The Israeli military said that since midnight it had struck more than 30 sites in the coastal enclave, without specifying the targets. Gaza militants fired 28 rockets into southern Israel on Saturday setting off sirens but causing no damage or injuries, the military said.
Since the end of a 72-hour truce on Friday, Gaza militants have fired more than 65 rockets at Israel, military officials said. Two Israelis were hurt by a mortar attack on Friday.
Israeli air strikes killed five Palestinians on Friday, among them a 10-year-old boy near a mosque in Gaza City.
Egypt, backed by American and European mediators, has made no visible progress towards restoring the ceasefire that had halted fighting for three days.
Egypt was expected to pursue its diplomacy on Saturday, meeting Palestinian officials in Cairo, but it wasn't clear how much progress could be made if Israeli representatives didn't show up. Both sides remain apart on terms for renewing the ceasefire, with each blaming the other for not extending it.
A diplomatic source familiar with the talks told Reuters it could take at least two days to see if it was possible to work out another truce.
A sticking point was Israel's demand for guarantees that any reconstruction supplies sent to Gaza would not be used by Hamas to construct more tunnels of the sort that Palestinian fighters have used to infiltrate Israel.
"We are at a crossroads and within two or three days we will see whether we are heading left toward an agreement, or right, toward escalation," Israeli Intelligence Minister Yuval Steinitz, told Channel Ten.
Egypt is meeting separately with each party. Israel and Hamas deny each other's legitimacy, with Hamas rejecting Israel's right to exist and Israel rejecting Hamas as a terrorist organisation.
VIOLENCE THWARTS ANTI-WAR PROTEST PLANS
Citing security concerns over continued rocket fire, Israeli police banned an anti-war protest planned for Tel Aviv on Saturday, saying regulations prohibited large gatherings in areas at risk of attack.
By resuming attacks against Israel, Gaza militants appeared to be trying to ramp up pressure and making it clear they were ready to fight on to fulfil a goal of ending a blockade of the territory that both Israel and Egypt have imposed.
Heavy civilian casualties and destruction during Israel's campaign in packed residential areas of the Gaza Strip have raised international alarm over the past month.
Gaza officials say the war has killed 1,888 Palestinians, most of them civilians. Israel says 64 of its soldiers and three civilians have died in the fighting that started on July 8 following a surge in Palestinian rocket salvoes into Israel.
Israel expanded its air and naval bombardment into a ground offensive on July 17, and pulled its infantry and armour out of the enclave on Tuesday after saying it had destroyed more than 30 infiltration tunnels dug by militants.
The White House has urged Israel and the Palestinians to do what they could to preserve civilians after having failed to extend their ceasefire, while U.N. Secretary-General Ban Ki-moon has warned that any further fighting would "exacerbate the already appalling humanitarian situation in Gaza".
At a rally in South Africa, Nobel laureate Desmond Tutu accused Israel of behaving like a "barbaric bully" in Gaza.
Israel said ahead of the truce's expiration on Friday it was ready to agree to an extension. Hamas did not agree.
Hamas spokesman Sami Abu Zuhri said Israel had rejected most of the group's demands. The Palestinians want Israel to agree in principle to lift a blockade of Gaza, release prisoners and permit the opening of a sea port.
"There is no going back and the resistance will continue ... there is no retreat from any of our demands," Abu Zuhri said.
Israel has resisted easing access to Gaza, suspecting Hamas could restock with weapons from abroad.
Israeli Justice Minister Tzipi Livni, a member of Prime Minister Benjamin Netanyahu's security cabinet, said the issue of a sea port should be part of wider peace negotiations with the Palestinians and that Hamas should not at this time be rewarded for "using force against Israeli citizens".
In related violence, a Palestinian man died a day after being shot by Israeli troops confronting a protest in Hebron. Israeli gunfire had killed another Palestinian protester in the occupied West Bank on Friday, medical officials said.