Israelis Turn to Self-Defense as Anxiety Rises Over Knife Attacks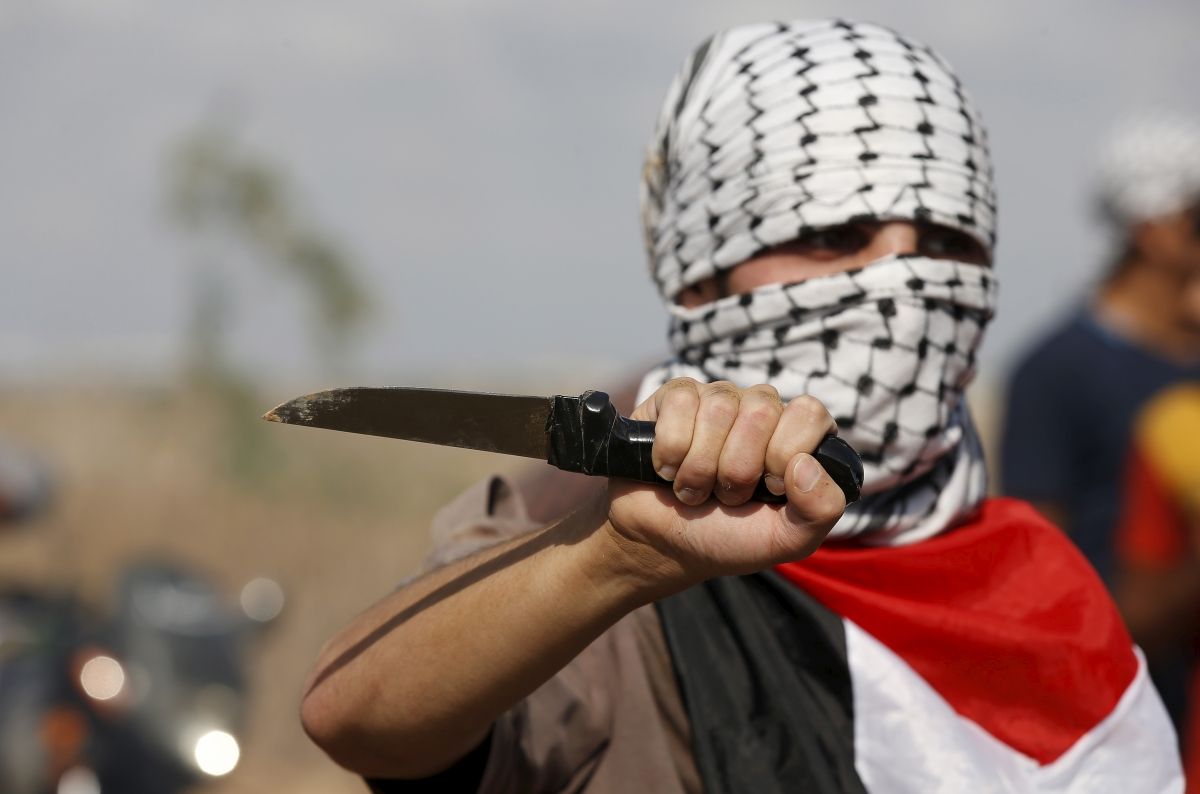 Business is booming at the Haboleshet Spy Shop in central Tel Aviv. Mor, who has worked for six months at the self-defense store, says customers laugh when he tells them that the shop's stock of pepper spray, tasers and batons is sold out. The past two weeks have been the "craziest and busiest time," Mor says in a phone interview with Newsweek.
The shop, one of the only stores that stocks self-defense equipment in Israel's largest city, is selling 20 to 40 batons and 50 to 100 canisters of pepper spray a day, Mor says. In previous times, that would have amounted to three weeks' worth of stock.
The amused reaction of Mor's customers masks a growing anxiety over the recent wave of stabbings committed by Palestinians on Israel's streets. Eight Israelis have been killed and dozens wounded in the knife attacks across the country in the past two weeks and now worried civilians are turning to self-defense measures in greater numbers. Dozens of Palestinians, including some attackers, have also been killed in subsequent violence.
Israeli authorities blame the spate of attacks on what they say is incitement by the Palestinian leadership and social media networks. Officials in Ramallah say Palestinians are turning to knives because they wish to take matters into their own hands to fight perceived Israeli violations. They attribute the attacks to escalating tensions at the Jerusalem holy site known as the Temple Mount to Jews and Al-Haram al-Sharif to Muslims, as well as a deeper malaise among Palestinians over negotiations on peace and independence.
Israeli police spokesman Micky Rosenfeld, speaking to Newsweek by phone from Jerusalem on Wednesday, says that while there are no official statistics on knife attacks against Israeli Jews to compare with the previous year, there has been an "obvious" rise in 2015. Eighteen knife attacks have been carried out in the previous 10 days alone, he says.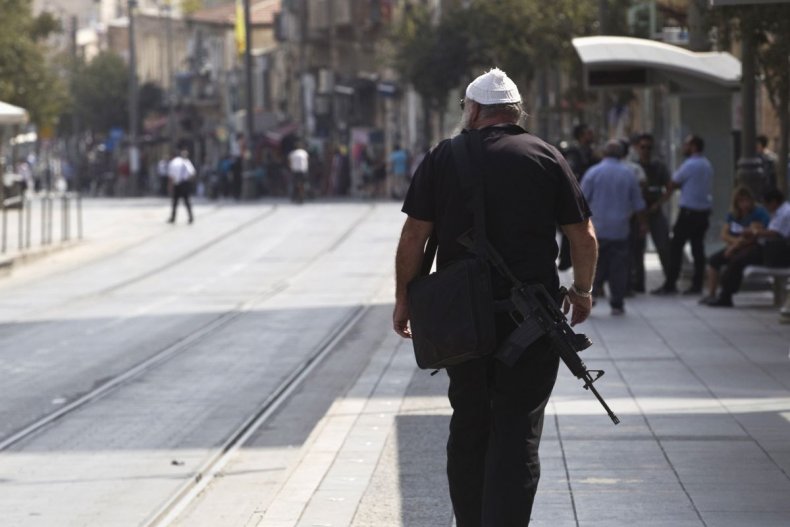 Mor, at the Haboleshet store, says he's not surprised about the sudden influx of customers."Most of them come and say: 'I am here because my wife sent me and she told me without pepper spray you are not coming back home,'" he says. He recalls one case of a bus driver sent to the store by his family after he was caught up in an attack on board his vehicle, having to distract the Palestinian man before police arrived at the scene. "Mostly people are just buying it to calm themselves or other ones who worry about [knife attacks]."
The owners of the store, who declined to comment but authorized Mor to speak to Newsweek, responded to the demand for pepper spray by reducing its price in a bid to ensure anyone who felt the need to buy it could do so. The price of a small canister dropped from 50 shekels (approximately $13) to 45 ($12); the larger size from 160 shekels ($42) to 140 ($37). The shop also sells the more expensive option of "shockers," or tasers, disguised as flashlights for 350 shekels ($92) and iPhones for 450 shekels ($118.)
As anxieties spread across Israel, sales of self-defense items have spiked elsewhere too. Long lines were reported at the L.H.B. gun store in Tel Aviv last week, with weapons sales up 30 percent and customers eager to obtain a gun license or use the shop's shooting range. David Gottlieb, the manager of the Lemetayel Odafim backpacker shop in Jerusalem, told Israeli daily newspaper Haaretz on Monday that pepper spray sales have increased 500 percent.
"Instead of buying backpacks and sleeping bags, they're concentrating on self-defense, asking us for clubs and brass knuckles," Gottlieb told Haaretz. "We don't sell this and it's also not legal to carry it outside the home, but the item in most demand over the past 48 hours is without question pepper spray."
A number of Israelis have been creative in their defense against Palestinian stabbing attacks. People have used umbrellas and selfie sticks to defend themselves, according to media reports, and a woman on a bus in Jerusalem was pictured with a rolling pin in her bag.
Israelis are turning to each other for self-defense help as well, sharing tips on social media and extending a helping hand to fellow citizens. The Facebook group "Secret Tel Aviv" features hundreds of posts from the city's residents asking where they can buy pepper spray, whether they can carry a knife in public and for general self-defense advice.
In a popular post, a man who identifies himself as a security expert posted a list of tips for civilians: Escape is the best form of defense; always carry an umbrella and pepper spray; and always be aware of your surroundings.
Many Israeli self-defense instructors are also advertising their businesses on social media. While some are attempting to capitalize on rising fears over the deteriorating security situation, others are helping their fellow Israelis for free. On the same Facebook group, Josh Carr, an expert in the Israeli martial art Krav Maga, offered free self-defense classes to the residents of Tel Aviv in response to the attacks and was subsequently inundated with requests, he tells Newsweek by email.
"My response was way over 1,000 overnight and it's still coming," he says. "It was a total surprise, I can't keep up with all of them. I've been messaged from all over the country and I have already started giving free classes in different locations."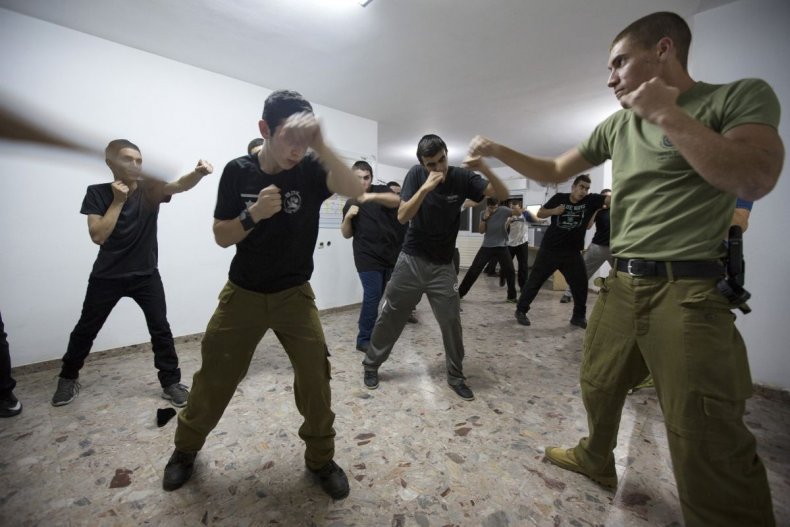 Analysts believe that Israelis are taking matters so seriously because the knife attacks are so unpredictable. But others attribute the rush for self-defense to a wider suspicion of the Arab-Israeli population in the aftermath of the deadly incidents.
"The atmosphere right now is that you cannot trust the Arabs, whoever he is," Major General Amnon Reshef, founder and director of Commanders for Israel's Security, a grouping of ex-Israeli security leaders, says by phone from Tel Aviv. "It's not that they are terrorists. It might be somebody that is working with you."
He added: "How can I trust the Arab guy who is working in the supermarket? How can I trust the Arab guy who is working with me in McDonalds? I consider him as my friend but who knows what will be in a couple of minutes? Therefore, all around the country, people are afraid."
In the self-defense store, however, Mor refuses to celebrate the upsurge in business. He remains saddened and angered by the rush to empty his shelves.
"I see what this situation is doing," he says. "A lot of Israelis are coming in here and wasting their hard-earned money [on equipment] that they will probably never use. It's my decision to not buy anything. It annoys me. It's not only that they are succeeding in killing us but it's also that they are succeeding in hurting our wallets."