Israel's Ban on Tlaib and Omar Shows Netanyahu and Trump's Contempt for Democracy | Opinion
Prime Minister Benjamin Netanyahu's decision this week, spurred by President Donald Trump, to ban Democratic Representatives Rashida Tlaib and Ilhan Omar from visiting the occupied West Bank was met with widespread outrage.
From the editorial boards of The Washington Post and The New York Times, to Jewish Voice for Peace and even AIPAC, nearly everyone outside the far right seemed to agree that Israel's refusal of entry to the congresswomen for an official fact-finding trip marked a grave transgression.
Though Israel agreed on Friday to let Tlaib visit her 90-year-old grandmother, as long as she stated in writing that she would not "promote boycotts against Israel" during her trip, the Michigan lawmaker quickly turned down the offer.
"Visiting my grandmother under these oppressive conditions stands against everything I believe in," Tlaib wrote on Twitter.
The episode places the U.S. and "the Middle East's only democracy"—and their partnership—more firmly in the camp of the global authoritarian right. But it may also presage a shift toward more open criticism of Israel in the United States.
Netanyahu's government originally said the congresswomen would be allowed into Israel to travel to the West Bank. Israel's ambassador to the U.S. spoke glowingly in July of his country's commitment to allowing them to enter "out of respect for Congress."
And then everything changed. Trump tweeted that if Israel allowed Tlaib and Omar to enter, "it would show great weakness," and later admitted he'd privately pressured Israel to deny the visit as well. Just hours after Trump's tweet, the Israeli government announced its ban.
The U.S. government vocally endorsed the move, condemning the two members' support for the nonviolent Boycott, Divest, and Sanctions (BDS) movement to pressure Israel. "The [BDS] movement against Israel is not free speech," said U.S. ambassador to Israel David Friedman. "Rather, it is no less than economic warfare designed to delegitimize and ultimately destroy the Jewish State."
Israel, he added ominously, "has every right to protect its borders against those activists in the same manner as it would bar entrants with more conventional weapons."
Apparently, it's fine for AIPAC, Christians United for Israel (CUFI) and other parts of the right-wing pro-Israel lobby to spend millions of dollars persuading members of Congress, state legislatures and even city councils to support Israel's actions—but it's not OK for U.S. consumers to withhold their money to persuade Israel to stop its violations of human rights and international law.
Some Israel supporters who criticized Netanyahu's move felt compelled to reassert the claim that U.S.-Israeli ties are close because they're both democracies. "Israel should not block entry to members of congress who support BDS. Israel has nothing to hide. It's an open democracy," tweeted Alan Dershowitz.
In fact, the opposite may be true.
The longstanding anti-democratic tendencies of both Israel and the United States—rooted in their similar origins of dispossessing indigenous populations to expropriate their land and create a new country—provide a much better explanation of the affinity between the two. That's especially true now, when the current governments in both Washington and Tel Aviv are far more open and unapologetic in their embrace of anti-democratic, explicitly racist and xenophobic policies and rhetoric than most of their predecessors.
Trump's messages urging Netanyahu to deny entry to Omar and Tlaib no doubt provided a useful political cover for the embattled and all-but-indicted Israeli prime minister. It was a move consistent with their tight relationship, shaped partly by the shared challenge each leader faces to thrill and satisfy a right-wing base while facing investigations and the constant threat of exposure of new wrongdoings.
The Trump-Netanyahu connection is also consistent with Trump's penchant for cozying up to a growing cohort of ethno-populist dictators and despots around the world—from Brazil's Jair Bolsonaro to the Philippines' Rodrigo Duterte, India's Narendra Modi and the right-wing xenophobes rising to power across Europe, among others.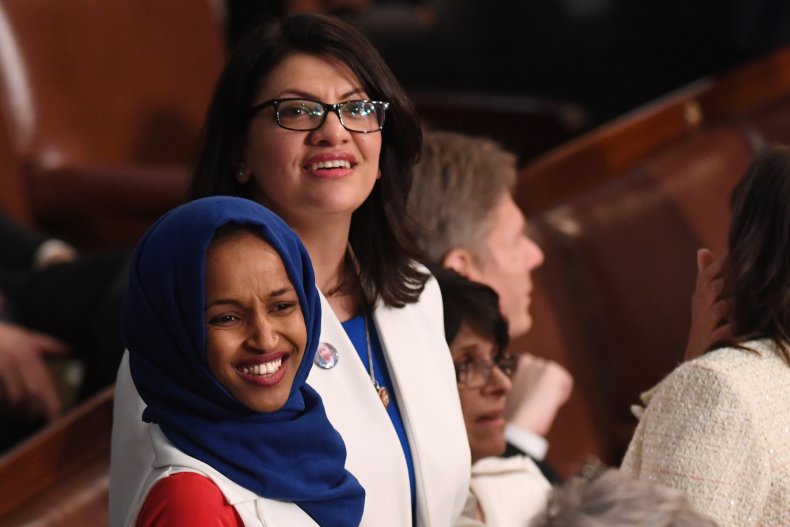 Israel's exclusion of Omar and Tlaib reflects its denial of all Palestinians' internationally guaranteed right to return to their homes, from which they were expelled in the 1947-'48 war that created the state of Israel and dispossessed more than 750,000 Palestinians. And the latest amendment to Israel's Basic Law (equivalent to the U.S. Constitution) states that only Jews have the right of self-determination in Israel, legally stripping the 20 percent of Israeli citizens who are Palestinian of any chance of equality in their own country.
Perhaps recognition of these wider connections will transform the broad opposition against Israel's latest actions into an even deeper, more powerful movement against its continuing violations of international law. Even Netanyahu's government seemed to recognize this, as it grudgingly attempted to quell the outrage by letting Tlaib privately visit her grandmother.
Tlaib, in her refusal, noted that Israel's conditions for the trip would have prevented her from carrying out her official responsibilities as a member of Congress to investigate the impact of U.S. policy on Palestinians.
"My family and I have cried together throughout this ordeal; they've promised to keep my grandmother alive until I can one day reunite with her. It is with their strength and heart that I reiterate I am a duly elected United States Congresswoman and I will not allow the Israeli government to humiliate me and my family or take away our right to speak out," she told a local TV station in Detroit.
Even if Tlaib and Omar aren't able to investigate the impact of Trump's policies in Israel-Palestine right now, the episode may result in a deeper, more lasting critique of the Trump-Netanyahu partnership. That can only help lay the foundation for a real realignment of U.S. policy toward Israel, the Palestinians and the increasingly powerful network of authoritarians rising around the world.
Maybe then Tlaib—and all other Palestinians—will be able to visit their families and return to their homes without, as the congresswoman said, "breaking my grandmother's heart."
Middle East expert Phyllis Bennis directs the New Internationalism Project at the Institute for Policy Studies.