Israeli Government to Fall? Netanyahu's Defense Minister Resigns over Gaza Cease-Fire
Israel's Defense Minister Avigdor Lieberman has resigned in protest over the government's refusal to launch a large-scale military operation into the Gaza Strip, imperiling Prime Minister Benjamin Netahyahu's ruling coalition and raising the possibility of a general election one year earlier than planned.
Lieberman, who is the leader of the right-wing nationalist Yisrael Beiteinu party, made the announcement at a surprise press conference in Jerusalem Wednesday and called for fresh elections, the Israel Television News Company reported. He slammed the cease-fire with Hamas as "capitulation to terrorism" and called for a new general election as soon as possible.
"We are buying short-term calm for long-term harm to security," Lieberman argued, adding that Israel's response to Hamas artillery barrages on Monday and Tuesday "was weak and lacking, to say the least."
Netanyahu had refused to accept Lieberman's proposal for a large-scale offensive into the Gaza Strip, a Palestinian coastal enclave controlled by the Islamist militant group Hamas.
Hamas said Lieberman's resignation was sign of Israel's "recognition of its defeat at the hands of the Palestinian resistance," The Times of Israel reported. Spokesman Sami Abu Zuhri said the development was a "victory for Gaza" after it was able to "stand up to the occupation."
Lieberman's departure will deprive Netanyahu of the support of Yisrael Beiteinu's five Knesset members, leaving his coalition with a razor-thin, one-seat majority. The next general elections were scheduled for November 2019, but Netanyahu may be forced to call Israelis to the polls early if his weakened position leaves him unable to govern.
The defense portfolio is seen as the most prestigious and powerful post in the Cabinet after that of the prime minister, and fierce competition is expected for Lieberman's succession. Hardline national-religious Habayit Hayehudi party has alreday threatened to withdraw his 13 members of the Knesset from the coaltion if its leader, Education Minister Naftali Bennett, doesn't take over Lieberman's seat, YNET reported. Such a move would collapse Netanyahu's government and require a general election. Likud officials, however, told the Israeli Television News Company that Netanyahu might take up the defense portfolio himself for a caretaker period, postponing the showdown with Bennett to a later date.
Losing the support of the Knesset's Yisrael Beiteinu members will also leave the posts of foreign minister, health minister and immigration absorption minister all unfilled in Netanyahu's government.
Tensions between Israel and Hamas have been high in recent months. In March, Gazans began a protracted series of protests along the border fence, which were met with gunfire by Israeli soldiers leaving at least 168 dead and more than 18,000 injured, according to the Gaza Ministry of Health.
The protest movement—calling for Palestinian refugees to be given the right to return to the lands their ancestors left or were forced from in what is now Israel when the country was founded in 1948—coincided with the opening of the U.S. Embassy in Jerusalem, a contentious initiative that drew criticism from across the Muslim world.
Tit-for-tat rocket barrages and airstrikes occurred alongside the protests, while some Gazans began launching incendiary balloons against Israeli agricultural communities on the other side of the border fence.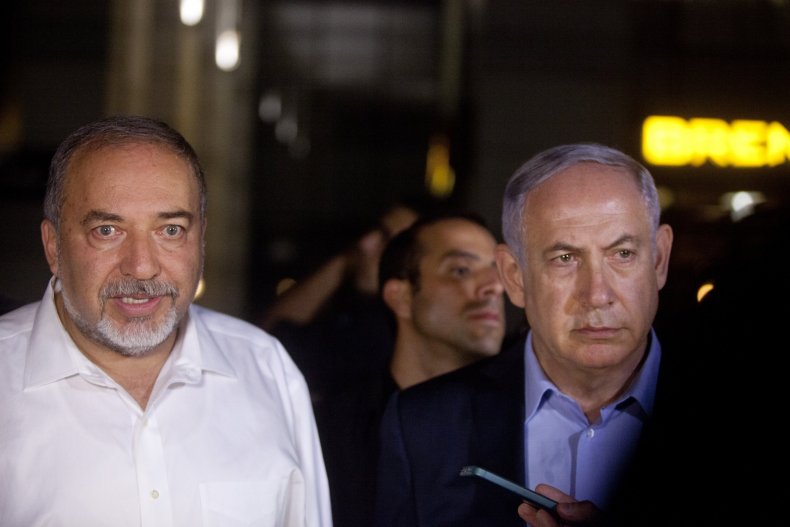 Despite recent cease-fire negotiations, violence flared once more earlier this week. A botched undercover Israeli intelligence mission in Gaza resulted in a firefight and a series of airstrikes, leaving one senior Hamas commander, six other Palestinians and one Israeli officer dead.
Lieberman was one of the more hawkish voices in Netanyahu's Cabinet, but the prime minister chose a path of de-escalation to avoid another bloody war in Gaza.
Haaretz cited sources close to Lieberman who said he decided to resign after Netanyahu's office told the media the defense minister supported the cease-fire with Hamas, despite his own protestations. Bennett was another Cabinet minister who published statements against the truce with Hamas.