Israel's Deportation Policy Forces Asylum Seekers to Choose Between Prison and Persecution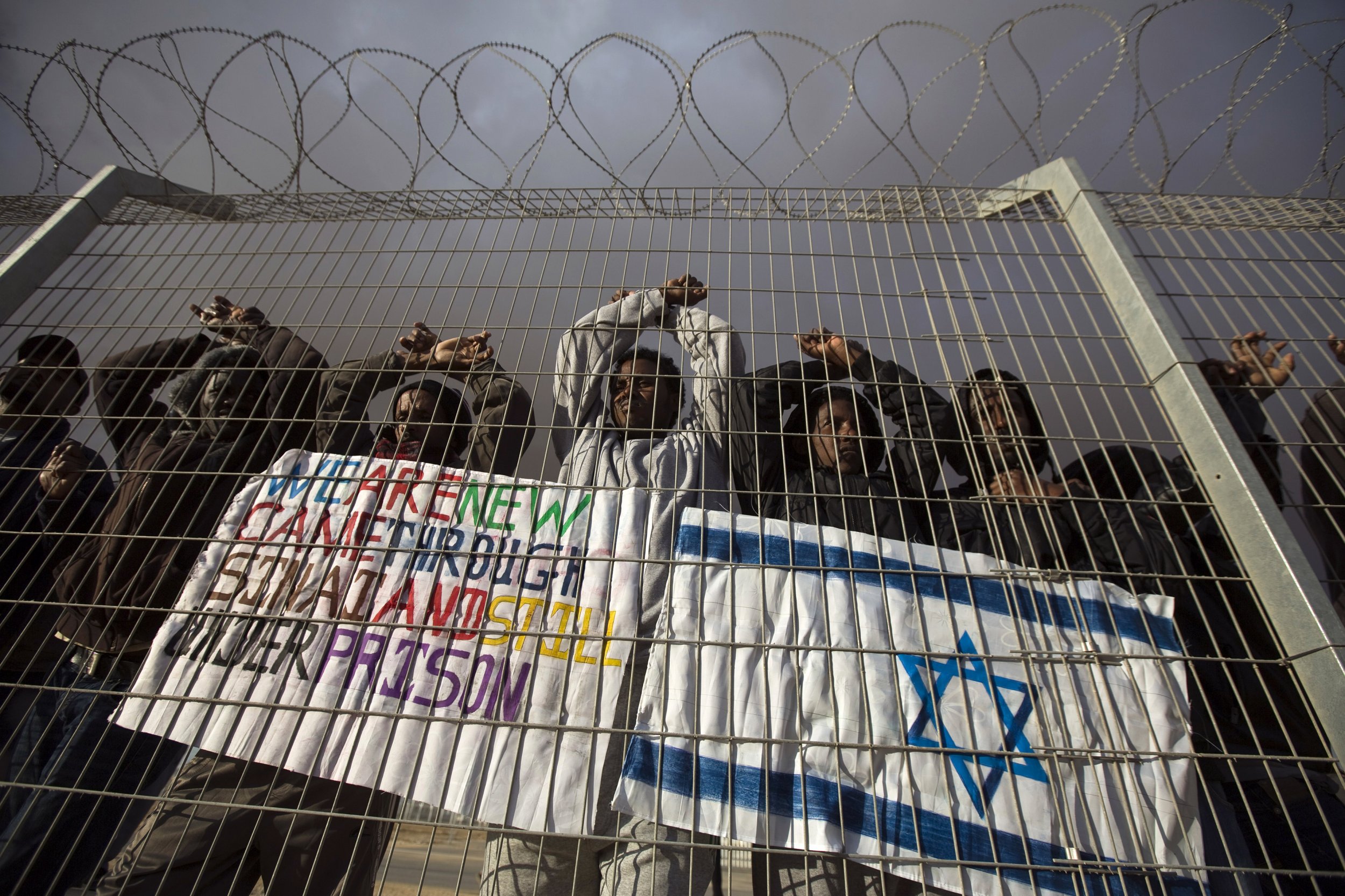 A recent decision by an Israeli district court paved the way for the indefinite incarceration of Eritrean and Sudanese asylum seekers who refuse to leave Israel to be resettled in Rwanda and Uganda. If this decision is upheld by the High Court of Justice upon appeal, refugees fleeing dictatorship and genocide will be forced to choose between remaining in prison forever and leaving to countries that do not guarantee their most basic rights.
The policy of indefinite incarceration in Saharonim prison, one of two detention centers that would be used to hold asylum seekers, was formulated earlier in 2015 by Israel's right-wing government but hasn't gone into effect due to an injunction that was granted following a petition filed by Israeli human rights NGOs.
Israeli government officials refer to asylum seekers as "infiltrators" and present them as criminals who spread disease, as a security threat, and as a demographic threat, although they make up only about 0.5% of Israel's population. After sealing the border with Egypt in 2012, the Israeli government turned to expelling the asylum seekers who've already managed to reach Israel since 2005, when the first among them began arriving.
Since Israeli and international law prohibit deporting people to a place where their lives are in danger (the principle of non-refoulement), the Israeli government is looking for ways to bypass that prohibition. For a while, it indefinitely detained asylum seekers to coerce them into leaving for their homelands, but the High Court voided the law permitting this abuse. Then the Israeli government apparently concluded agreements with Rwanda and Uganda and proclaimed these countries to be safe destinations for deportees.
The Ugandan and Rwandan regimes appear to have agreed to accept Israel's unwanted asylum seekers in exchange for money and other forms of aid, possibly including military aid. Over 3,000 asylum seekers have already left to those countries after being forced to choose between leaving for Rwanda or Uganda and years of detention without trial in the Holot facility, the second detention center, deep in the Negev desert.
The Israeli government refuses to disclose the agreements or detail how they ensure that the regimes in Kigali and Kampala will protect the rights of the deportees. There isn't a single other democratic country that deports asylum seekers to countries without providing them with assurances for their safety.
Dozens of testimonies and signed affidavits collected in Uganda by Israeli and international human rights NGOs indicate that once asylum seekers from Israel arrive to the airports in Kigali and Entebbe their Israeli traveling document is confiscated by local authorities. In Rwanda, authorities take the deportees to a gated compound and make it clear to them that they must illegally cross the border to Uganda or face arrest.
As payment for the smuggling, asylum seekers are forced to hand over the $3,500 the Israeli government gives as an incentive to each asylum seeker who departs Israel. Without legal status, asylum seekers face being detained and deported to their country of origin where they face persecution, detention and torture.
As a result, asylum seekers who are deported to Uganda and Rwanda are forced, once again, to illegally cross borders in search of a safe haven. Some of them attempt to reach Europe through Libya, where they are often held for ransom and tortured by traffickers. At least three Eritrean asylum seekers who were coerced to leave Israel were captured by Islamic State militant group (ISIS) in Libya and beheaded for their Christian faith.
The new policy of indefinite incarceration without trial applies only to asylum seekers whose asylum requests have been rejected. However, Israel has the lowest recognition rate of refugees in the Western world: just 0.15% of asylum requests filed since mid-2009—when the Israeli Ministry of Interior took over examining asylum claims from the UNHCR—received a positive response.
Eritreans and Sudanese nationals make up over 90% of asylum seekers in Israel. The Eritreans are fleeing an extremely repressive dictatorship and the Sudanese survived genocide in Darfur or ethnic cleansing in the Nuba Mountains and the Blue Nile region. Only four Eritreans out of a community of 33,500 received a positive response to their asylum claim.
Not even one Sudanese national out of 8,500 residing in Israel received a positive response to their claim. In the rest of the world, the majority of Eritrean and Sudanese asylum seekers are granted refugee status. As a result, Israel's policy of incarcerating asylum seekers whose asylum requests are rejected can be applied to wide swaths of the refugee population in Israel.
Unless the policy is reversed by Israel's High Court of Justice, whose independence is being increasingly threatened by Israel's right-wing government, thousands of asylum seekers will face indefinite incarceration without trial because they refuse to leave to countries in which their basic rights will not be respected.
Elizabeth Tsurkov is an activist with the Tel Aviv-based Hotline for Refugees and Migrants, an Israeli human rights NGO that is one of the petitioners against Israel's new incarceration policy.