Israel's Far Right Government Is Supporting Settler Terrorism—Because It Benefits Them Politically | Opinion
The current situation in the occupied territories is the most dangerous it has ever been, certainly in recent memory. It's got many speculating about the possibility of a third Palestinian Intifada. Yet this speculation misses the reality of what's going on. This isn't the beginnings of another Intifada that we're seeing, but rather a second Nakba—a full on ethnic war from the river to the sea.
Zealots, supremacists, and supporters of terrorism who would like to crush Palestinians and even put us on trucks and forcefully deport us out of this land are now holding vital ministerial posts and seats in the Knesset, Israel's Parliament. And they will not rest until "this whole land is in flames," as a retired Israeli general, Ephraim Sneh recently told me.
They are not even hiding it. Finance Minister Bezalel Smotrich, Security Minister Itamar Ben-Gvir and other nationalist extremists making it abundantly clear this week that they stand on the side of the most extreme settlers.
And this after last week's pogrom in Hurawa, as it was called by Israeli General Yehuda Fuachs, in which 400 Israeli settlers lynched a Palestinian aid worker, wounded over 350, burned down dozens of cars and homes, then celebrated and danced at the evacuated Evyatar outpost. And IDF official called it "actions of terror," and it came after a gunman killed two settlers outside of Huwara and fled the scene, which was itself revenge for an attack by IDF soldiers in Nablus that killed 11 Palestinians.
Five suspects have been arrested for the attack, yet many in their government have their backs. Member of Knesset Limor Har Melech actually joined the pogrom afterparty and voiced support for the settlers.
MK Zvika Fogel also voiced support for the rampage, saying "a closed, burnt Huwara, that's what I want to see." Minister Smotrich also doubled down at a public event, saying "Huwara needs to be wiped out, but the State of Israel needs to do it." And MK Zvi Sukkot opened an improvised office in Evyatar on Friday morning to show support to the settlers, followed by a stunt in Huwara.
Even Israel's Prime Minister has not condemned the incident, but instead called on rampaging settlers not to "take the law into their own hands."
The message is clear: a green-light to repeat this destructive rampage on other Palestinian towns.
The ultra-Right wing politicians see the conflict as a zero-sum game: Anything that is bad for Palestinians to their minds is good for Israel. They actually want more violence and more tension, because it serves them politically, helping them garner popularity by capitalizing on Israelis' sense of insecurity.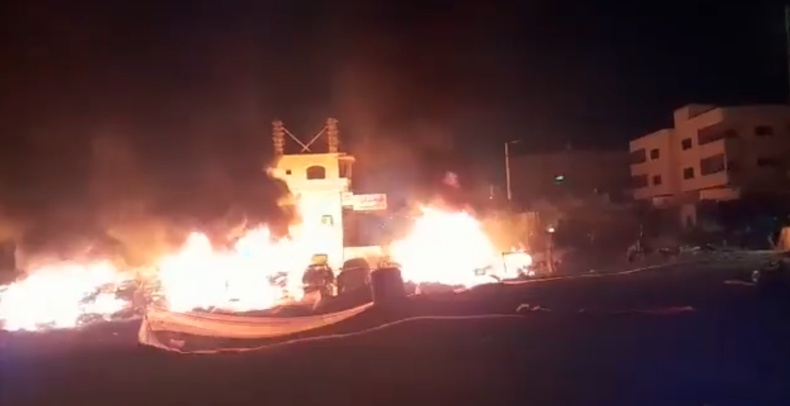 It also gives them momentum, leverage, and a pretext every time Palestinians retaliate violently to the pass the most extreme proposals on their agenda—from approving the biggest settlement expansion in decades to arming settlers to escalating and accelerating Palestinian home demolitions to passing legislation allowing for deporting Israeli Arabs and East Jerusalemites to even introducing the death penalty in a preliminary reading.
Next on the list is a campaign promise from Otzma Yehudit (the Jewish Power Party) to give full immunity to Israeli soldiers and officers, even if they kill Palestinians in violation of the IDF's code of conduct during operations. This is happening amid daily, violent settler attacks on Palestinian towns, exercised with near full impunity.
Violence without accountability in turn gives credence to those Palestinians who advocate taking matters into their own hands through violence—especially when the Israeli military did not lift a finger to prevent the Huwara pogrom. Likewise, the Palestinian Authority was not allowed to provide any protection to Palestinians during the Israeli army's raids on Nablus, Jenin, and Jericho, where disproportionate and excessive force wreaked havoc, though these areas are ostensibly under the PA's full civil and security control.
What makes this all the worse is the meek and mild reaction to these incidents from the international community, which fosters a great sense of abandonment among Palestinians. The Biden Administration and the European Union both issued statements right after the massive attack on Huwara, yet their language betrayed how they truly felt: They referred to the killing of two settlers as a "terrorist attack" while merely referring in passing to the pogrom as unspecified "settler violence."
The message all this sends to young Palestinians is that we are on our own facing an existential threat, which then positions armed groups as avengers and a line of deterrence against state-sponsored Israeli terrorism.
Violence is not the answer—for either Palestinians or Israelis.
An international protective presence on the ground to reduce frictions and escalations is paramount on the eve of the Huwara pogrom, something similar to the Temporary International Presence in Hebron (TIPH) that Israel's government agreed to put in place after Baruch Goldstein massacred 29 Palestinian worshipers in 1994.
Even more important is targeting the underlying root causes of the recent surge of Palestinian armed groups: the loss of hope and absence of political representation; the U.S. abandonment of the conflict; the impoverishment and weakening of the Palestinian economy; the deadly IDF raids conducted with disproportionate and excessive force; the home demolitions and settler violence; and the dysfunctionality and division of the Palestinian political system.
This is a moment of truth. Even Israel's most staunch supporters have a moral obligation to act to prevent the loss of Israeli and Palestinian lives when powerful ministers in Israel's government are actively pulling us both to the abyss and bringing what seemed previously unthinkable closer than ever.
Muhammad Shehada is a writer and civil society activist from the Gaza Strip and a student of development studies at Lund University, Sweden. He was the PR officer for the Gaza office of the Euro-Med Monitor for Human Rights. He is a columnist at the Forward.
The views in this article are the writer's own.