Israel's Justice Minister Asks TikTok, Facebook to Remove Posts Inciting Violence Against Country
Israeli Justice Minister Benny Gantz has asked social media platforms to remove content from their sites that he believes will incite violence in Israel or spreads disinformation.
Gantz told the executives of Facebook and Tik Tok during a Zoom meeting Thursday that the current round of violence is being "intentionally stirred through social media by extremist elements" aimed at destroying Israel, a spokesman for the minister told the Associated Press.
A Facebook spokesman told Newsweek that the company is working to make sure its services are a safe place.
"We will continue to remove content that violates our Community Standards, which do not allow hate speech or incitement to violence, and will proactively explain and promote dialogue on these policies to policymakers," the spokesman said. "This meeting was not unique, and we will meet with the Palestinian Authority next week as part of our ongoing efforts."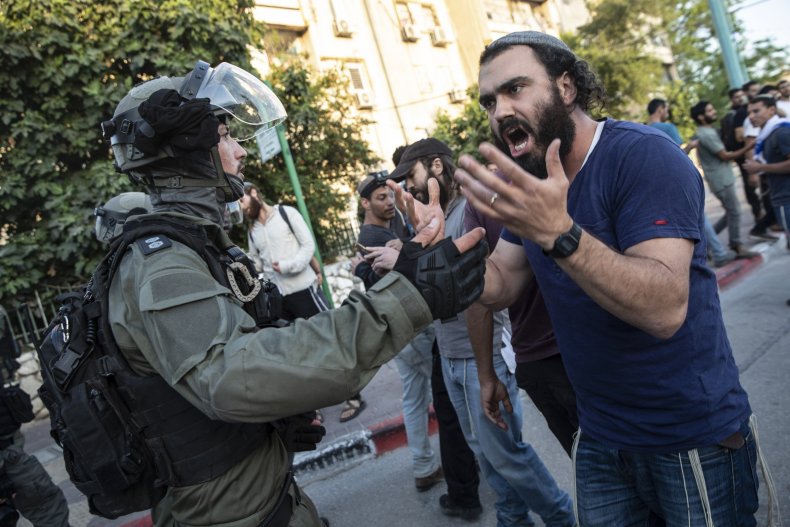 For more reporting from the Associated Press, see below:
Gantz called the current round of fighting, "a moment of social emergency" and told the social media platforms that Israel expects "your assistance."
The spokesman said the executives expressed their commitment to act quickly and effectively to prevent incitement on their networks.
Other officials are taking steps to curb violence between Jewish and Arab communities as the violence continues in the Gaza Strip.
The head of Israel's Shin Bet says the service won't tolerate ethnic violence "by Arabs nor by Jews" after nightly clashes this week in some of the country's cities.
Chief Nadav Argaman said Friday that Shin Bet "will not allow violent lawbreakers to carry out terrorism on the streets of Israel."
He spoke after consecutive nights of apparent revenge attacks by Arab and Jewish mobs in Lod, Jaffa, Haifa and elsewhere inside Israel.
Argaman said Shin Bet is working with Israeli police and Border Patrol in those mixed cities. The effort is aimed at identifying, catching and prosecuting "whoever tries to hurt Israeli citizens, Jews and Arabs, until peace returns to the streets of the country."
In Germany, Chancellor Angela Merkel is also working to combat discrimination amid tension in the Middle East.
A spokesman for Merkel said Germany won't tolerate anti-Semitic demonstrations.
Anti-Israel protests in several cities this week have drawn concern and condemnation, particularly a protest outside a synagogue in Gelsenkirchen. A video showed dozens of protesters waving Palestinian and Turkish flags and yelling expletives about Jews.
Merkel spokesman Steffen Seibert said Friday that "anyone who uses such protests to scream their hatred of Jews is abusing the right to demonstrate." He added that "our democracy will not tolerate anti-Semitic demonstrations."
Seibert said Merkel condemns Hamas' ongoing firing of rockets at Israel and "nothing can justify such terror." He said the rocket attacks must stop immediately.
In neighboring Austria, Chancellor Sebastian Kurz tweeted that the Israeli flag was raised over his office on Friday as a signal of solidarity.