Netanyahu: Iranian Nukes Too High a Price for Their Help Against IS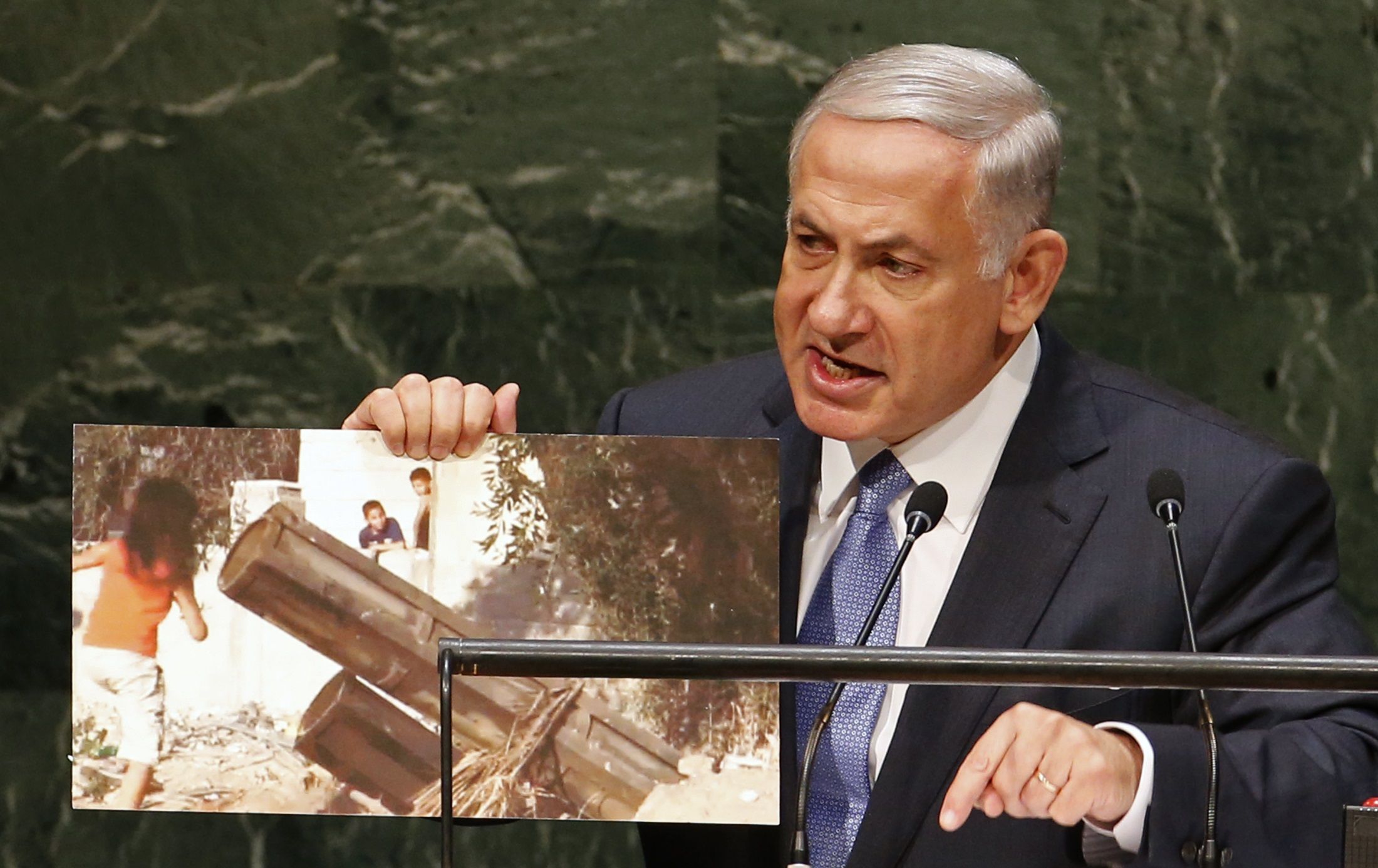 The Islamic Republic of Iran presents as big a danger, or even bigger, than the terrorists of the Islamic State (also known as ISIS), Israel's Prime Minister Benjamin Netanyahu told the UN General Assembly Monday. In an often combative speech he also proposed to turn the order of Middle East peacemaking on its head, making common cause with moderate Arab states before making a deal with Palestinian leaders.
Cautioning against falling for what he called the "charm offensive" that he said Iranian President Hassan Rouhani delivered last week, Netanyahu warned, "Once Iran produces an atomic bomb, all the smiles, all the charms will vanish."
He compared quotes from Abu Bakr al Baghdadi, the IS leader, and the head of Iran's Revolutionary Guards, saying both plan to defeat the world's democracies and replace them with an Islamic order. And in his speech, Netanyahu argued that all the Islamist terror organizations, from ISIS to Iran-backed Hezbollah, share a common platform.
"Some are radical Sunnis, some are radical Shiites," he said. "They even kill each other in the battle for supremacy. But they all share a fanatic ideology," which he summed up as "convert, or die." And he also compared radical Islamism to Hitler's fanaticism. "The Nazis believed in a master race; the militant Islamists believe in a master faith," he said.
Using his signature up-to-the-minute Americanisms, Netanyahu said, "To say that Iran doesn't practice terrorism is like to say that Derek Jeter never played short stop for the New York Yankees."
A nuclear armed Iran, he stressed, would be even more dangerous than the IS terrorists that now ride "in the back of pickup trucks." IS must be defeated, Netanyahu summed up, but "to defeat ISIS and leave Iran as a threshold nuclear power is to win the battle and lose the war."
He went on to address the allegations made last week by Palestinian Authority President Mahmoud Abbas, who accused Israel of committing war crimes and "genocide" in this summer's Gaza war and said Israel was planning a new "nakba" – the Arab word for "catastrophe" that was widely used to describe the alleged forced expulsion of Arabs from Palestine in 1948.
At times Netanyahu went for the jugular, citing, without mentioning Abbas by name, the Palestinian leader's infamous declaration at the University of Moscow as a youth that accounts of the holocaust were exaggerated.
Israeli soldiers, Netanyahu said, "deserve not condemnations but admiration" for the way they conducted the recent Gaza war. He condemned the UN's Human Rights Council for creating a special panel to investigate Israel's conduct in the war while ignoring the use of human shields and UN schools by Hamas. By investigating Israel, which has gone to great lengths to protect civilians, instead of Hamas, which used its own civilians to shoot at Israeli civilians, the council had become a "terrorist rights council," he said.
Netanyahu then described his vision for Middle East peace, which turns on its head the sequence envisioned until now by most analysts. Perhaps it's time, he suggested, to invert a process that would first bring reconciliation between Israelis and Palestinians, then a wider peace between Israel and the wider Arab world.
He mentioned Saudi Arabia, Egypt, Jordan, the United Arab Emirates and others as potential partners with Israel in the fight against terrorism and extremism inspired by the likes of IS and Iran. "Together we must recognize the dangers of radical Islam," he said. "A broader rapprochement between Israel and the Arab world may help facilitate Israeli-Palestinian peace."
That idea, he added, "might fly in the face of conventional wisdom, but it's the truth." And the truth, he said emphatically, "must be spoken, especially here, at the United Nations."
Follow Benny Avni on Twitter: @bennyavni