Israel's Netanyahu Warns of 'New Pandemic' Spreading With Unknown Virus, Closes Borders
Israel is closing its borders to foreign nationals and requiring Israelis entering the country to quarantine in designated hotels, as a "new pandemic" is spreading through the country.
Israeli Prime Minister Benjamin Netanyahu made the announcement during a tree-planting ceremony in Jerusalem alongside Jared Kushner, President Donald Trump's son-in-law and senior adviser. Netanyahu said that the mutation that's spreading could be "coronavirus 2" and that the ban on foreign nationals entering the country will be in place for at least 10 days.
"We have, at the moment, a new pandemic that is spreading, with a virus which we do not yet know about.... I know that this is a difficult decision, but we have no choice. I understand the difficulty that is also being caused to families, travelers, to everybody," Netanyahu said. "Nevertheless, this decision is critical because we must safeguard your health and your lives."
It's unclear if the prime minister was referring to an entirely new coronavirus or a new strain of SARS-CoV-2, the virus at the center of the pandemic. A variant of SARS-CoV-2 is spreading rapidly through the United Kingdom, and Reuters reported that it's responsible for 62 percent of all cases in London since it was identified in September.
Throughout the pandemic, officials have identified multiple strains of the coronavirus, but this most recent variation in the U.K. is believed to be up to 70 percent more transmissible than its predecessor. It hasn't been found to be more deadly than previous strains, but an increase in transmissibility presents serious problems for controlling outbreaks.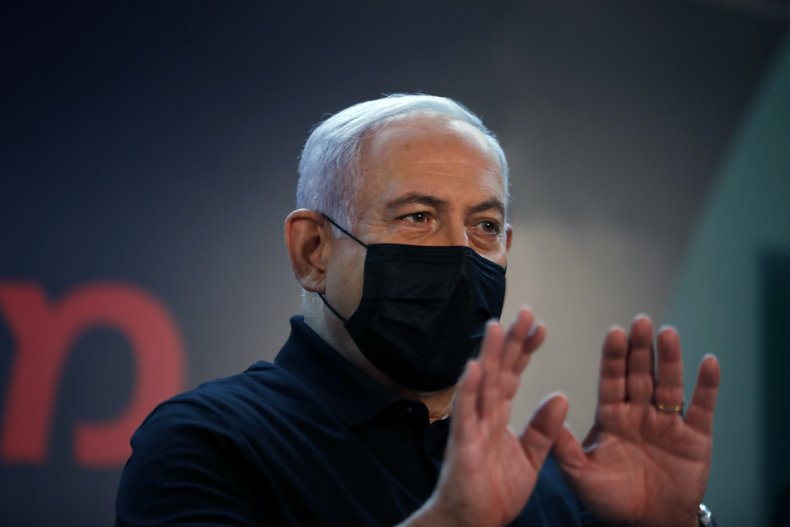 On Saturday, Prime Minister Boris Johnson announced new restrictions for London and much of southeast England. Under the Tier 4 restrictions, people must remain home except for essential work, and Christmas gatherings among people from multiple households are not allowed.
"I know how much emotion people invest in this time of year, and how important it is—for instance, for grandparents to see their grandchildren, for families to be together," Johnson said. "We have said throughout this pandemic that we must and we will be guided by the science. When the science changes, we must change our response."
Given the level of transmissibility in the United Kingdom, nine European countries, Canada, Russia, India and Hong Kong have implemented temporary restrictions on travel from the U.K. New York Governor Andrew Cuomo called on the federal government to either ban flights or require testing of all passengers, telling reporters on Sunday that daily flights from Britain pose a health risk.
"We have done absolutely nothing. Now, to me this is reprehensible because this is what happened in the spring," Cuomo said. "It went to Europe, and it came from Europe, and we did nothing."
Trump has touted his decision last spring to close down travel from China for reducing the virus's spread in the U.S., although he faced criticism for focusing too much on China when the real threat to America was coming from Europe. Still, the president has continued to promote his decisions on the virus, often saying he made them over the advice of experts.
Dr. Anthony Fauci, director of the National Institute of Allergy and Infectious Diseases, initially said travel restrictions were "not a good idea" at the time, but he supported the restrictions on the day the ban was announced. On Monday, Fauci once again advised against imposing restrictions before the situation warrants it. He told CNN's Max Foster that the U.S. must "without a doubt keep an eye on it" but added, "We don't want to overreact."
As of Monday, Israel's skies were closed to foreign nationals, aside from certain exceptions such as diplomats. Israelis returning to the country within 48 hours can quarantine at home but will have to quarantine at a designated hotel if they return after that period.
Israel has reported 376,857 cases of the coronavirus, according to a Johns Hopkins University tracker, and Netanyahu championed the country's response as being "exceptionally successful."
"Just as we took control of the first virus, so too will we be successful in taking control of the second virus," he said.
Newsweek reached out to Netanyahu for comment but did not receive a response in time for publication.