Israel's New Far Right Government Can't Kill Our Desire for Freedom and Dignity | Opinion
On Sunday, the Israeli military killed a 14-year old Palestinian boy named Qusai Radwan. Qusai was from Jenin refugee camp, five minutes from my home in the occupied West Bank. Qusai's killing was part of an alarming escalation of violence; Israeli settlers shot and killed a 27-year old Palestinian farmer and father the day before Qusai was killed, and the army killed a 21-year old resistance fighter the day after.
Posters of Qusai are now all over Jenin refugee camp. They replaced other posters. Just a few weeks ago, Israeli military jeeps surrounded the refugee camp, where I work at the Freedom Theater. I had just gotten to my desk when the shooting began. Gunfire was ringing out from all directions. My wife called, imploring me to come home, but snipers were on rooftops all over the camp, threatening anyone who moved. Terrified, I hunkered down.
Over the next four hours, Israeli soldiers killed 10 Palestinians, including two children and an elderly woman. More than 20 others were wounded. The Palestinian Ministry of Health reported gunshot wounds to people's heads, chests and abdomens.
The intensity of the assault and shocking loss of life indicate that we are living through the start of a new and deadlier period under the auspices of Israel's new government, which recently came to power last December.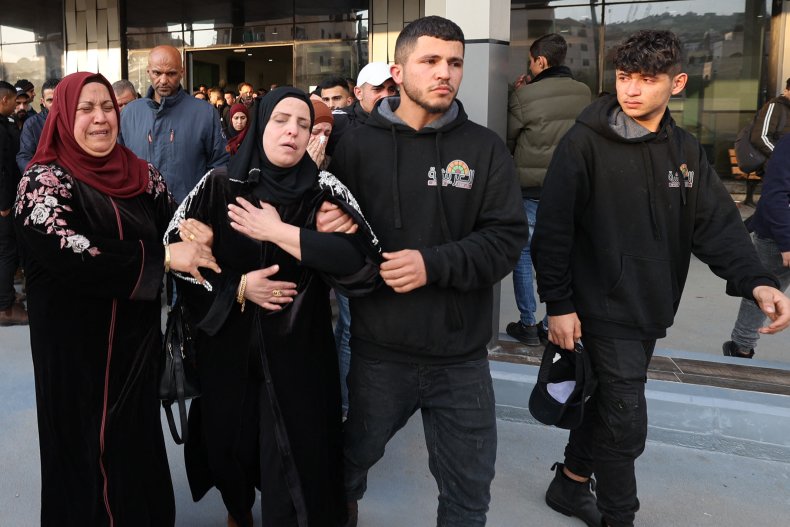 After the shooting stopped that day in Jenin, I traveled to Jericho and discovered that Israel had effectively placed a travel ban on me, barring me from leaving the West Bank.
This is the context in which we do our work at the theater: We give Palestinian children a safe space and creative tools to express themselves and strengthen their resilience in the face of ongoing trauma. We strive to be a beacon of cultural resistance to oppression, be it at the hands of Israel or our own society.
The violence that Palestinians are subjected to is so pervasive that it's almost normalized, and it extends far beyond Jenin. Every day, Palestinians in the occupied territories are brutalized by Israel's 56 year-old military occupation. Last year was the deadliest year in the West Bank since 2006, along with an alarming spike of Israeli settler attacks. Yet 2023 is on pace to be even worse.
So far, Israeli forces and settlers have killed 40 Palestinians, nine of them children, since the start of this year. Nine Israelis have also been killed, including two children last Friday when a mentally ill Palestinian man drove his car into a bus stop.
Israel's new far-right government now threatens even more escalation. It is attacking and attempting to silence anyone who opposes its extremist agenda, including Israeli human rights organizations.
Yet even as Israel intensifies its repression, entrenches its occupation, and accelerates its theft of Palestinian land for settlements, western governments continue to support it and deny the right of Palestinians to defend ourselves.
I've worked with Jenin's children for over 30 years, witnessing hope diminish and desperation increase. I ask them what outcome they hope for, given Israel's military might.
It's not about power, they tell me, or even victory. It's about dignity. We are human beings, they say. We are here and we will remain here.
The Freedom Theatre planned to premiere a new play, Metro Gaza, on December 8. Early that morning, Israeli soldiers killed three young men in Jenin. Our team debated whether or not to cancel. What's the value of cultural work when you're surrounded by violence and desperate need?
Theater cannot stop a bullet, free a prisoner, or ensure food security. In the end, we decided to perform. If we want a better future for our children, we must envision it. We must express our humanity, and hold onto our identity. How better to honor the dead than to continue our cultural resistance to the occupation that killed them?
Mustafa Sheta is General Manager of the Freedom Theatre in Jenin.
The views expressed in this article are the writer's own.