Israel's Far-Right Lehava Group Protests Christmas Event Over Invite for Jews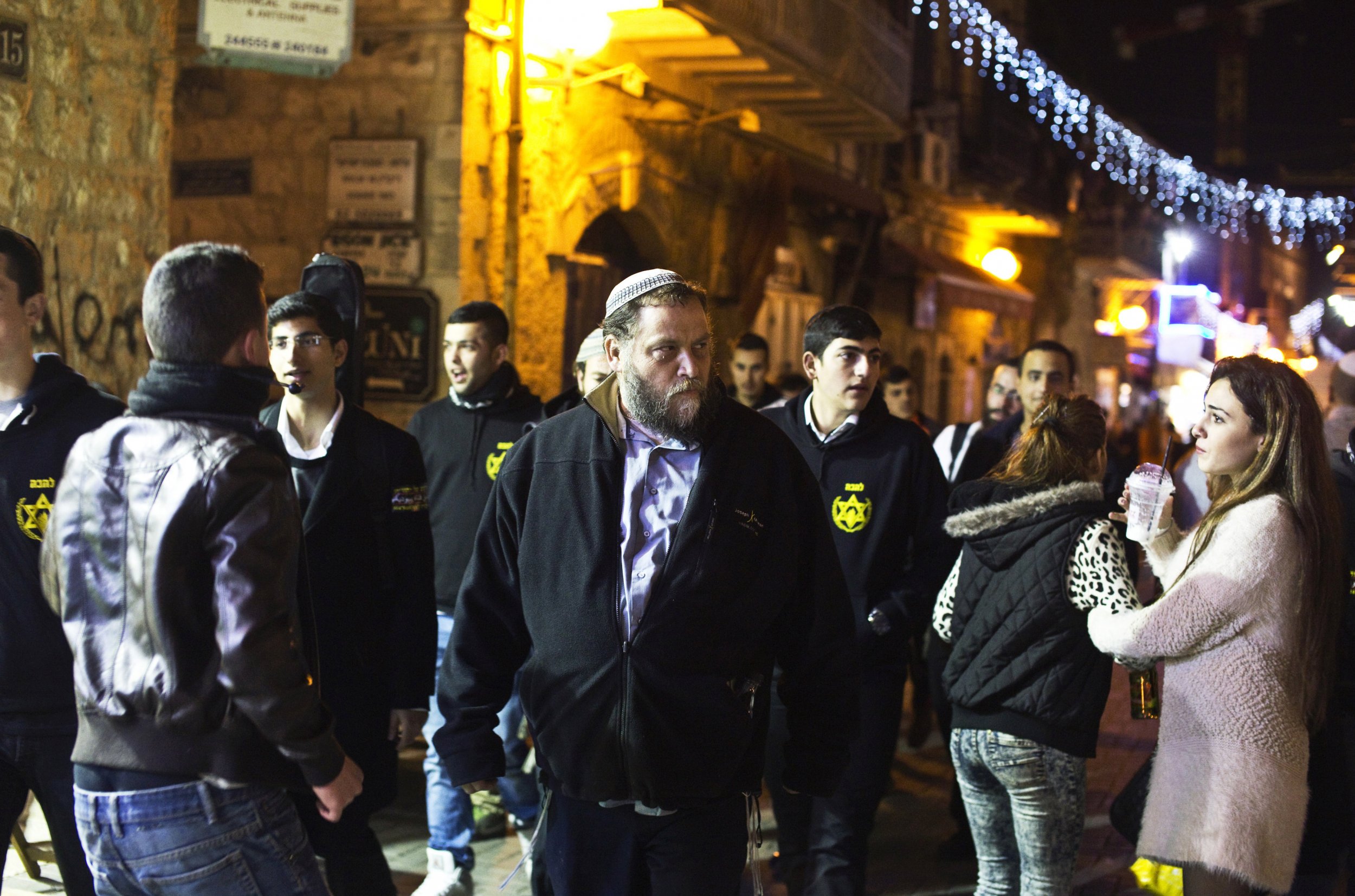 Protesters from Israel's right-wing Lehava group demonstrated outside a Christian Christmas gathering in Jerusalem on Sunday, condemning what they said was an attempt to "murder" Jewish souls after the organizers invited Jews to attend.
A group of around a dozen protesters stood outside the YMCA in Jerusalem to denounce the annual Christmas celebration, shouting "you murdered us in exile" and calling for the "impure" Christians to leave Israel. The Times of Israel reported that one protester shouted: "You murdered our bodies, now you want to murder our souls."
The Jerusalem YMCA opened in 1933 and holds events in the run up to Christmas every year. On its website, the center advocates "peaceful coexistence" between the holy city's communities and was nominated for the Nobel Peace Prize in 1993 in recognition of its work to promote peace.
Sunday's protest was the first instance that Lehava has rallied against the Christmas event and the group's leader Benzi Gopstein, who was present at the protest, said it was the event organizers' attempt to sway Jewish children that influenced members of his group to take to the streets.
"This year, they invited all the Jews of Israel, publicized ads in Hebrew throughout Jerusalem and invited Jewish children to get Christmas presents," he said, according to The Times of Israel.
He compared the invitation of Jews to the Christian event to the wave of stabbings committed by Palestinians against Israelis in a number of Israel's cities in the past two months.
"We think that, just as the Arabs are not successful in beating us with stabbings, so too, Christians won't be successful in swaying Jewish children with gifts,"Gopstein said. "We don't need their presents. The Christians should stay Christian; the Jews should stay Jewish."
He added: "We don't want to learn their religion. We don't want to teach them about Hanukkah, and don't want them to teach us about Christmas."
Gopstein advocates the removal of Christian churches from Israel, going so far to say that "idolatry needs to be destroyed" in comments picked up by Israel's Haredi Orthodox media from a meeting at a Yeshiva in August. Gopstein also opposes the assimilation of Jews and Arabs.
His group famously protested outside of the wedding of an Arab man and a Jewish woman last year; it has protested against gay pride marches in Jerusalem; and, in November last year, three of the group's members were implicated in the burning of a mixed Jewish-Arab school in Jerusalem.
The name "Lehava" means "flame" and is an acronym for "preventing assimilation in the Holy Land." The marriage of Jews and Arabs is prohibited in ancient Jewish law.
Following the July firebombing of a Palestinian family's home in the West Bank village of Duma, Israeli politicians promised a war against far-right extremism in the country. Opposition Labor leader Isaac Herzog called on Prime Minister Benjamin Netanyahu's government to outlaw the Lehava group and classify them as a "terrorist organization."
Neither Gopstein nor a representative of Lehava responded to Newsweek 's request for comment.