Grapes of Wrath: Israel's Settlement Wineries Fight Back Against EU Labels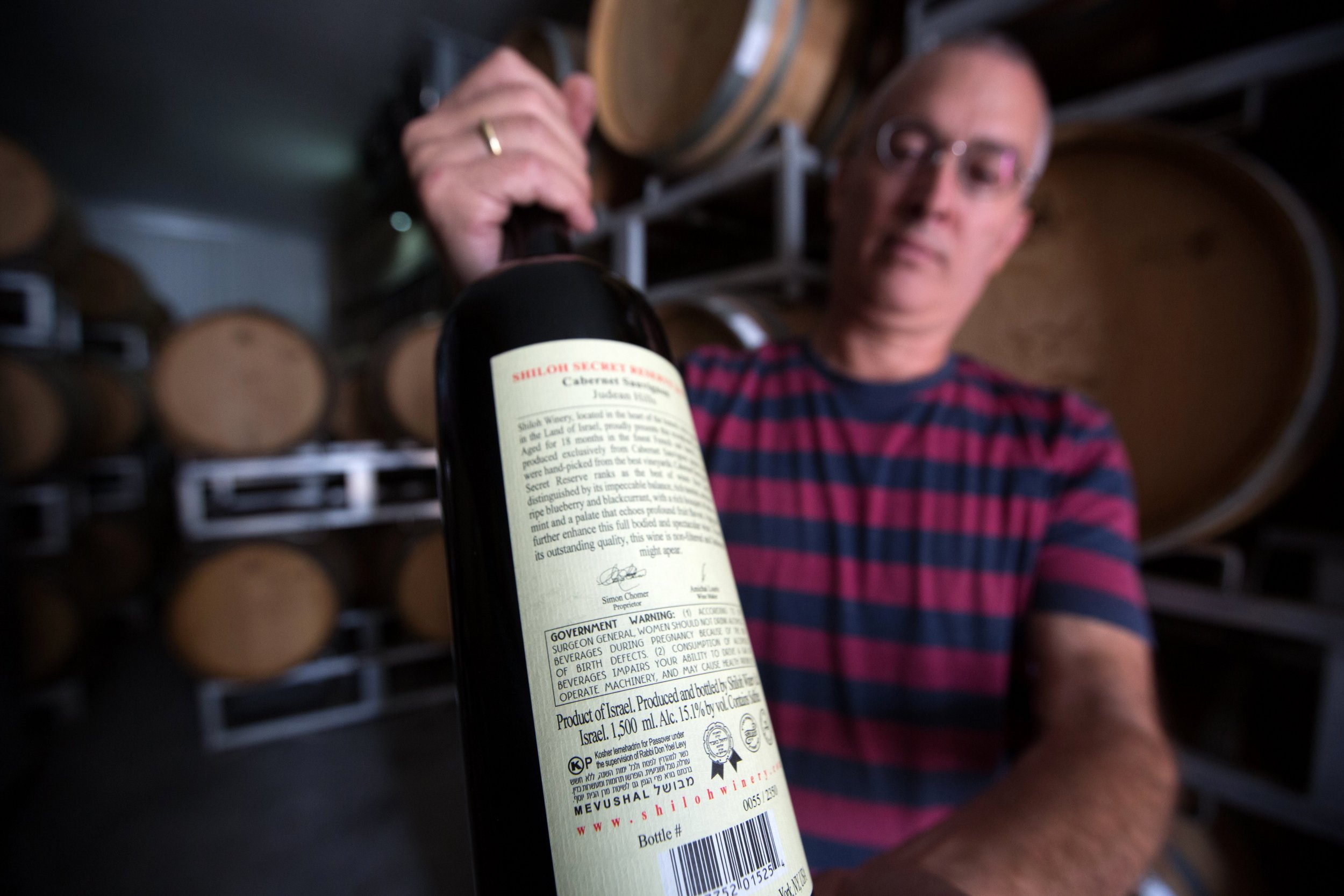 Two months ago, Yaakov Berg, the 39-year-old founder of the Psagot Boutique Winery in the Israeli settlement of Psagot, launched an online store for settlement products. Blessings of Israel is, in Berg's words, an attempt to "connect our allies around the world," particularly evangelical Christians in the United States, delivering products made in the settlements directly to international buyers and, hopefully, boosting their markets outside of Europe.
Berg's business is booming. His Merlots and Cabernet Sauvignons have won awards and he's gone from producing just 3,000 bottles a year when he started in 2003, at the height of the Second Palestinian Intifada, to 250,000 bottles in 2015. But Psagot's growth is tempered by the increasingly worrisome problem it faces in Europe: the European Union's new guidelines on labeling products from the West Bank. Last year was "a little bit difficult" in terms of sales, Berg says, meaning his digital move is driven as much by economy as it is philosophy,
As human rights groups, boycott advocates and anti-Israel campaigners the world over continue to push for a full embargo on businesses located in the 237 Jewish settlements in East Jerusalem and the West Bank, the EU recently issued guidelines saying that products coming into the bloc from the occupied territories should be labeled with their place of origin. The labeling is mandatory on fruit, vegetables and wine—bottles made in Jewish outposts must now carry the term "Israeli settlement" in brackets. And that means significant implications for settlement wineries, of which there are at least 30 in the West Bank.
Many Jewish winemakers have been left punch-drunk, while others find they are forced into a sobering reflection on how they should be selling their reds and whites to the world. West Bank vintners are now looking for different ways to reach current customers and new markets, and exploring other measures to circumvent the labels.
For Berg and his Psagot Boutique Winery, that means going—and growing—online. "The idea is very simple, we believe that the best way to fight against [the labeling] is to show in numbers that, from that decision, the businesses in Judea and Samaria are going to sell much more," Berg says, using ancient biblical terms to describe the West Bank. He admits that he will not adhere to the EU's guidelines, calling it an "evil" decision that says he can buy a winery anywhere in the world apart from his "homeland."
"I'm not going to write on my label 'occupied territories' or 'Israeli settlements' because this is nothing to do with the truth. I am going to write exactly where it is coming from," he says. "They feel that we are ashamed of where we are located. I say the opposite. We are going to tell our story."
The settlements in East Jerusalem, the West Bank and the Golan Heights are defined as illegal under international law as Israeli forces captured the territories, where more than half a million Jewish settlers now reside, in the 1967 Six Day War.
Still, when the EU announced the new labeling guidelines on November 11, 2015, it did so amid fierce Israeli opposition. EU officials said the decision was merely technical; bestowing consumers with the details of a product's source would allow them to make an informed purchasing decision. Despite settlement produce representing just 0.1 percent of total Israeli exports—and, in 2013, just 1.5 percent of total Israeli exports to the EU—Israeli officials said the move harked back to the dark days of the Nazi era, when Jews were labeled with yellow badges. They also argued that the labeling opened the door to wider boycotts of Israel.
But Amichai Lourie doesn't see the labels as a symbol of bigotry. He sees them as a mark of honor. The 49-year-old winemaker at Shiloh winery, located in a settlement of the same name, says he is more than happy to label his wines. "You say labeled? I'm already labeled! Where am I from? Here. It says Shiloh on all my bottles," he says. "I want everybody to know where I am. So I don't do anything to change the name of the winery or look for any ways around it."
European sales at Shiloh, which produces 100,000 bottles of wine annually, have dried up since the EU handed down its decision, as importers balk at taking a risk on settlements wines when the exact guidelines remained undefined. "Literally, sales to Europe dropped to zero. No sales in Europe," Lourie says. "It hurts. Like every business, it hurts a lot. But you know what? We've gone through more difficult things in life."
Lourie's method of fighting back against the labeling is to accept it, but with Israeli pride. "We'll put [the point of origin] on the label and I'll put a big star of King David on it too," he says. "Listen, I'm proud, so why not meet the guidelines? Why do I want to fight?"
Critics of the labeling guidelines note that the EU's move could inadvertently hurt the Palestinians it aims to help. Some settlement wineries, such as Berg's Psagot Boutique Winery, employ a small number of Palestinian workers, providing them with higher salaries than they would receive in Palestinian Authority-controlled territory. Yet, according to a 2013 report by Israeli civil society organization Keren Navot, 56 percent of the total agricultural area added for Jewish vineyards in the West Bank and East Jerusalem between 1997 and 2012 (17 percent) was built on what was privately owned Palestinian land. Anti-Israel activists say that developing vineyards provides an accessible route for settlers to take control of Palestinian land and "normalize" the settlement enterprise.
As debate continues over what effect the labeling of settlement products will have, some Jewish vintners think the decision will only end up hurting Europe. Yoav Levy, founder of the Bazelet Hagolan winery in the Golan Heights, produces 80,000 bottles a year, only employs people who served in the Israeli military and, like Lourie, will put an Israeli flag "on the cork" of his wine exports to the EU. "If someone is against me, then I'm sorry to say, he can kiss my ass," he says. "It's very, very popular to be against Israel. Let them live without our Israeli ingenuity."
Smaller wineries, such as the Gush Etzion winery, do not yet sell their products to EU member countries, but wish to do so in the future. So they chose to stay out of the debate altogether. "We do wine, we do not make politicians," says Eyal Buchsboum, head of sales at Gush Etzion winery. "It's not an issue for us as we don't want to talk about it." Buchsboum adds that the only European country the winery sells to is Switzerland, a non-EU state.
And for many West Bank wineries, countries like Switzerland and others beyond Europe are proving valuable to those seeking new markets to balance against current or future losses from the EU decision. D'vora Brand, 56, head of export and customer relations at the Gat Shomron winery, in the settlement of Karnei Shomron, says that for "every problem, there is a solution"—and both Africa and Asia could prove to be lucrative solutions.
"Right now we are in negotiations with Switzerland. What happens there is that they can do what they want," she says. "We are pursuing different avenues: Asia, Switzerland, South Africa." In Asia, Japan, Hong Kong and China are providing new openings for settlement wineries, due to a higher demand in Asia for quality, exotic wines.
"There's a market there that hasn't been scratched much," adds Brand. "It's a market where, over the past years, their standard of living has risen and they are now capable of buying better wines." Another bonus: "In that part of the world, there's no EU."
While their methods in fighting back against the EU's decision may differ, Levy, Lourie and Brand concede that they will have to develop online stores if the labeling guidelines stay in place or begin to damage their businesses. Berg, the flag bearer of the digital approach, says he is going to offer his "services to all wineries in Judea and Samaria" and reveals that he and several other winemakers met at the beginning of February to put aside their competition and discuss potential cooperation.
"We are going to unite to tell our story together, at least," he says. "This is the good thing that the EU has given us. Now we have become united."