Issa Rae's 'Insecure' and the Very Few Shows to Ever Depict 'Great Black Female Friendships' on TV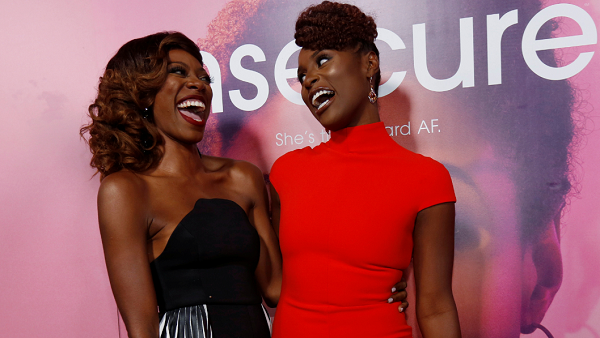 When thinking about the many female friendships that have graced TV screens over the years, there are a few that instantly come to mind like Sex in the City's Carrie, Samantha, Miranda and Charlotte. Then there's the Friends trifecta, Rachel, Monica and Phoebe, and in most recent TV times, the dysfunctional troupe that is Hannah, Marnie, Jessa and Shoshanna on Girls.
Albeit different in their own unique and individualized way, all the friendships depicted on these highly praised television series have one particular thing in common, and it isn't the fact that they're all based in New York City.
They're all about white women.
While there are series that represent the origins, aspirations, love lives and friendship dynamics among women of color, they are few and far between, which is one of the biggest reasons Awkward Black Girl creator and author Issa Rae developed the hit HBO show, Insecure.
Currently filming its second season, Insecure follows the lives and relationships of best friends Issa Dee (played by Rae) and Molly Carter (Yvonne Orji) as they climb up the corporate ladder in Los Angeles and overcome the parallels of adulthood as black women.
There are a few other key relationships on the show, including Issa and Molly's friendship with Tiffany (Amanda Seales) and Kelli (Natasha Rothwell), and Issa's failing romances with ex-boyfriend Lawrence (Jay Ellis) and her one-time fling, Daniel (Y'Lan Noel). But aside from moments shared with her co-workers, very few instances on the show portray Rae's character in contact with people who aren't of color.
There's a very deliberate reason for that, which Rae recently credited as the need to fill the void of people and places that have long been misrepresented in television.
"I think for such a long time, I just was not seeing great black female friendships on television," Rae said to Deadline Sunday. "It was constantly about tearing one another down or throwing shade. There are elements of that, but for the most part, black women are essential to my life."
Insecure is the first show to tackle issues predominately endured by women of color since Girlfriends went off air in 2008. In regards to particularly focusing on friendships between black women, there weren't too many others on TV before that.
As viewers anticipate season two of Insecure, which won't return to HBO until July 23, remember some of the black girl friendships that paved the way for Issa and Molly by checking out the list below:
1. Girlfriends: From 2000 to 2008, the CW/UPN series showcased the ups and downs of friendship among adult women. Characters Joan, Maya, Lynn and Toni faced everything together from divorces to family deaths, fall-outs and job losses. Despite their many upsets and disputes, they always found a way to support and uplift one another for the sake of sisterhood.
2. Moesha: The woes of being a high school student were no match for best friends Moesha (Brandi Norwood), Niecy (Shar Jackson) and Kim (Countess Vaughn). The show, which ran on UPN from 1996 to 2001, primarily focused on the hardships Moesha faced as she grew up, but her faithful friends made combating the trials and tribulations of adolescence easier to bear.
3. A Different World: The NBC show, which ran from 1987 to 1993, follows an entire group of friends as they navigate through college. However, the most interesting of friend dynamics on the series may have been between Whitley (Jasmine Guy) and Kim (Charnele Brown), who were complete opposites but totally inseparable. Despite their moral and background differences, the duo still managed to become each other's support system and often challenged one another to excel in their educational and career aspirations.
4. The Parkers: A spin-off of Moesha, The Parkers main character Nikki (Mo'Nique) was often at the epicenter of mischief, but luckily her level-headed best friend Andell (Yvette Wilson) was always there to bail her out of trouble. The comedy series, which ran from 1999 to 2004 on UPN, was also one of the first to depict a single working mother, Nikki, raising her daughter, Kim (Countess Vaughn), while simultaneously furthering her education at junior college.
5. 227: Pearl (Helen Martin), Mary (Marla Gibbs) and Rose (Alaina Reed-Hall) were just as known for supporting and bettering their communities as they were for gossiping about their neighbors on the stoop of their Washington D.C. apartment building. No matter what weekly drama unfolded on the NBC sitcom, which aired from 1985 to 1990, the trio always found a way to bring everyone back together.
6. Sister Sister: The sitcom, which aired on ABC, The WB and UPN during its run from 1994 to 1999, was about adopted twin sisters, played by Tia Mowry-Hardict and Tamera Morwry-Housley, who rediscovered one another after being separated from birth. Their journey from preteens to college students (and the discovery of their biological parents) would not have been nearly as adventuresome without their revolving door of friends.
7. One on One: When high school student Breanna (Kyla Pratt) was suddenly forced to move in with her father Flex (Flex Alexander), she faced an array of new challenges from dealing with her dad's bachelor lifestyle and her new school's mean girl to managing her broken heart and ex-boyfriends. However, Breanna's best friend Spirit (Sicily Johnson) was always on hand to encourage and support her every step of the way. The sitcom aired on UPN from 2001 to 2006.
8. Chewing Gum: Similar to Insecure's theme of following a young black woman through early adulthood, the Netflix series, which first debuted in 2015, is based on the mishaps and failed relationships faced by main character Tracey (Michaela Coel), which she always manages to get through with the advice of her gal pal Candace (Danielle Walters).
9. Martin: The Fox series was heavily focused on the main character Martin Payne (Martin Lawrence) and his romance with girlfriend-turned-wife Gina Waters (Tisha Campbell-Martin) and his bromances with Tommy Ford (Tommy Strawn) and Cole Brown (Carl Anthony Panye II) during its run from 1992 to 1997. However, Gina's friendship with Pamela James (Tichina Arnold), who regularly appeared on the show. The best friends often leaned on one another for support in the boardroom and they were quick to come to one another's defense when having to deal with Martin, Tommy and Cole's shenanigans too.
10. Living Single: The Fox series, which aired from 1993 to 1998 was the first of its kind to follow the lives of four black female main characters: Magazine editor-in-chief Khadijah James (Queen Latifah), her cousin and assistant Synclaire James (Kim Coles), their roommate Regine Hunter (Kim Fields), a boutique buyer, and attorney Maxine Shaw (Erika Alexander), who happens to be Khadijah's best friend from college. The group faced many of the tests that come along with professional advancement and adulthood, but no matter how rocky things in their personal lives got, their friendships always remained steady under pressure.