Man Denies Telling Georgia Lawmaker Erica Thomas 'Go Back Where You Came From' in #IStandWIthErica Incident
A Georgia state congresswoman ignited the #IStandWithErica trend on social media this weekend after she recorded an emotional video claiming a man told her to "go back to where she came from" at a grocery store — and now the man accused of the bigoted verbal attack has responded.
State Representative Erica Thomas, an African American lawmaker in Georgia's 39th District, teared up in the video as she recounted a Friday incident at a Cobb County Publix grocery store, where she said Eric Sparkes verbally attacked her.
But as Atlanta's WSB-TV prepared to interview her outside the Publix Saturday afternoon, Sparkes was present and the two got into a shouting match. Sparkes defended himself, labeling Thomas a "liar" about the incident and saying she was "playing the victim" for political purposes. An irate Thomas attempted to convince reporters on the scene not to interview Sparkes at all, claiming he was just seeking his "five minutes of fame" in trying to defend himself from her now-viral accusation.
Sparkes admitted to cursing at Thomas, but said he never told her to "go back where she came from," as she had alleged in her video and on social media.
"I'm a liar about what?" Thomas asked Sparkes in the duo's second heated exchange of the weekend.
"Everything that happened," Sparkes replied. "Me telling you to 'Go back where you came from.' Did I say that? Is it on video?"
"Are you serious? What did you say to me then," Thomas responded, noting that the store is investigating security footage inside the store as well as interviewing employees and witnesses.
"I called you a lazy b**ch," Sparkes said to Thomas. "That's the worst thing I said."
"Yeah, that makes you look better to say that," Thomas said.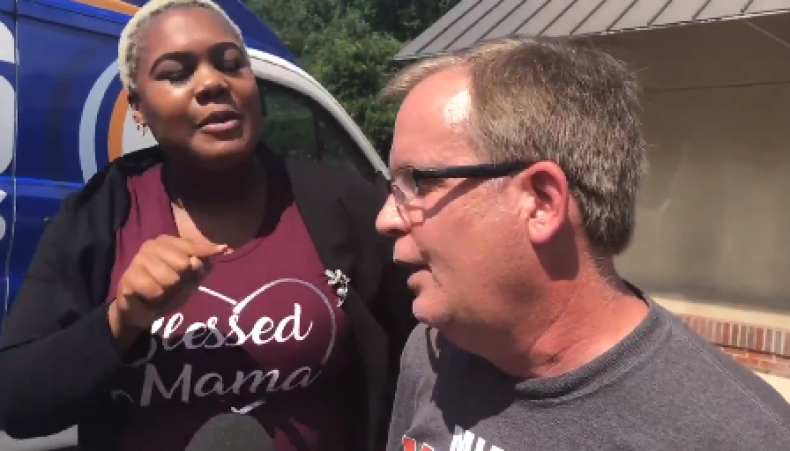 Thomas, speaking in her initial video that kicked off the #IStandWithErica trending hashtag, told her side of the story Friday in the video she posted to Facebook Live.
"I decided to go Live because I'm very upset because people are getting really out of control with this, with this white privilege stuff," the state legislator said. "I'm at the grocery and I'm in ... the aisle that says '10 items or less.' Yes, I have 15 items, but I'm nine months pregnant and I can't stand up for long. And this white man comes up to me and says, 'You lazy son of a bitch ... You need to go back where you came from.'"
Sparkes said he is a Democratic voter and is of Cuban nationality while defending himself from the accusation.
"This woman is playing the victim for political purposes because she is a state legislator," Sparkes told WSB-TV. "I'm a Democrat and will vote Democrat for the rest of my life, so call me whatever you want to believe. For her political purposes, make it black, white, brown, whatever. It is untrue."
The two continued to trade barbs as cameras rolled Saturday afternoon, with Thomas demanding he be held "accountable" for verbally assaulting her, regardless of whether or not his comments had racial or xenophobic meaning.
"I don't want to say he said, 'Go back to your country,' or 'Go back to where you came from,'" Thomas said, walking back her initial description of the incident. "But he was making those types of references is what I remember."
"If you know how you made me feel yesterday, if you knew how you made my daughter feel," Thomas can be seen yelling at the man. "Back off before I call the police," he replies.
"Call the police right now," Thomas said. "Of course you would deny those things. But the people in the store, you know we have witnesses that are willing to be a witness in court."
Publix issued a statement Saturday saying they are working with local law enforcement to uncover the facts of the incident: "At Publix we are committed to creating a safe and welcoming shopping experience for all our customers. We are cooperating with local law enforcement as they look into the matter."