#IStandWithIlhan: After Trump Rally, Congresswoman Ilhan Omar's Supporters Plan to Welcome Her Home
After nearly a week of constant criticism from President Donald Trump and his supporters, Congresswoman Ilhan Omar's supporters planned to welcome her home to Minnesota.
Thursday's event was set to take place at the baggage claim area of Terminal One at the Minneapolis-Saint Paul International Airport, just in time for Omar's expected arrival. Almost 300 people responded on Facebook that they would attend and an additional 2,200 said they were interested.
Hosted by several organizations, including WOW Network, TakeAction Minnesota and Out-front Minnesota, the event page encouraged local supporters to welcome Omar home after Trump's controversial "go back" tweet and the ensuing political storm.
"Donald Trump told Ilhan Omar to 'Go Back Home' well she lands in Minnesota at 5 p.m.," the event said. "So let's welcome her back to her home, Minnesota's 5th congressional district."
On Sunday, Trump posted on Twitter that a group of four progressive Democratic congresswoman — which includes Omar — should "go back and help fix the totally broken and crime-infested places from which they came." While the president and several of his supporters defended his comments, many people labeled them racist and on Tuesday, the House of Representatives approved a resolution officially condemning the tweets.
While Trump's original tweet did not specifically mention Omar by name, he has subsequently made it very clear that the congresswoman, who was born in Somalia and came to the U.S. with her family as a young child, was indeed a primary target.
During a rally in North Carolina on Wednesday night, the president explicitly criticized Omar for previous comments she made about terrorism and his remarks were met with loud "send her back" chants from those in attendance. The rally prompted two competing hashtags, "#IStandWithIlhanOmar" and "#IStandWithTrump" to trend on Twitter.
In response to the rally, Take Action Minnesota, a nonprofit organization, issued a statement, saying that when the president "attacks and scapegoats immigrants, Congresswomen of color or any group of people, it hurts all of us." The organization added that a divisive leader "weakens" the whole nation.
"Either we stand together with unbreakable solidarity across race, class, gender and geography, and rise up to meet the challenges we all face. Or we allow hatred and cruelty to win the day," the statement said.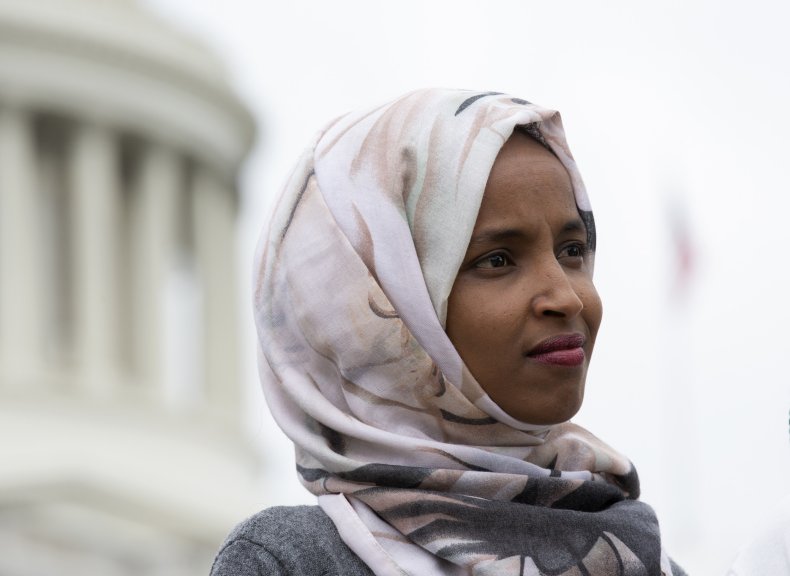 On Thursday, Trump told reporters that he was not "happy" with the chant and disagreed with it. He added that he "felt a little bit badly about it," but clarified that he didn't say "send her back," his supporters did. The president also claimed he tried to quickly end the chant by continuing his speech, however video footage of the event clearly shows Trump waiting more than 10 seconds while the crowd repeatedly shouts "send her back."
The Minnesota Workers United called Omar one of the "loudest" and "strongest" voices for workers and posted on Facebook that people should "stand with her." Women Winning, an organization that advocates for pro-choice female candidates, encouraged people to use the event as a way to demonstrate their values.
"Congresswoman Omar is a Minnesotan, an American, a Member of Congress. No matter what Donald Trump believes, we know the truth. Minnesotans stand opposed to his racism, his rhetoric, and his damaging policies," Women Winning posted on Facebook.
The 2020 presidential election is the first time many people in Generation Z will be of voting age and they're expected to make their voices heard at the polls.
Ahead of Omar's arrival, on Wednesday evening, the University of Minnesota College Democrats posted a message of support on Twitter. Newsweek reached out to the University of Minnesota College Democrats but did not receive a response in time for publication.
The student organization wrote that Omar believes in the "dream of our democracy" and continually fights for her constituents.
"She doesn't give up no matter what. Let's stand against everyone inciting hate, violence and bigotry against her & her family #IStandWithIlhan do you?" the tweet concluded.
Karly Hahn, chair of the Minnesota College Republicans, disagreed that the statement anyone who doesn't love America should leave was specific to people of color, saying it was a reference to those who "continue to diminish the true meaning and value of our flag."
"It seems to me that Trump expressed a sentiment held by many Americans: America is a place for people who love this country. This idea is held dear to patriots across the nation and for the vast majority, is blind to race and religion," Hahn told Newsweek.
Come 2020, when Omar is up for reelection, Hahn said she was confident Minnesotans would not elect a representative who she claimed has no regard for America's laws and "makes hateful comments on the basis of religion."
"That is not what Minnesota is about and that is not what America about," Hahn said.
Omar was heavily criticized for comments she made about money from Jewish people influencing American politics and Israel that many felt crossed the line into anti-Semitism. In March, the House of Representatives approved a resolution condemning "anti-Semitism, Islamophobia, racism and other forms of bigotry."
After Omar returns home, she will participate in an event focused on Medicare for All, scheduled to begin at 7:00 p.m. CDT in Minneapolis.