Is It Fair for Low Income and Rural Communities to Get the 'Third-Best' Vaccine?
This story is co-published with Capital & Main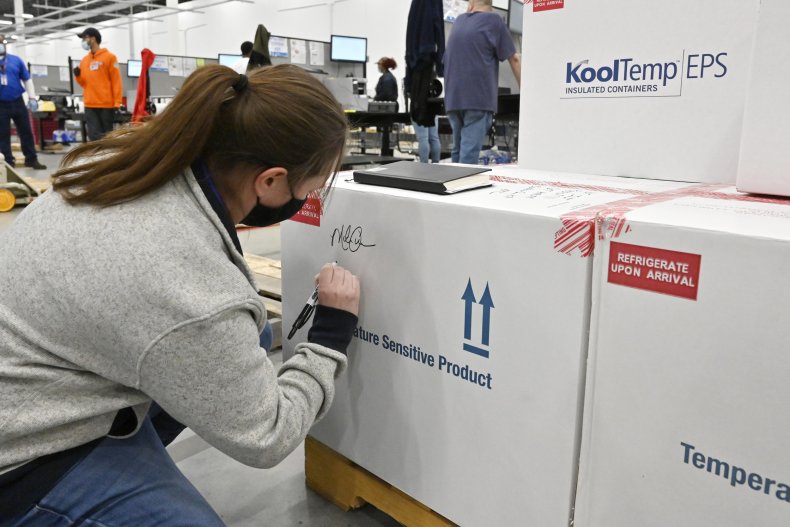 On the face of it, the Food and Drug Administration's emergency use authorization of the Johnson & Johnson vaccine appears a pure good. The vaccine requires only a single shot and can store in a standard refrigerator, and the White House said Monday that the manufacturer's entire current supply—3.9 million doses—will go out immediately, providing a short-term boost to the nation's effort to get Americans vaccinated as quickly as possible.
The newly approved vaccine "is a much needed addition to our toolbox and increases the number of vaccine doses available," Dr. Rochelle Walensky, director of the Centers for Disease Control (CDC), said at a video briefing. "We now have three safe and highly effective vaccines that prevent serious illness, hospitalization and death from COVID-19."
So why did Biden administration officials spend time Monday addressing questions of inequity among the different vaccines and those who receive them?
The answer: It's complicated. But it is real. And judging from the officials' comments on the topic, the issue of perception—and how that ultimately affects participation—was something they were concerned about well before the Johnson & Johnson vaccine officially reached the starting line.
"We're absolutely, 100 percent committed to equitable vaccine access," said Dr. Marcella Nunez-Smith, who heads the Biden administration's coronavirus equity task force. "We know that we still have a challenge in terms of data...But even the data that we do have suggests this pattern [of inequity]."
For months, going back to the Donald Trump administration, the vaccine rollout has been demonstrably lopsided. According to data compiled by the CDC, Latinos have received only 8.6 percent of available vaccines among those in the U.S. who've had at least one dose administered, despite their comprising 20.7 percent of the COVID cases in the country and 18.5 percent of the population overall. Black people have received 6.7 percent of such vaccines, yet account for 12.2 percent of COVID cases and 13.4 percent of the population. Whites, meanwhile, make up 55.9 percent of the cases of the virus nationally and 60.1 percent of the population; they've received 64.8 percent of the available vaccines.
What has any of this to do with Johnson & Johnson? Health officials are touting the new vaccine's attributes, arguing that it is a perfect candidate for use in hard-to-reach rural areas and low income communities. In both settings, the drug's weeks-long refrigeration storage is a plus, and a single shot protocol may be attractive to those who have transportation issues, essential-job work conflicts, or other reasons why scheduling two injection appointments is a disincentive.
But there's a perception problem when it comes to the statistics. While the Johnson & Johnson vaccine showed in clinical trials to be 100 percent effective at preventing hospitalization and death due to COVID-19, it was only 66 percent effective at preventing milder forms of the disease. That is well above the 50 percent efficacy threshold set by the CDC last summer, and it's more effective than a seasonal flu shot. But the Moderna and Pfizer vaccines were rated 94 percent and 95 percent effective at preventing such milder illness, respectively. (Those two were not tested against the newest variants of the virus, whereas Johnson & Johnson's vaccine was.)
Thus, at a time when most health experts encourage taking any vaccine as soon as you can get it, the possibility exists that those in poorer and rural areas may feel they're being given an inferior product. And although the data show that all of the vaccines are good, anything that causes a patient to hesitate is a source of worry.
That is precisely the concern that Massachusetts Governor Charlie Baker, a Republican former health insurance executive, shared with Biden administration officials during a recent call with governors to discuss the nation's coronavirus response. According to a report by the Washington Post, Baker made the case that if people in specific communities believe they're getting the third-best vaccine, trust could erode.
Washington Governor Jay Inslee, a Democrat, appeared to agree, telling the newspaper, "J&J is going to be a challenge for all of us." And Republican Governor Doug Burgum of North Dakota said the new product increased concerns not just of "vaccine hesitancy, but the potential for brand hesitancy as well."
This is all anathema to health officials. "I would not advise anyone to hold out for what they perceive to be the 'best' vaccine," Dr. Jorge Nieva, a physician at the University of Southern California's Keck School of Medicine who has worked extensively with communities of color in greater Los Angeles, told Capital & Main. "There are lots of people who have not yet had any chance for a vaccine. The best vaccine is the one that is in your arm."
Nunez-Smith said the Biden administration is relying on a number of metrics, including the CDC's Social Vulnerability Index, to help it determine where vaccines should go (and in what quantities) in order to ensure equitable distribution. Tuesday's announcement of a partnership between Johnson & Johnson and rival pharmaceutical giant Merck, meanwhile, is designed to ramp up production of the vaccine and get doses delivered to many more locations than might be possible now.
What about distribution disparities? "Should certain vaccines go consistently to certain communities, we will be able to intervene," Nunez-Smith said. When pressed as to what intervention might look like, Jeff Zients, who leads Biden's COVID-19 response team, was vague, saying only that the first response would be "the communication of our standards and our insistence that people adhere to the standards."
In the short run, it may not add up to much. The first shipment of Johnson & Johnson product is small compared with the 76.9 million vaccine doses that have already been administered in the U.S. But the company's CEO, Alex Gorsky, said it is committed to delivering 100 million doses by June, and Merck's participation will certainly help once its plants get up and running. Where those doses wind up—and why—will be the subject of close scrutiny.
It is, in the end, a matter of perception, an undeniably important part of the sell when it comes to vaccinating an entire country. With some communities already wary of the vaccine because of a long history of suspicion of and maltreatment by the medical community, the stakes are self-evident. The Biden team's commitment to equity will be tested early.
Copyright 2021 Capital & Main