Is It Fair to Sue Madoff Victims Who Made a Profit?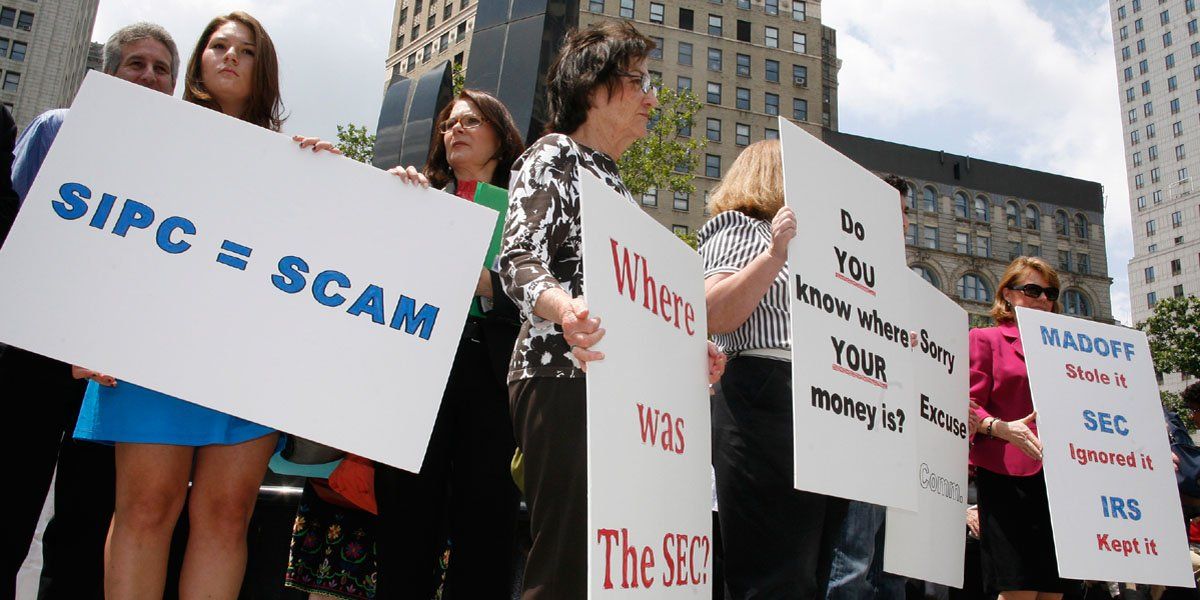 Imagine you put $1 million in a highly reputable investment fund when you were 60, expecting to live off the returns in retirement. Twenty years later, after having withdrawn $2.5 million, you're 80 years old, and you've got $1 million left in the account. All of a sudden it's revealed to be a Ponzi scheme and the $1 million has vanished. With your savings gone, you sell your house and move into a smaller one, and hope to get on with your life. Except, last week, if you were a victim of Bernie Madoff's fraud in just this situation, you may have gotten sued by the fund's government-appointed trustee, Irving Picard.
Picard—who made headlines Friday by settling one of his suits against the estate of a much larger individual investor, Jeffry M. Picower, for $7.2 billion—had two years from the Dec. 11, 2008, bankruptcy of the Madoff fund to file suits against people who profited from the Ponzi scheme, whether or not they knew it was a scam. In the last few weeks, Picard sued more than 1,000 investors, from large firms and charitable endowments to individuals. The purpose is to reclaim profits withdrawn in the last six years to pay back people who withdrew less than they put in. It seems fair: make sure no one profits while other people lose money, all based on the random luck of when you cashed out. But many of the people being sued don't see it that way: how can they be sued, they ask, when they did nothing wrong, and they may have already spent the money or made plans to spend it?
"We think it's horribly unfair that Madoff victims had their money stolen from them and now they're being asked to return money that they thought was rightfully theirs," says Ilene Kent, outreach coordinator for the Network for Investor Action and Protection (NIAP), whose elderly parents are among the former Madoff clients being sued. "It sets a precedent that your account statement is not worth the paper it's written on."
Kent's organization not only objects to Madoff investors, such as Kent's parents, being asked to pay money back, but argues that everyone should be paid in proportion to what was shown on their last account statement even if, like Kent's parents, they had already taken out more than they put in. Normally, according to NIAP, when a fund such as Madoff's dissolves, everyone is entitled to an equity stake in the money recovered based on what was on their last statement, unless they were "culpable" in the fraud—meaning they should have known about it.
In this case Picard, the trustee appointed by the Securities Investors Protection Corporation (SIPC), is using a different approach known as "cash in/cash out." It means that everyone who was a net loser should be repaid for what he or she put in, but no more. So if you received a dollar more from Madoff than you invested years earlier, but you had a bunch left in the fund when it went bankrupt, you're out of luck. And no investors are compensated for the interest they would have gotten if they had invested in a legitimate fund, not even the low rate of growth to keep pace with inflation, if they had put their money in a bank account. Some investors and their advocates say this is unfair and that it will undermine investor confidence across the country. They contend that the Securities Investors Protection Act (SIPA) of 1970 requires that the SIPC, which it created, calculate reimbursements based on what their last statement from Madoff showed.
"SIPC and the trustee have decided arbitrarily that the values investors show on their investment statements when it comes to registered and regulated broker-dealers selling regulated and registered securities are worthless," says Ron Stein, president of NIAP. "That alone should be an alarm for investors everywhere. No investor can feel confident that the assets they invested will be protected."
It certainly is unfair to those people, but is it fair to say that their mythical returns invented by Madoff have to be paid by someone else? SIPC contends that the worthlessness of these statements from Madoff is inherent to the fraud. "You don't let the thief determine who wins and who loses," says Steve Harbeck, president and CEO of SIPC. "If you let Bernie Madoff determine who gets more money than someone else, that's what happens."
Harbeck and Picard are willing to let some of Madoff's payments stand: while they recovered from Picower the full amount by which his returns from Madoff exceeded the money he put in, Picard is often willing to let smaller investors settle by giving back only a portion of their profit. Madoff victims being sued, though, say it is still unfair to expect small investors to settle on similar terms to big investors and to force them to hire attorneys to navigate the legal process. Defenders of Picard—who is currently refusing all interview requests—say he was forced to sue because when he sent letters to more than 700 Madoff investors who had withdrawn more than they had invested, asking them to get in touch and negotiate a settlement, only 10 responded.
Picard also has set up a hardship program so people who don't have the money won't be required to pay it back. Of course, whether one has the money available is open to interpretation. There is nothing in the guidelines Picard laid out to prevent him from rejecting a hardship claim on the ground that someone could sell some of his or her assets to raise the money. That makes sense, because you don't want to let people shelter their gains in buying, say, luxury homes and yachts. But the children of elderly Madoff victims worry that their parents could be forced to sell their primary home or make other unreasonable sacrifices. "People are scared to death," says Kent. "They are afraid they're going to have to move from their homes." Harbeck insists that Picard will take a reasonable approach in assessing hardship claims. "You can't get blood from a stone; everyone knows that" says Harbeck. "If you don't have the money you won't have to pay it." So far that seems to be true. One Madoff victim, who asked not be identified because she has not yet been sued (it may take up to 120 days, starting from Dec. 11, for everyone sued by Picard to be notified), told NEWSWEEK she is confident that while she feared having to undergo the process of proving hardship, "Picard is not going to make people sell a modest home."
But investors facing clawbacks and their advocates say there may be people who don't qualify for a hardship waiver who still ought not to be sued. "Say they're 82 and they have $500,000 left to live on and they can't pay this [clawback claim] back," says Barry Lax, a lawyer representing Madoff victims. "We don't know the way [Picard] is going to litigate these cases; he's litigating very aggressively against the big guys."
Part of the dispute between Picard and Madoff's smaller investors has to do with their competing calculations. Thus far, Picard has only affirmed $5.8 billion worth of Madoff losses that he needs to pay out. With the settlement reached Friday, Picard now has twice that much, causing small investors to demand to know why he needs to pursue them when he has already recovered more than he needs from wealthy large investors who should have known something was amiss in Madoff's business. But Picard estimates that he will actually need about $20 billion to settle all the claims; he has not finished assessing all the complex claims in which there are many investors who invested through hedge funds and such.
More than 100 Madoff investors have appealed to the federal Second Circuit Court of Appeals, arguing that Picard's interpretation of the SIPA is incorrect. Meanwhile, the NIAP, a group that includes many Madoff victims and their relatives, has been asking Congress for legislation that would achieve their dual objectives: restoring the value of Madoff statements and preventing clawbacks against ordinary investors. On Friday, Rep. Scott Garrett (R-N.J.) introduced the Equitable Treatment of Investors Act, which would do those two things. But unless it passes, the courts will be the arbiter of this complex moral quagmire, and however all the claims are resolved, the only real winners will be lawyers.