'It Never Happened': ExxonMobil Calls Out Trump on Twitter Over Hypothetical Call With Company CEO
ExxonMobil hit social media Monday to clear up any possible confusion caused by a comment by President Donald Trump in which Trump described a hypothetical fundraising situation.
Trump's remarks caused some consternation among social media users who believed Trump may have been discussing a real-life situation in which Trump actually had been in contact with the energy company to help fund his campaign. In a Monday tweet, ExxonMobil said the call never took place.
"We are aware of the President's statement regarding a hypothetical call with our CEO... and just so we're all clear, it never happened," ExxonMobil said in a tweet.
Trump was describing his fundraising skills during a rally in Arizona. "I call the head of Exxon," Trump said in his example. "I don't know. I'll use a company. 'Hey, how are you doing, how's energy coming? When are you doing the exploration? Oh, you need a couple of permits, huh? Okay."
"But I call the head of Exxon, I say, 'You know, I'd love you to send me $25 million for the campaign,' Trump said before delivering his idea of what ExxonMobil's answer would be. 'Absolutely, sir. Why didn't you ask? Would you like some more?'"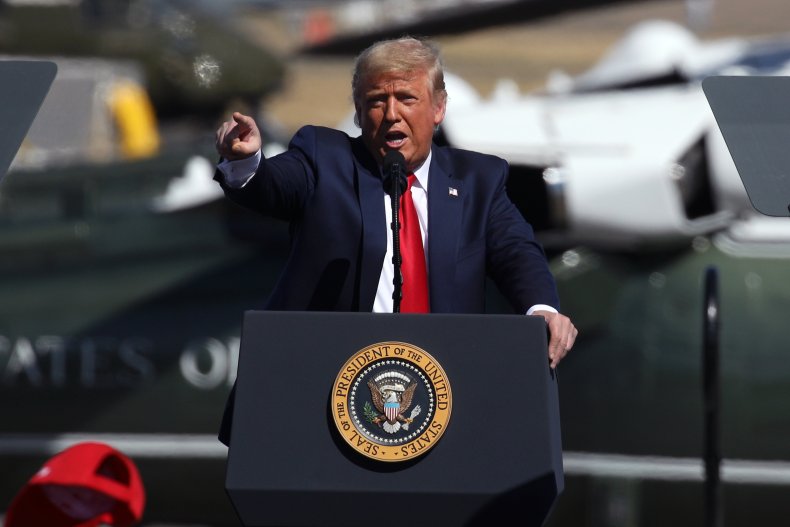 "And if I make the call—people make the call, that's different, you know," Trump said on Monday. "But if I made the call, I would hit a home run every single call. I would raise a billion dollars in one day if I wanted to. I don't want to do that. I don't want to do it."
Trump has made the point in previous public comments that he did not want to engage in fundraising because it would place it place him at the mercy of his donors. Newsweek reached out to the Trump re-election campaign for comment.
Some observers on social media pointed out that if Trump had engaged in such a conversation, it would be illegal. California Representative Ted Lieu tweeted, "The conduct described by @realDonaldTrump is a felony and punishable with prison time."
"Uhhhhh...is he saying he is *doing* this, or is he saying he *could* do this?" tweeted writer Holly Figueroa O'Reilly. "I really feel like needs a little looking into." O'Reilly tagged House Intelligence Committee Chairman Adam Schiff, Democratic House Speaker Nancy Pelosi and Senate Minority Leader Chuck Schumer in her tweet.
So far, Republicans are being outpaced by Democrats in raising funds. Trump's reelection campaign said on Thursday that between the Republican National Committee, the campaign itself and joint committees, it had raised $247.8 million and had $251.4 million worth of cash on hand. Biden's campaign said on Wednesday that it had raised $383 million in September and had $432 million in cash on hand.