It Only Took 7 Days for the Coronavirus Deaths to Exceed Projections for August
The death toll from the novel coronavirus in the United States exceeded a new projection in just one week, proving Dr. Anthony Fauci's point that modeling is only as good as the assumptions being put into them.
With 1.2 million cases and more than 73,000 deaths, the United States has had the largest outbreak of coronavirus in the world. The first projection put out by the Institute for Health and Metrics (IHME) on March 26 showed that about 81,000 people would likely die from the virus, and estimates have gone up and down in the weeks since. An updated projection released on April 29 by the Institute for Health and Metrics (IHME) estimated that 72,433 people would die by August 4. Just a week later, that number has already been surpassed.
The White House Coronavirus Task Force has cited IHME's models during briefings but Fauci, the director of the National Institute for Allergy and Infectious Diseases, warned against viewing projections as the ultimate crystal ball. He told Fox News' Martha MacCallum in early April that models were "only as good as the assumptions that you put into the model." When data isn't available or it's uncertain, those assumptions can skew calculations of what might happen.
IHME's initial assumption was that nationwide social distancing measures would remain in place until August 4. A new modeling approach, announced on Monday, assumes areas that lifted social distancing measures will keep them lifted until August 4 and those that have them in place will keep them in place.
Given that locations are increasingly easing restrictions and IHME is seeing people's movements "creep up" on a state-by-state basis, according to Theo Vos, a professor at IHME, the chances that people may be exposed are increasing, leading IHME to make new predictions. Some states started slowly reopening the last week of April, but most states didn't begin lifting restrictions until the beginning of May.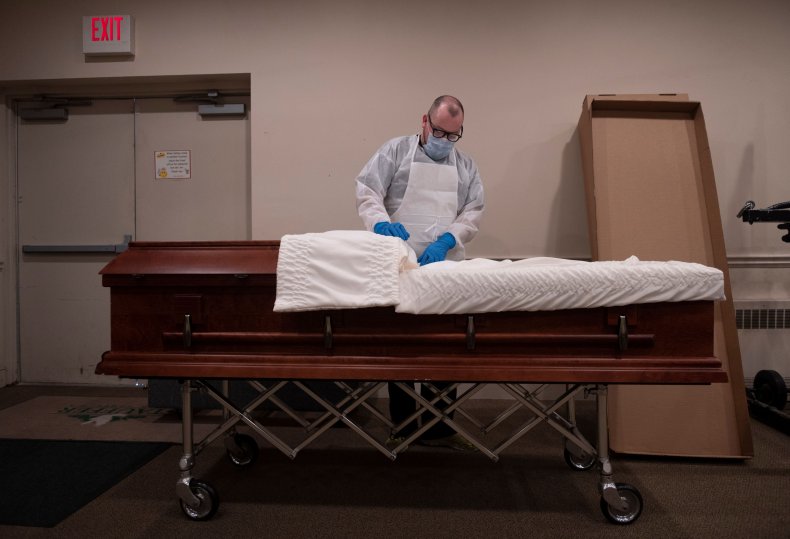 The updated projection increased the predicted death toll to 134,475 by August 4, accounting for key factors that could drive the pandemic such as temperature, percentage of populations living in dense areas, testing per capita and human mobility. By incorporating all of these factors, IHME said would have a "more comprehensive examination" of how the outbreak could unfold in the coming months.
"This is particularly important as many locations ease or end prior distancing policies without having a clear sense of how these actions could potentially affect COVID-19 trajectories given current trends in testing and mobility, among others," IHME said in a statement regarding the updated projections.
Projections about the virus' impact have changed over the course of the outbreak and will continue to change. In announcing the new approach, IHME said projections will be updated over the coming days and weeks as evidence evolves.
"I understand that shifting estimates between different iterations of a model and differences between various models leads to all models being challenged," Vos told Newsweek. "Our approach is that we would rather make changes responding to new observations or better insight in how best to model predictions, rather than sticking to our guns even if we observe otherwise."
To curb the coronavirus outbreak, states implemented varying lockdown measures that limited social interactions and closed businesses, resulting in millions of Americans being out of work. Over the past seven weeks, 33.5 million Americans have filed for unemployment benefits since mid-March and about 3.2 million Americans submitted claims last week, according to a Department of Labor report released on Thursday.
Some states have begun to lift restrictions in an effort to restore the economy. A number of states have already started reopening with varying degrees of eased restrictions from allowing businesses to open for curbside pickup to opening up hair salons and restaurants. However, experts warn that reopening too soon could foster the spread of the virus, leading to additional cases and deaths.
President Donald Trump said during an interview with ABC News on Tuesday that there may be additional deaths as states ease lockdown measures since people will be spending less time at home. But, he said he believed Americans would continue to practice social distancing and proper hand hygiene and he said he'd rather be a "cheerleader" for the country and not "Mr. Doom and Gloom."