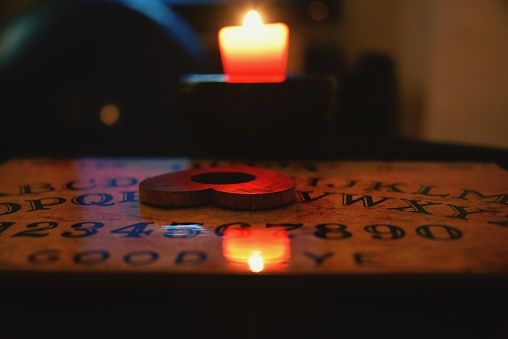 Talk about otherworldly sex!
Amethyst Realm, a 27-year-old "spiritual guidance counselor" in England, says sex with ghosts is much better than sex with men—and she should know because she's made love with at least 20 ghouls.
Realm said on the British TV show "ITV This Morning" last week that she experienced her first truly spiritual encounter 12 years ago after she and her then-fiancé moved into a new home together when she felt a strange presence.
"It started as an energy, then became physical," she told hosts Phillip Schofield and Holly Willoughby. "There was pressure on my thighs and breath on my neck. I just always felt safe. I had sex with the ghost. You can feel it. It's difficult to explain. There was a weight and a weightlessness, a physical breath and stroking, and the energy as well."
Realm said she had a love affair with the ghost for three years before her human lover came home from work early and saw a shadow of what appeared to be a man. Since her first encounter, Realm has said she has had sex 20 times with various ghosts.
Is it possible to have sex with Casper The (little more than just) Friendly ghost? Experts say, yes (or, more accurately, yes, yes, yes, yes, YES!).
"People have the richest fantasies. If they're getting pleasure from that fantasy, then it is possible," said Rachel Sussman, a psychotherapist told Newsweek.
Sussman, who practices in New York City, said she has clients with many fantasies and doesn't judge if a client has said he or she has had sexual contact with a spirit.
"Having sex with a ghost is when it comes to the world of fantasy. It's really whatever gets you through the night," said Sussman.
Hollywood psychic-medium, Patti Negri, has said having sex with in the spiritual realm is highly possible, and a lot more common than people would assume.
Negri pointed out the many fables and religious texts that refer to sex with the dead, so this certainly isn't humanity's first time at the sexual rodeo with various sprites, ghouls and headless horsemen. She added that many people, particularly women, can learn to feel more comfortable with sex through their non-physical sexual experiences.
"It sometimes happens to women who are afraid of intimacy and want to get into the dating scene," Negri told Newsweek.
Having sex with a ghost can be hard to prove. Alexandra Holzer, a well-known ghost hunter who has written Growing Up Haunted: A Ghostly Memoir about her famous ghost hunter father, Dr. Hans Holzer, told Newsweek it's difficult to disprove people's claim to have experienced sexual intercourse with a ghost.
"Doctors believe that hallucinations caused by dreaming is what is manifesting from this," said Holzer. "But you have to keep an open mind in the paranormal because this is hard to prove."
Of course, not everyone believes Realm and her stories of multiple affairs with the spirits of the dead.
"Is unprotected sex with a ghost an issue? Asking for a friend," a man named David sarcastically posted on Twitter after Realm's TV segment.