The novel coronavirus outbreak has grounded the airline industry across the globe, with many people unable to travel due to lockdown measures.
Passenger traffic in the U.S. was down by around 86 percent on Monday (Memorial Day), compared to the same day last year, according to the latest figures from the Transport Security Administration (TSA).
As airlines prepare to serve more passengers, travelers face the fear of infection and exposure to the virus, especially when traveling on a flight with potentially hundreds of other people. So is it safe to travel on flights amid the ongoing pandemic?
The Centers for Disease Control and Prevention (CDC) notes: "Travel increases your chances of getting and spreading COVID-19. We don't know if one type of travel is safer than others; however, airports, bus stations, train stations, and rest stops are all places travelers can be exposed to the virus in the air and on surfaces. These are also places where it can be hard to social distance (keep six feet apart from other people)."
Is there a higher risk of infection on a plane?
The risk of catching an infection on an aircraft is typically lower than in a shopping center or an office environment, according to the International Air Transport Association (IATA).
"Compared with those locations, a modern aircraft has its cabin air changed many times more frequently than offices or shops. For most modern aircraft types, the air supplied to the passenger cabin is either 100 percent fresh or is a mixture of fresh and re-circulated air that is filtered through HEPA [high-efficiency particulate air] filters of the same efficacy (99.97 percent or better) in removing viruses as those used in surgical operating rooms.
"As in a shopping center or an office, the biggest risk is if someone remains in the environment while unwell with a viral infection. Hence, maintaining good personal hygiene is key."
The CDC notes: "Most viruses and other germs do not spread easily on flights because of how air circulates and is filtered on airplanes. However, social distancing is difficult on crowded flights, and you may have to sit near others (within six feet), sometimes for hours. This may increase your risk of exposure to the virus that causes COVID-19.
"Air travel requires spending time in security lines and airport terminals, which can bring you in close contact with other people and frequently touched surfaces," the CDC adds.
The World Health Organization (WHO) also confirms: "Research has shown that there is little risk of any communicable disease being transmitted on board an aircraft. The quality of aircraft cabin air is carefully controlled. Ventilation provides a total change of air 20–30 times per hour.
"Most modern aircraft have recirculation systems, which recycle up to 50 percent of cabin air. The recirculated air is usually passed through high-efficiency particulate air (HEPA) filters of the type used in hospital operating theatres and intensive care units, which trap dust particles, bacteria, fungi and viruses.
"Highly contagious conditions, such as influenza, are more likely to be spread to other passengers in situations where the aircraft ventilation system is not operating," it adds.
Have there been many infections on planes?
Although "little is available in the way of published research on in-flight transmission of COVID-19," in a few recent surveys, there was reported to be a low rate of in-flight transmissions, the IATA notes.
"The reasons for the apparently low rate of in-flight transmission are not known but could encompass a combination of the lack of face-to-face contact, and the physical barriers provided by seat backs, along with the characteristics of cabin air flow. Further study is anticipated," the IATA Medical Advisory Group said in a report released on Monday.
"A public health investigation into a flight from UK to Vietnam on 2 March 2020 suggests transmission by one passenger to up to fourteen other passengers (twelve of whom were seated nearby the presumed index case) and a cabin crew member.
"Initial information has been obtained from this investigation but a formal study is expected in due course. This is the only event known to IATA of suspected on-board transmission to multiple people," the IATA explains.
In another survey by IATA of 18 major airlines from January to March, there were three reported incidents of suspected in-flight transmission (all from passenger to crew) and no instances of suspected passenger to passenger transmission reported by the group of airlines.
A survey of a larger group of 70 airlines (representing half of global passenger traffic) was also reported to have failed to identify any cases of suspected passenger to passenger transmission, the IATA report said.
In a closer analysis of four airlines that had close contact with local public health authorities during the outbreak (with the flights in question accounting for about 125,000 passengers), there was one possible secondary passenger case and two crew cases of possible in-flight transmission, the IATA report notes.
Where is it safest to sit on a plane?
Social distancing can be difficult, or sometimes impossible, on a flight due to the seat configurations of aircraft. Choosing a window seat would be helpful in creating more social distance, since it automatically removes a wall of people on one side of your seat. But, of course, you would still need to be mindful of exposure through contact surfaces.
The WHO notes: "Transmission of infection may occur between passengers who are seated in the same area of an aircraft, usually as a result of the infected individual coughing or sneezing or by touch (direct contact or surfaces that other passengers touch). This is no different from any other situation in which people are close to each other, such as on a train or bus or in a theatre."
Earlier this month, Peter DeFazio, the chairman of the House Committee on Transportation, urged all U.S. airlines to keep middle seats open on all flights in a letter to the largest U.S. airline trade associations, reminding them that passenger health and safety must take priority over the airline industry's financial setbacks.
On narrow-body aircraft, the additional seat-width of space between passengers would reduce the maximum load factor to around 67 percent, DeFazio said in his letter.
Some carriers, including Delta, Spirit and Alaska, have temporarily stopped allowing the booking of middle seats on flights amid the ongoing pandemic. American Airlines was also reported to be blocking off 50 percent of its middle seats, while JetBlue was reported to be allocating only around a third of its seats.
Earlier this month, Denver-based Frontier Airlines announced it is offering a "More Room" seat option, which costs from "$39 per passenger, per flight," allowing passengers to reserve an empty seat next to them.
How can I minimize risks?
The same precautionary measures you would take in any crowded space, as well as generally amid the ongoing outbreak, are advised for traveling on a flight.
The IATA notes: "There are simple measures you can take to further reduce the risk of illness if you are traveling. These include practicing hand hygiene by washing them regularly with soap or an alcohol-based sanitizer, and not touching your face, especially eyes, nose, and mouth.
"While you must not travel when you are ill, should you experience symptoms suggestive of respiratory illness during or after a trip, seek medical attention and share your travel history with your health care provider. Most governments also provide clear instructions," the IATA adds.
The CDC advises all travelers to clean their hands often with soap and water for at least 20 seconds, avoid touching their eyes, nose, or mouth, avoid close contact with others (keeping a six feet distance where possible) and to wear a face covering.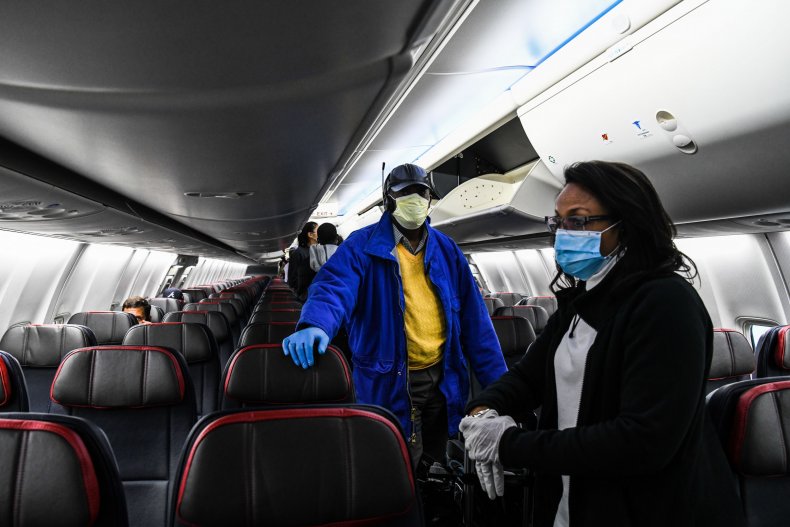 The WHO adds: "To minimize the risk of passing on infections, travelers who are unwell, particularly if they have a fever, should delay their journey until they have recovered. Individuals with a known active communicable disease should not travel by air. Airlines may deny boarding to passengers who appear to be infected with a communicable disease."
The European Union Aviation Safety Agency (EASA) and European Centre for Disease Prevention and Control (ECDC) also issued guidelines earlier this month to promote health safety in air travel within the European Union.
"In addition to the other health and hygiene measures that must be observed at all times, where allowed by the passenger load, cabin configuration and mass and balance requirements, airplane operators should ensure, to the extent possible, physical distancing among passengers," the EASA/ECDC guidelines advise.
The graphic below, provided by Statista, illustrates countries with the most confirmed COVID-19 cases.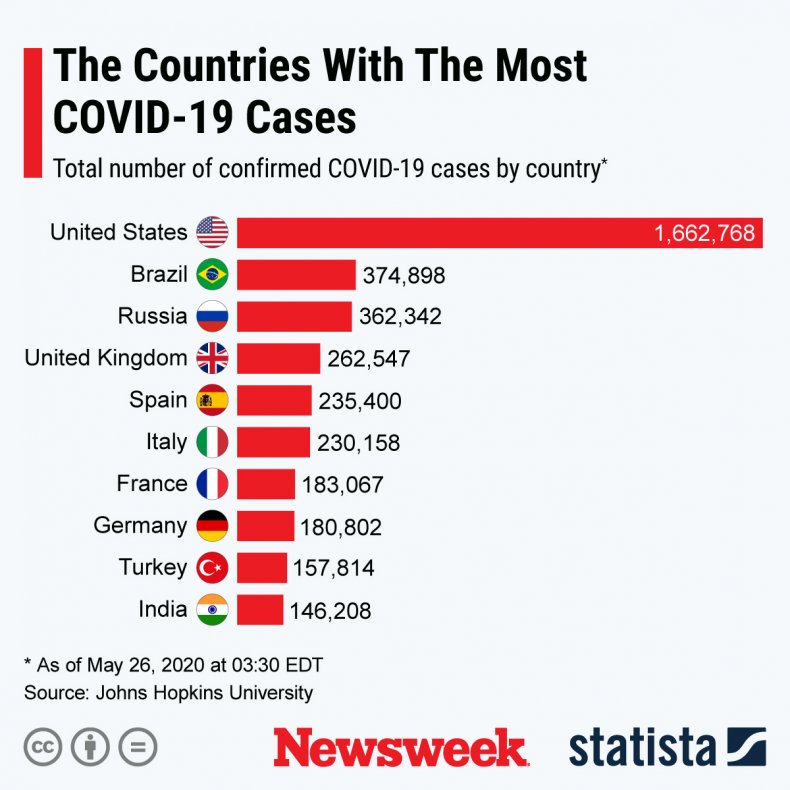 Uncommon Knowledge
Newsweek is committed to challenging conventional wisdom and finding connections in the search for common ground.
Newsweek is committed to challenging conventional wisdom and finding connections in the search for common ground.
About the writer
Soo Kim is a Newsweek SEO Reporter is based in London, UK. She reports on various trends and lifestyle stories, from health, fitness and travel to psychology, relationships and family issues. She is also a South Korea expert who regularly covers Korean culture/entertainment for Newsweek, including the latest K-dramas, films and K-pop news, and is the author of the book How to Live Korean, which is available in eight languages. Soo also covered the COVID-19 pandemic extensively from 2020 through 2021 after joining the general news desk of Newsweek in 2019 from the Daily Telegraph (a U.K. national newspaper) where she was a travel reporter/editor from 2010. She is a graduate of Binghamton University in New York and the journalism school of City University in London, where she earned a Masters in international journalism. Languages spoken: English and Korean.
Follow her on Twitter at @MissSooKim or Instagram at @miss.soo.kim
You can get in touch with Soo by emailing s.kim@newsweek.com