Is it Safe to Swim at Pools and Water Parks? CDC Issues Reopening Guidelines
Some recreational facilities are preparing to reopen in the U.S. following the easing of coronavirus lockdown measures in parts of the country. The Centers for Disease Control and Prevention (CDC) has issued new guidelines for all public aquatic venues, including pools, water playgrounds and hot tubs, which have been closed during the outbreak.
The CDC states there is no evidence that the virus can be spread through the water in pools, hot tubs, spas, or water play areas. "Proper operation and maintenance (including disinfection with chlorine and bromine) of these facilities should inactivate the virus in the water," the CDC noted last month.
However, it adds: "While there is ongoing community spread of... the virus that causes COVID-19, it is important for individuals as well as owners and operators of these facilities to take steps to ensure health and safety."
The latest safety recommendations, which include social distancing, the wearing of face coverings and frequent sanitization of facilities, apply to all public aquatic venues operated by city or county governments, apartment complexes, gyms or other membership clubs, schools, water parks and homeowners' associations.
Deck layouts should be modified to enable people to maintain a physical distance of six feet from those outside their household, both in and out of the water as well as in standing and seated areas.
Physical barriers should also be in place, such as lane lines in the water, tapes or signs on decks and between chairs and tables.
All group events or gatherings should be avoided in and out of the water if a social distance of six feet cannot be maintained.
"Exceptions to the social distancing guidance include anyone rescuing a distressed swimmer, providing first aid, or performing cardiopulmonary resuscitation, with or without an automated external defibrillator," the CDC advises.
All staff and visitors should be encouraged to wear cloth face coverings, especially when social distancing is difficult to maintain. They should also be encouraged to wash their hands frequently and to cover their coughs and sneezes.
Those wearing face coverings should be advised "not to wear them in the water. Cloth face coverings can be difficult to breathe through when they're wet," the CDC warns.
Frequently touched areas, including slides, chairs, door handles and shared items, such as pool noodles and kickboards, should be cleaned and disinfected at least daily.
Visitors should be discouraged from sharing items with people outside their household as well as items that are hard to clean and disinfect or come in contact with the face, such as goggles, nose clips and snorkels.
Shared items should be limited to one per group and be disinfected between uses.
All venues should also ensure the ventilation systems of indoor spaces are operating properly and increase the "introduction and circulation of outdoor air as much as possible by opening windows and doors, using fans, or other methods. However, do not open windows and doors if doing so poses a safety risk to staff, patrons, or swimmers," the CDC said.
Lifeguards are not expected to monitor visitors' hand hygiene, use of face coverings and physical distancing from others. "Assign this monitoring responsibility to another staff member," and there should be a designated staff member responsible for responding to all COVID-19 concerns, the CDC recommends.
"All decisions about implementing these considerations should be made locally, in collaboration with local health officials. Operators of public aquatic venues can consult with local officials to determine if and how to implement these considerations while adjusting them to meet the unique needs and circumstances of the local jurisdiction. Their implementation should also be informed by what is feasible, practical, and acceptable," the CDC notes.
Full details of the CDC's latest guidelines for all public aquatic venues can be seen at the CDC website.
Swimming pools in Texas, which this week began the second phase of the state's reopening, were allowed to reopen during the first phase at 25 percent capacity. The restriction remains in the second phase.
"Swimming pools open at the discretion of the pool owner. People shall continue to avoid visiting interactive amusement venues, such as water parks and splash pads," the Texas state government website says.
Several water parks in Wisconsin, where the state Supreme Court overturned Gov. Tony Evers' extension of the state's stay-at-home order, have announced some reopenings with restrictions. This Saturday, Mt. Olympus water and theme park in Wisconsin Dells will be the state's first water park to reopen.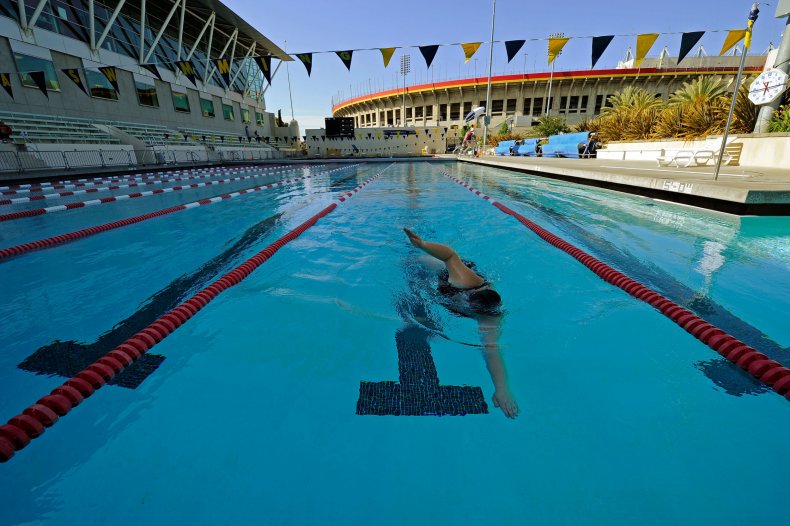 Wisconsin's Chula Vista and Kalahari water parks will be reopening on May 27, while the Wilderness Resort will open on June 4.
"I don't know that there's a safe way for them to reopen, at least not in the way we've classically used pools," Aubree Gordon, an epidemiology professor at the University of Michigan, told The Atlantic.
"I don't think it's a good idea for people to be lounging around outside of pools right now," she added.
The novel coronavirus, which was first reported in Wuhan, China, has infected over five million people globally, including more than 1.5 million in the U.S. Over 328,300 have died while more than 1. 9 have reportedly recovered from infection, as of Thursday, according to the latest figures from Johns Hopkins University.
The graphic below, provided by Statista, illustrates the U.S. states with the most confirmed COVID-19 cases.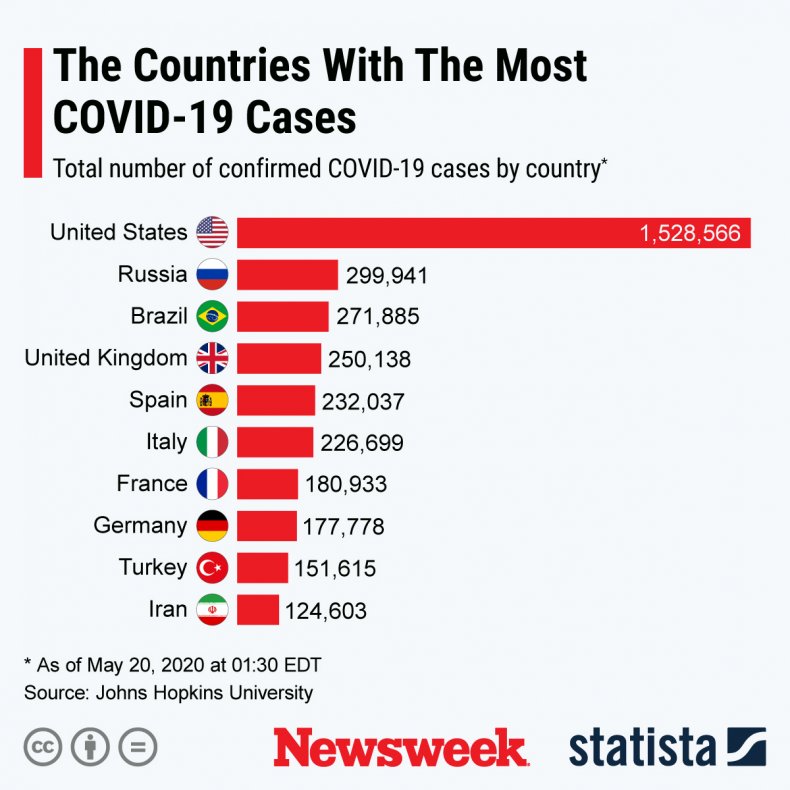 The graphic below, provided by Statista, illustrates the spread of the COVID-19 virus across the U.S.