Is It Safe To Travel to Mexico? Travel Advisory Explained
As many Americans prepare to travel for spring break, the U.S. State Department has issued a series of travel advisories for states in Mexico, noting "widespread" violent crime.
"The U.S. government has limited ability to provide emergency services to U.S. citizens in many areas of Mexico, as travel by U.S. government employees to certain areas is prohibited or restricted," the advisory reads. "In many states, local emergency services are limited outside the state capital or major cities."
The advisories come as four Americans were kidnapped in Tamaulipas on Friday. Two of the four were later found dead.
According to the FBI, the group from Brownsville, Texas, drove into Matamoros, Tamaulipas, on Friday in a white minivan with North Carolina plates.
Shortly after they crossed the border, unidentified gunmen fired on the vehicle. The Americans were taken from the scene by armed men, the FBI said.
On Wednesday, officials said two had been killed and two had returned to the U.S. and were being treated in hospital.
Americans are advised not to travel to six Mexican states—Colima, Guerro, Michoacan, Sinaloa, Tamaulipas and Zacatecas—because of the risk of crime and kidnapping.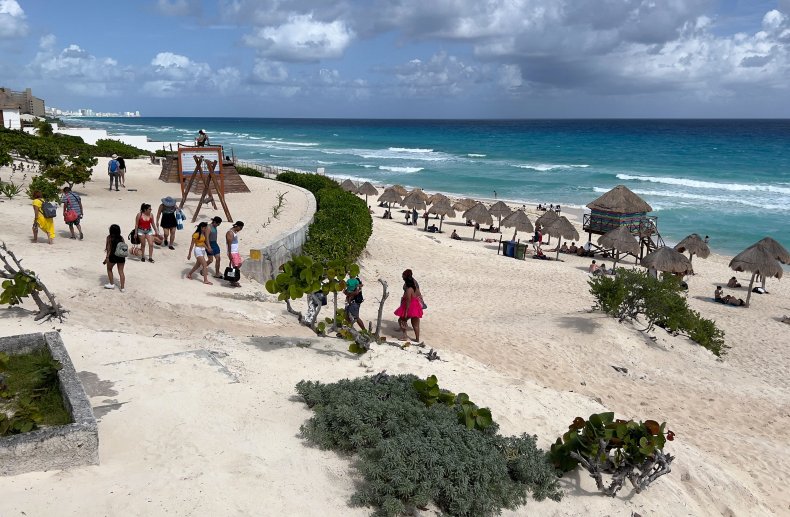 The U.S. ambassador to Mexico, Ken Salazar, said on Monday that an innocent Mexican citizen had died on Friday.
"We have no greater priority than the safety of our citizens—this is the US government's most fundamental role," Salazar said in a statement.
Mexican President Andrés Manuel López Obrador confirmed the attack during a news conference on Monday.
"The information we have is that they crossed the border to buy medicines in Mexico, there was a confrontation between groups and they were detained," he said, according to CNN. "The whole government is working on it."
Matamoros is home to warring factions of the Gulf drug cartel, according to the Associated Press. The State Department also asked Americans to "reconsider travel" to seven Mexican states and "exercise increased caution" when traveling to 17 others because of crime and kidnapping.
A State Department official told Newsweek on Wednesday:"The safety and security of U.S. citizens overseas is one of the department's highest priorities, and we provide U.S. citizens with relevant information so they can make well-informed decisions before they travel.
"We review all our travel advisories on a regular basis to ensure we provide U.S. citizens with the most relevant, timely information possible regarding safety and security around the world."
Rep. Marjorie Taylor Greene of Georgia said she was outraged that the U.S. government seemed more concerned about the war in Ukraine than the situation in Mexico.
"Mexican Cartels kidnapped 4 Americans this weekend and Mexico is so DANGEROUS that if you go to Mexico 'you are on your own!,'" she tweeted. "But but but..Ukraine!"
The advisories come as American are making travel plans to escape winter weather. According to AAA, Cancun, Riviera Maya and Mexico City are some of the top destinations for Americans this spring break. Cancun and Riviera Maya are in the Quintana Roo state, where travelers are advised to "exercise increased caution."
"There are no restrictions on travel for U.S. government employees in Quintana Roo state, which include tourist areas in: Cancun, Cozumel, Isla Mujeres, Playa del Carmen, Tulum, and the Riviera Maya," the State Department advisory says.
"However, personnel are advised to exercise increased situational awareness after dark in downtown areas of Cancun, Tulum and Playa del Carmen, and to remain in well-lit pedestrian streets and tourist zones."
A report from NewsNation Now found that more than 30 million U.S. citizens traveled to Mexico in the first 11 months of 2022. AAA booking data shows international travel this season is up 30 percent from last year.
Former FBI agent Jennifer Coffindaffer told NewsNation that the area is "volatile" because of drug cartels fighting over territory. She said the situation is not unusual, citing FBI data that 625 U.S. citizens and citizens with green cards were kidnapped in 2021.
These are the travel advisories for each state:
Colima: "Violent crime and gang activity are widespread. Most homicides are targeted assassinations against members of criminal organizations. Shooting incidents between criminal groups have injured or killed bystanders. U.S. citizens and LPRs [lawful permanent residents] have been victims of kidnapping."
Guerro: "Crime and violence are widespread. Armed groups operate independently of the government in many areas of Guerrero. Members of these groups frequently maintain roadblocks and may use violence towards travelers. U.S. citizens and LPRs have been victims of kidnapping in previous years."
Michoacan: "Crime and violence are widespread in Michoacan state. U.S. citizens and LPRs have been victims of kidnapping."
Sinaloa: "Violent crime is widespread. Criminal organizations are based in and operating in Sinaloa. U.S. citizens and LPRs have been victims of kidnapping."
Tamaulipas: "Organized crime activity—including gun battles, murder, armed robbery, carjacking, kidnapping, forced disappearances, extortion, and sexual assault—is common along the northern border and in Ciudad Victoria. Criminal groups target public and private passenger buses, as well as private automobiles ... often taking passengers and demanding ransom payments. Heavily armed members of criminal groups often patrol areas of the state and operate with impunity particularly along the border region from Reynosa to Nuevo Laredo. In these areas, local law enforcement has limited capacity to respond to incidents of crime. Law enforcement capacity is greater in the tri-city area of Tampico, Ciudad Madero, and Altamira, which has a lower rate of violent criminal activity compared to the rest of the state. U.S. citizens and LPRs have been victims of kidnapping."
Zacatecas: "Violent crime, extortion, and gang activity are widespread in Zacatecas state. U.S. citizens and LPRs have been victims of kidnapping."
Newsweek has reached out to the U.S. Embassy in Mexico City via phone and email for comment.
Update 03/08/23, 11:30 a.m. ET: This story was updated with a statement from the State Department and information about the kidnapped Americans.