Is It Safe to Travel to Sri Lanka? Country Named Top Travel Location for 2019 Same Week Civil War Threats Rise
A political crisis is gripping Sri Lanka as fears deepen over a possible resurgence of violence—and even civil war.
The deteriorating political situation comes in the same week as the Indian Ocean country was named as Lonely Planet's top country for travel of 2019, raising concerns among tourists as to whether the island nation is a safe destination.
Last week, President Maithripala Sirisena sacked the country's entire cabinet, suspended parliament and appointed Mahinda Rajapaksa, the man he defeated to win the presidency in 2015, as the new prime minister.
Critics have branded the move unconstitutional, but Sirisena has dismissed the opposition and claimed differences with former prime minister Ranil Wickramasinghe made his position untenable, the BBC reported.
A demonstration turned bloody on Sunday, when one man was killed while protesters tried to block the entry of sacked oil minister Arjuna Ranatunga into his office at the Ceylon Petroleum Corporation. Two others were also injured as one of Ranatunga's bodyguards opened fire on the crowd.
The 54-year-old former cricketer was later rushed from the facility wearing bulletproof armor. The bodyguard has been arrested with an investigation underway.
The president has said parliament will be suspended for three weeks, which opponents say is intended to give Rajapaksa enough time to build the required support of members of parliament and undermine Wickramasinghe's authority.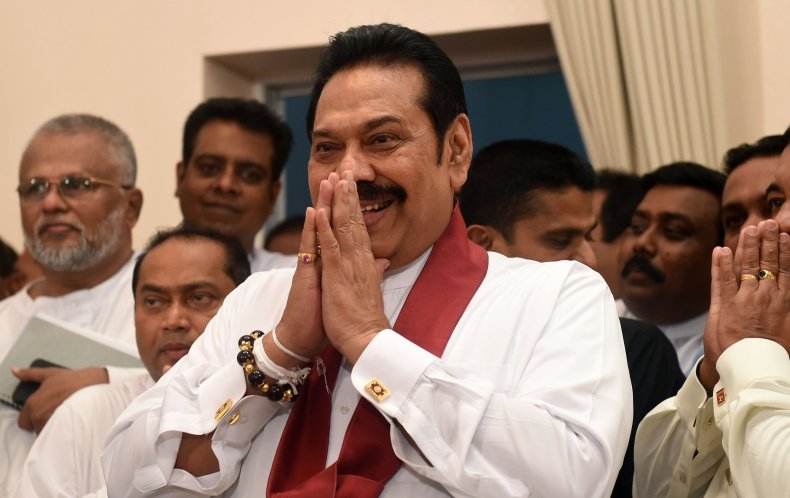 Meanwhile, protesters and trade unions loyal to the various protagonists have been gathering, with local reports suggesting Rajapaksa's supporters have taken over state media by force.
Trade unions aligned with the new PM have also been blocking access to any ministers from Wickramasinghe's party, while the former PM's supporters are gathered around the prime ministerial residence known as Temple Trees. Wickramasinghe is still in residence there, The Guardian said, refusing to acknowledge his sacking.
Rajapaksa has faced serious allegations of corruption and has been accused of committing war crimes when prosecuting the final stages of the Sri Lankan Civil War against the Liberation Tigers of Tamil Eelam—also known as the Tamil Tigers—as the country's president.
Sirisena and Wickramasinghe reportedly fell out over a plan to lease a port to India, Sri Lanka's mammoth neighbor to the north. The island has great strategic significance in the struggle for control of the Indian Ocean, with both India and China keen to build influence and presence in Sri Lanka.
Rajapaksa is seen to be close to China, which congratulated him on his new appointment. Wickramasinghe has called for closer ties to India and suggested that Beijing may have had a hand in his ousting, a claim denied by Chinese officials.
The turmoil comes soon after Lonely Planet recommended Sri Lanka as one of its top destinations for travelers in 2019. "Already notable to intrepid travelers for its mix of religions and cultures, its timeless temples, its rich and accessible wildlife, its growing surf scene and its people who defy all odds by their welcome and friendliness after decades of civil conflict, this is a country revived," wrote author Ethan Gelber.
The end of the 26-year civil war brought with it a new surge in tourist numbers, rising from 447,890 in 2009 to 2.1 million by 2017. Though the Sri Lanka Tourism Development Authority has said it hopes to double this again by 2020, civil unrest could put a damper on the industry.