Is It Safe to Travel to Venice Amid Historic Flooding in the City?
Venice sinking is no new news, but the low-lying Italian city is now more than 85 percent underwater after rainy weather with severe flooding has imperiled the city over the last few days.
The high waters, known as "acqua alta", are the highest in 50 years, having reached 1.87 meters, or just over six feet. The devastating flooding this week is almost as high as record flood in 1966, reported to be the 2nd worst in history by Associated Press. A popular destination for travelers, the submerged city's most famous landmarks, including St. Mark's Square, are underwater.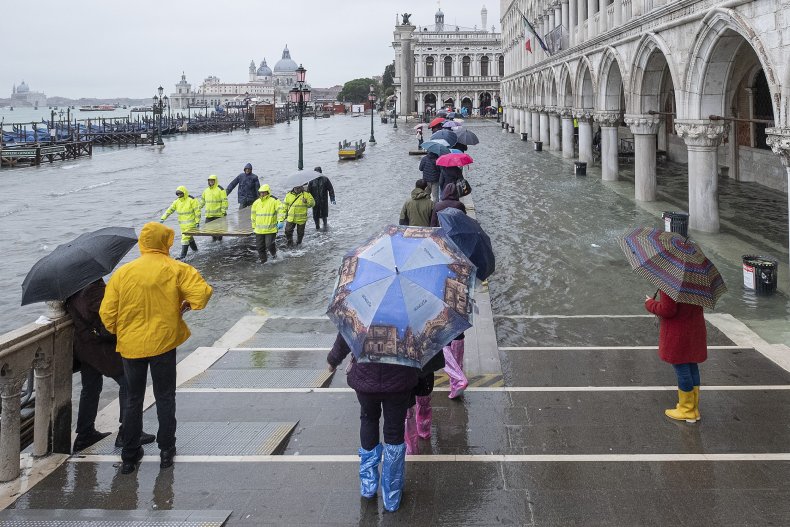 What's it like to be traveling in Venice during the floods?
"Venice is still charming in the rain, but flooding is a different story," Mindi and Daryl Hirsch of 2foodtrippers.com tell with Newsweek. "There's nothing charming about wading through three feet of cold, smelly water. This type of water makes rain boots and galoshes useless."
The travel-blogging couple had to walk in waist-high water after dinner and said that the situation felt dangerous.
"We recommend that any travelers who experience similar flooding take warnings seriously. The city of Venice sounds an alarm when flooding is imminent with the number of tones signifying the expected water level. This is the time to take cover and wait for the water to recede," the couple said. "We think we'll hear the alarm in our dreams for the next few years."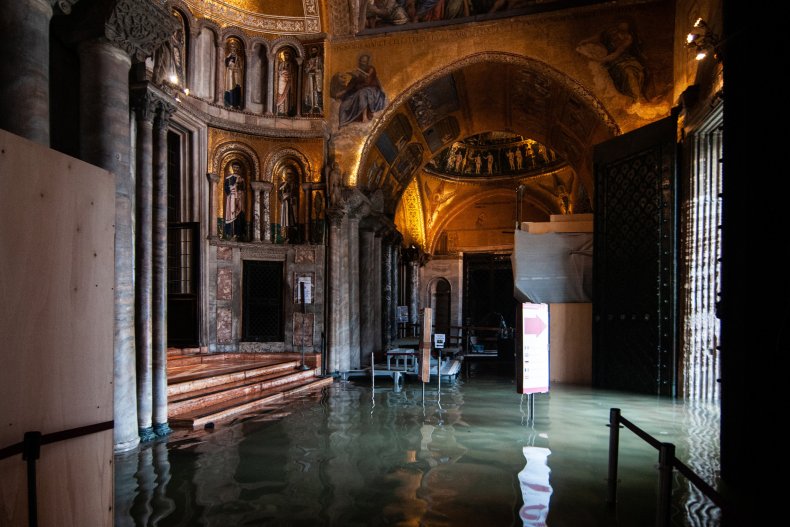 What do travelers need to know if they have a trip to Venice coming up?
Marco Amorico, president of Access Italy, a luxury tour company operating in Venice, recommends travelers avoid the flooded city until the normal water level is restored and to keep a close watch on the weather forecasts.
"If plans to travel to Venice are immediate, I would detour to Milan or Turin (where you can also enjoy Alba for their white truffles). If travel dates are more than a week away, I would monitor the situation and start looking at other cities like Rome and Florence. Italy is well connected by train and travel times are relatively short."
Urban Adventures Venice tours are all closed currently. Cecilia Cambero, manager of the Venice tours for Urban Adventures, tells Newsweek that travelers to Venice need to be ready for a city in peril right now, and advises travelers to expect to have limitations of mobility as many sites, including museums, are closing down.
The graphic below, provided by Statista, shows the historic tide levels in Venice.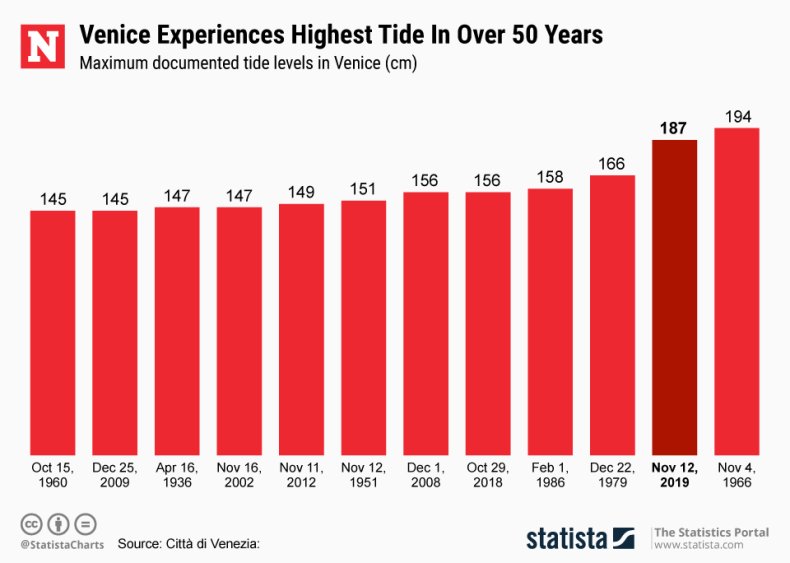 This article was updated to include an infographic.