'It Sucks': Viral Video Showing Cinema Food Prep Leaves Commenters Torn
Commenters on a recent viral video were divided after one TikTok user revealed a portion of how movie theater concession stands prepare for influxes of moviegoers resulting from popular movie releases.
"I feel your pain," one commenter added while another said, "Congrats you did the job you signed up for."
In a TikTok captioned, "Batman is a good movie and it sucks for those who work at the cinema," user @georgeakladious52 showed a large array of small plastic black cups with press-on lids packed into a larger container and informed viewers that they had filled nearly 500 of the cups with honey mustard. The Batman is listed by Reuters as the best opening weekend of a movie in 2022, raking in $128.5 million so far.
"When Batman comes out and you work at a cinema and have to do almost 500 cups of honey mustard," @georgeakladious52 wrote in the TikTok's text overlay.
Posted March 8, the viral video has been viewed more than 63,000 times and has received more than 2,300 likes.
Last year, Statista published data from a survey examining how likely moviegoers are to purchase food items at cinema concession stands.
Of the 2,201 people surveyed, 34 percent reported it was "very likely" they would purchase food at the movie theaters, and 28 percent reported it was "somewhat likely."
Despite the allure of large tubs of popcorn, crispy chicken tenders, cheesy nachos and comically-large cups of soda, however, movie theater concessions are notoriously expensive—and profitable.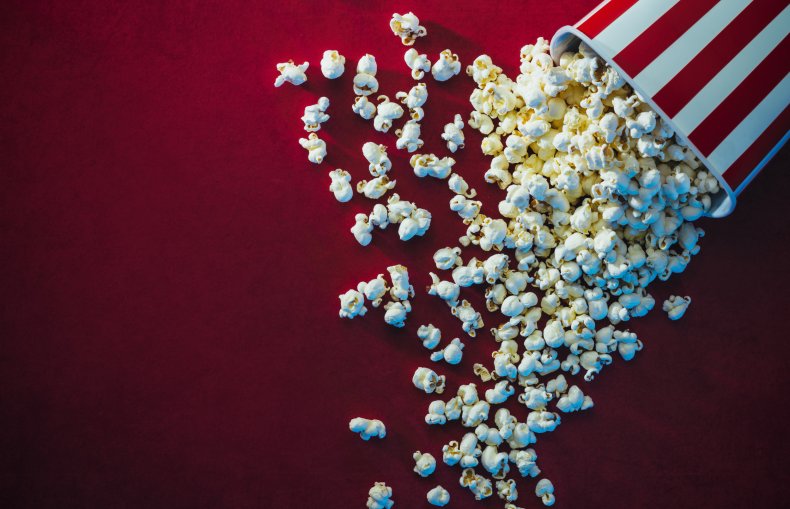 In the third quarter of 2021, AMC, which boasts 597 theaters across the United States, generated $265.2 million from food and beverage sales alone, per CNBC.
However, millions of dollars in sales does not always translate to a better movie-going experience for patrons or movie theater employees.
At AMC theaters, a small popcorn costs more than $6, a small soft drink costs more than $5 and most combo meals (including drinks, popcorn, chicken tenders or nachos) cost close to $20, per MovieTheaterPrices.com.
Added to 2021's average ticket price of $9.16, any food purchases (especially by parents for children) make the moviegoing experience a costly one. Still, in the first quarter of 2021, AMC saw food and beverage revenue (per patron) jump to a record-high $7.37, from $4.76 during the same period in 2020.
Commenting on the surge in concession purchases, AMC CEO Adam Aron credited movie theaters reopening following a myriad of COVID-related restrictions.
"Clearly, guests returning to our theaters are eager to participate in the full theatrical experience," Aron told Quartz. "More people are going to the concession stand and they're buying more things when they get there."
"These people have been deprived of their AMC popcorn accompanied by a nice 54-ounce cup of Coca-Cola," Aron added.
Following the December 2021 release of Marvel Studios blockbuster Spider-Man: No Way Home, numerous cinema employees shared videos and photos of what patrons returning to in droves meant for them: trashed theaters and a significant amount of extra work.
While many commenters on these videos and photos have shown sympathy for disgruntled movie theater employees, many have shown the exact opposite.
Within the comment section of the viral video posted by @georgekladious52, TikTok users expressed both sympathy and disdain for the movie theater employee.
"Brooo I know," one fellow theater employee lamented. "We ran out of lids and had to make full bins of everything at the end of the night after the delivery truck got there."
In a series of fiery responses, multiple TikTok users mocked @georgeakladious52 for seemingly complaining about having to fill 500 plastic cups with honey mustard.
"Bro is acting like it's hard to pour mustard," another added.
"'Big movie is coming out so I have to do work because I work at the place where they show this big movie'," a third commenter wrote, sarcastically.
"Wtf is wrong with people," they added.
Although many commenters on the viral TikTok were quick to choose sides, a handful of users were unclear about the connection between honey mustard cups and the storied DC Comics superhero.
"Wtf does honey mustard have to do with the Batman," one commenter questioned.
Newsweek reached out to @georgeakladious52 for comment.