It Took This Dad Just Three Months to Build a Backyard Coffee Shop for Two
This dad created a backyard paradise you're going to want to visit immediately: a personalized coffee shop. From building the foundation to interior design, it's all his own vision, and we can't get enough of it.
The dad, Ed's, creation was shared on Twitter by his daughter, Julianna Astrid (@juliannastrid) as a Father's Day tribute. It's more than just the creation that makes Ed a special father though, Julianna told Newsweek.
"I've grown up watching my dad build amazing things around our house and for other people, he is truly an extraordinary builder," she said via direct message. "He has always had a love for coffee and cozy spots and recently decided to fuel that love into something for his own backyard where the family and our guests can sit back, lounge and bond."
Julianna shared a series of photos featuring the coffee shop from its birth to grand opening. It's stationed in the back of their yard, next to a patio. It's a stand-alone structure, and even has a giant, glass windows to give the coffee shop a storefront feel.
The building's interior features a pastry case, a coffee set up, a table and chess set, and two chairs. There's also bar seating, a television and a menu board. The exterior features seating and lights hung above the patio. In all, it took the father under three months to complete, Julianna revealed on Twitter.
And to make the coffee shop even better: the materials Ed used are repurposed.
"Something that really makes me proud is his eye for seeing beauty in everything. My dad is a contractor and has been on so many job sites where he has to throw old materials away to make room for the new remodels; but he saved some of the 'trash' from numerous jobs and repurposed it to create his coffee shop; these things included materials to build the structure, the coffee shops doors and the front window!"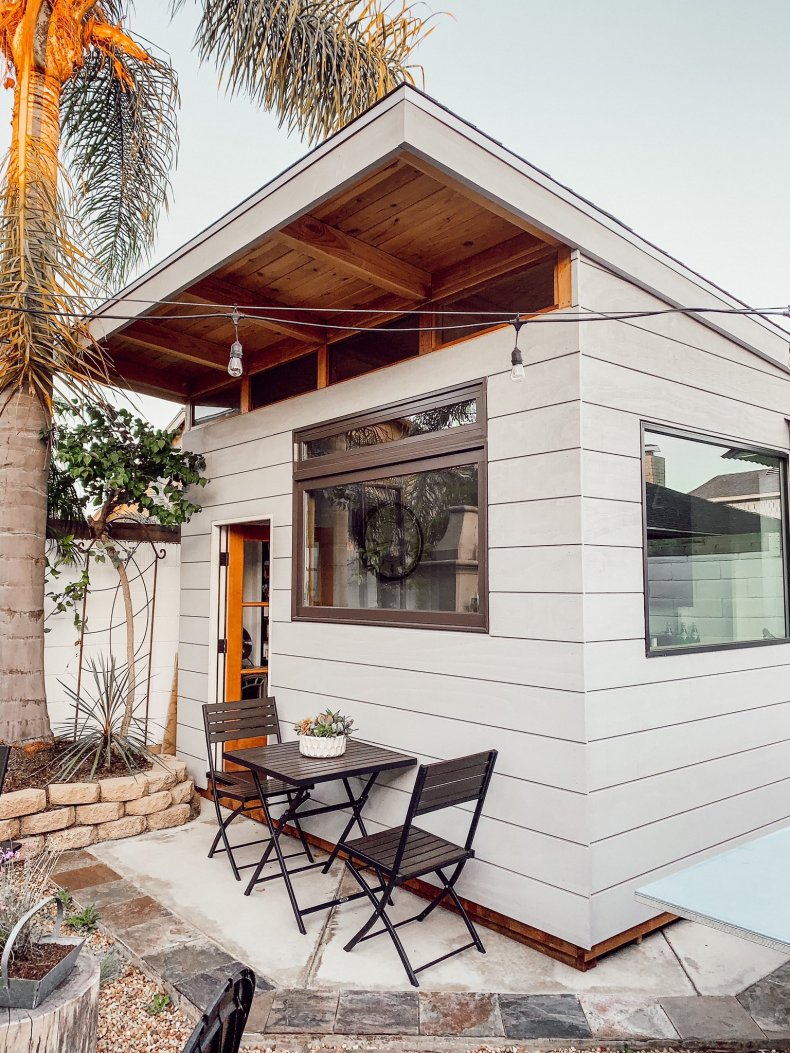 After Julianna posted the photos and video on Twitter Sunday, the tweet received 12,000 likes and nearly 1,500 retweets at the time of publishing. Social media users loved the concept, as well as her father's creativity and dedication to the coffee shop project.
Twitter users expressed pure joy and excitement for the project and even asked for a cup of coffee in the comments. Others commented on the pure beauty of the structure and design and applauded the dad's talent.
Julianna isn't only notable on Twitter. She's an influencer with over 86,000 followers on Instagram. She's also found lots of success on video app TikTok, where she has over 208,000 followers.
She originally debuted her father's coffee shop on TikTok in March.
She told Newsweek the family laughed when Ed relayed his plan. "My dad loves looking at little houses and different structures on Pinterest and randomly one day he told us 'yea I think I'm gonna build a coffee shop in the backyard', all of us started cracking up because it was so random and honestly, just a funny thought! 3 months later, this thing was built!"
TikTok fans showed just as much appreciation for the personal coffee shop. "Does he wanna build me one oh my gosh!!!" wrote @caliabrookelems.
Another could picture themselves relaxing in the space. "This is the cutest thing ever!" wrote @yodeebs. "Imagine spending morning here or summer nights with friends. The video has over 88,000 likes.
You can follow Ed's Instagram and all of his future builds here. He's based in Orange County, California, and is available to hire for your building needs.