'It Was Hell': Lesbos Volunteers Recount Harrowing Refugee Rescues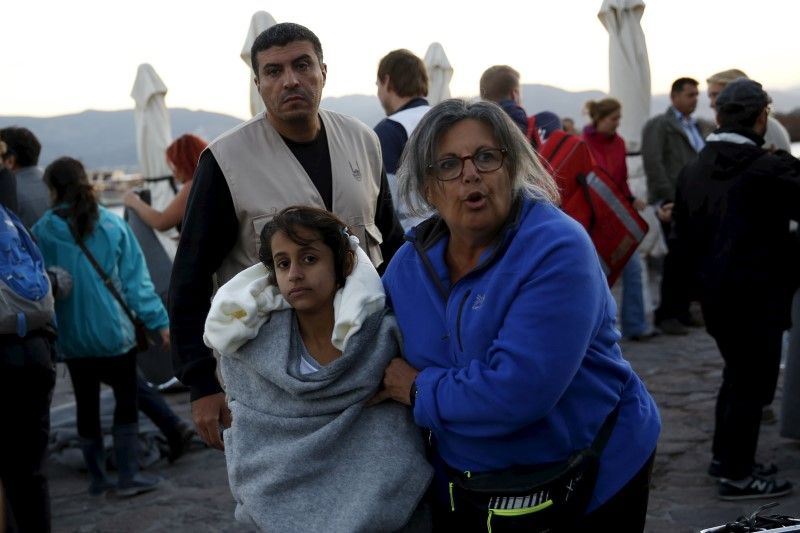 The first time Peggy Whitfield performed CPR was last week, after a wooden boat carrying some 300 people sank off the north coast of the Greek island of Lesbos.
Whitfield, a British volunteer with Starfish, a small NGO, says she first heard about the boat through a WhatsApp message on Wednesday night and then rushed to the harbor, where an ambulance was leaving with the first group of 10 unconscious children brought ashore. Whitfield and other volunteers began tearing open emergency blankets and helped put the next group of freezing, traumatized children down on the floor of an impromptu medical clinic.
One young girl Whitfield helped was completely white and had foam around her mouth, she says. She was so cold that her jaw was clamped shut, making it difficult for Whitfield to check her breathing. She began giving the girl chest compressions, and less than a minute later, a doctor arrived. "It was utterly terrifying," Whitfield, 35, tells Newsweek by phone from Lesbos. "I was thinking, I would literally exchange anything to make sure this child survives."
The girl's sibling was being resuscitated on the floor next to her, their father pacing between them. Both children, who Whitfield believes were Syrian, survived their ordeal. Many did not. Seven people died in the sinking on Wednesday, according to figures from the United Nations refugee agency (UNHCR). The Greek coast guard later updated the number to 43. The wooden-boat sinking was one of five separate incidents involving refugee and migrant boats that occurred on October 28, killing more than 15 people. Another 38 are still missing, according to UNHCR.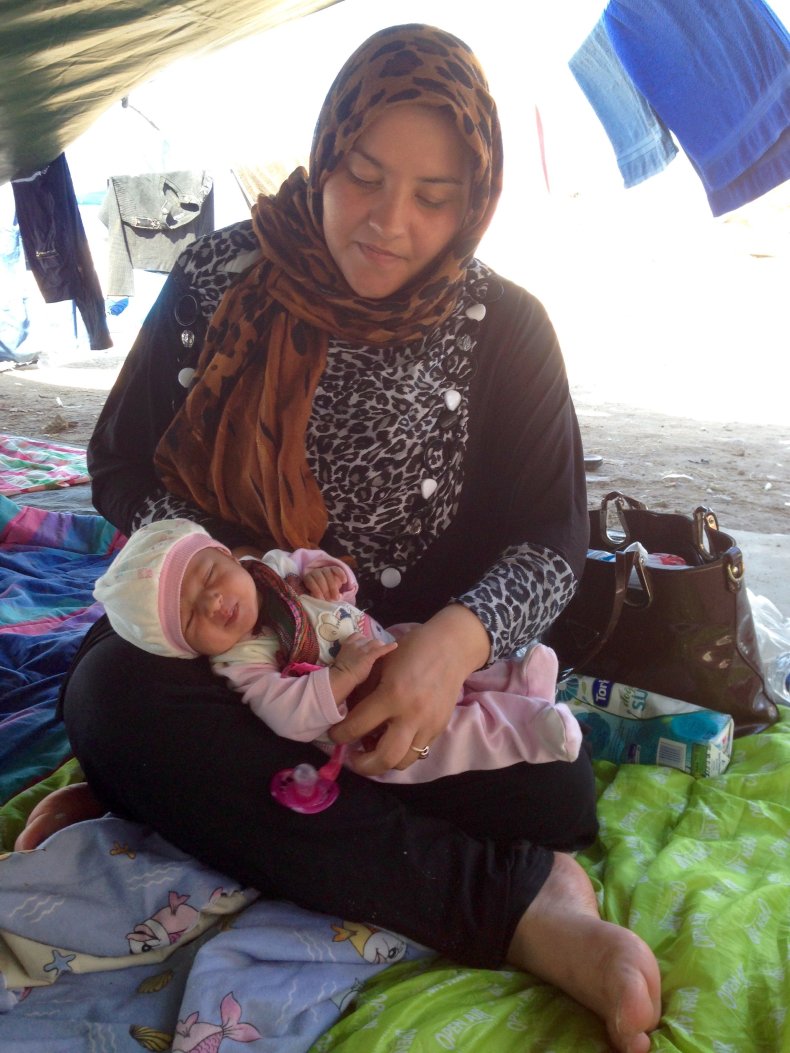 Historically, the number of migrant boats crossing seas around the world usually decreases as autumn and winter draw close and bring rougher, colder water, but that's clearly not the case this year. More than 218,000 refugees and migrants arrived in Europe by sea in October, more than in September and nearly equivalent to the entire number of people who arrived in the whole of 2014, says UNHCR. More than 700,000 people have arrived in Europe this year, and more than 347,000 of them have transited through Lesbos, a popular tourist destination and home to around 86,000 people—far more than on any other Greek island.
The seemingly endless arrival of refugees and migrants, the vast majority of them from Syria, Afghanistan and Iraq, is being dealt with largely by volunteers in tandem with larger, more established humanitarian organizations, including the International Committee of the Red Cross (ICRC) and the International Rescue Committee (IRC), according to volunteers who spoke with Newsweek. Those volunteers also say October 28 was by far the worst day since they arrived on Lesbos, which lies just six miles from the Turkish coast.
Whitfield's primary job is handing out bus tickets to refugees and migrants at the Oxy camp, located in the parking lot of a summer nightclub. The buses, which are paid for by the IRC, take them 40 miles south to two registration centers in Mytilene, on the south of the island—Syrians go to the Kara Tepe camp, and non-Syrians go to Moria camp—where they get their papers before boarding a ferry to Athens. The morgue on Lesbos is now full, and there's no more room to bury those who have died at sea. More than 477 refugees and migrants have drowned trying to reach Greece this year, including 150 children.
"In Greece and Europe-wide, if the volunteers all packed up and left tomorrow, this would be the biggest humanitarian disaster since the Second World War," says Whitfield.
Daphne Tolis, a Greek photographer, filmmaker and fixer, filmed the emergency response and aftermath of the wooden boat's shipwreck on her mobile phone in distressing videos showing volunteers rubbing the ice-cold hands of children wrapped in layers of blankets and a toddler being given oxygen.
"As a filmmaker, I just tried to capture it," Tolis says.
Tolis, who is based in Athens, has been on Lesbos for three months. Her experience last Wednesday began with unconscious, half-drowned children being brought ashore around noon, the result of another boat that got into trouble at sea, transforming the usually pretty and picturesque port of Molyvos into what she called "mayhem."
"It was hell," says Tolis.
She watched as two Afghan brothers, aged 3 and 7, were resuscitated next to each other. One didn't survive, and it was the first time Tolis saw a child die.
Trace Myers, from Leeds, England, and Jenni (who doesn't want her last name used), from New Zealand, both volunteer for the charity Refugees Start and also helped pull refugees and migrants from boats and warmed cold, wet children on Wednesday.
"We were warned that we had 10 unconscious children," Myers says by phone from Lesbos. "We took those 10 babies off the boat. The scene was grotesque."
Jenni can see the Turkish coast across the North Aegean Sea from her room in Lesbos. Through her binoculars, she watches vessels crossing the stretch of water to Greece as others line up to depart. She spotted the wooden boat at around 4 p.m. on Wednesday, "and suddenly it was just down."
"All we could see was a line of life jackets in the water. You couldn't see anything else," she says as her voice begins to break. "It's not something that you want to relive."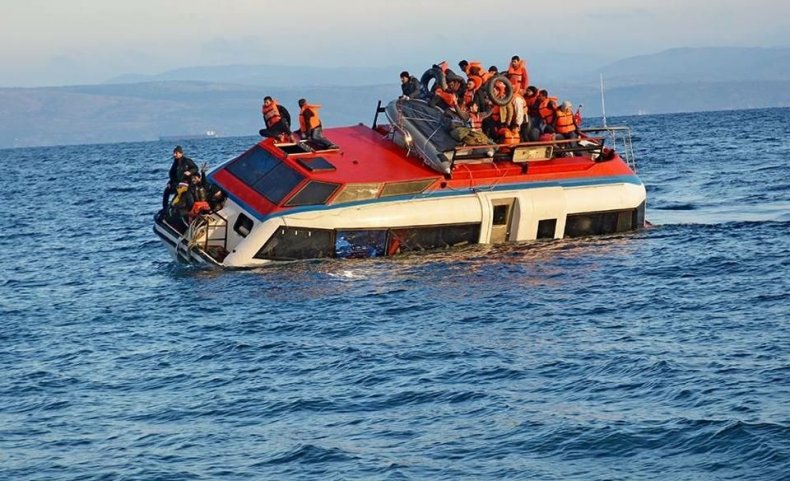 Two days later, on Friday, Jenni encountered another wooden boat that had started sinking and recalls hearing women and children, who were packed into the lower hull, thumping on the walls to get out. She had a sledgehammer in her car and retrieved it, and it allowed a man to break the hatch in the boat. Jenni spent the next two and a half hours helping people out of the small hole. While speaking to Newsweek on Tuesday, both women spotted a coast guard helicopter hovering over the sea, which usually means one of two things: a boat has disappeared into the water or they're trying to recover dead bodies, says Myers.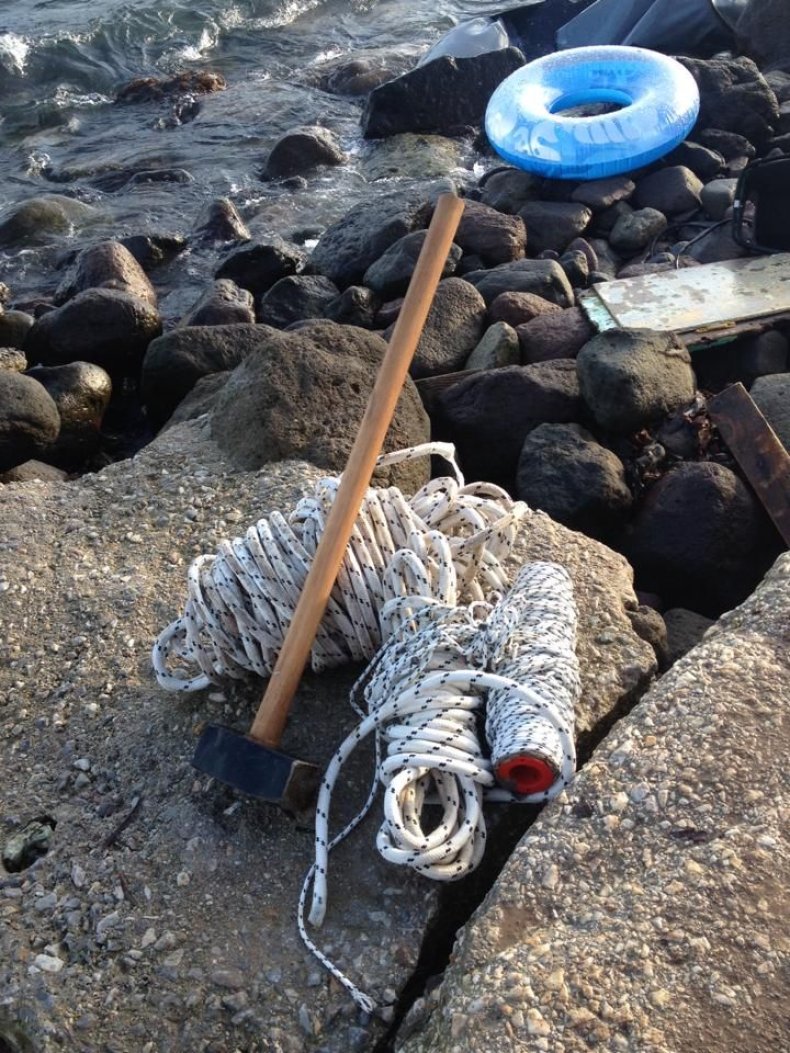 Ashley Anderson, a 31-year-old volunteer originally from Ohio, says she hasn't been able to take a break since the "traumatic" events of last Wednesday. Anderson, who has been on the island for a month, says she let refugees and migrants from Wednesday's wooden boat use her cellphone to contact their families using Viber, a free calling and texting app. Anderson says she now receives calls throughout the day and night from Afghan and Iraqi families inquiring about relatives who have since traveled on to mainland Greece and continental Europe.
"I don't know what's going to happen to these families," Anderson says, adding that she sometimes has to put her phone on "airplane" mode to make sure she gets some rest. "I don't know the updates."
Anderson's experience trying to comfort crying families who call her in the middle of the night to check that their relatives are safe has prompted her to think about the role NGOs have on the island. She says the NGOs should "gently take over" and try to coordinate better with volunteers, many of whom, like Anderson, work 15-hour days helping out. NGOs such as the IRC, the ICRC and UNHCR are present on the island "in a structural sense," says Jenni, but it's the volunteers who are working in the background, making sandwiches and doing the brunt of the work. Myers estimates that there are hundreds of volunteers on the island.
"The volunteers are taking on a big burden here. It would be helpful if the NGOs recognized that and provided support for us," Anderson says. "It's a lot for normal people [to deal with]."
Chele DeGruccio, the emergency-response team leader for U.S.-based NGO Mercy Corps in Greece, is currently on Lesbos and says refugees urgently need access to information and safe transit and that their families be kept together once they arrive on the island. Mercy Corps, which has eight people in Greece, is working with other established NGOs, like the IRC, Save the Children and Doctors Without Borders (MSF); local people; and groups of volunteers, she says. Despite winter's fast approach, the arrivals are not slowing down, she says.
"Any situation like this is really challenging, and on the Greek islands, especially, local communities are overwhelmed by the sheer number of people in need," says DeGruccio. "And there are unhappy surprises. For example, [on Thursday] all the ferry operators were on strike and thousands of people were stranded. Everyone is working really hard, and last night we ensured that the additional 1,000 people stranded in the transit center in the north of the island of Lesbos had meals and hot tea."
Journalists and photographers who have been documenting the crisis tell Newsweek that conditions on the island are dire. Julian Druker, a correspondent for the U.K.'s ITN News, has been covering the refugee crisis throughout Europe since April and says what he saw in Lesbos "was among the worst I saw anywhere this summer." In the designated refugee camp in Calais, France, known as "the Jungle," tents are dirty, but they remain upright. In Lesbos, people are camping on the side of the road in tents that "looked like they wouldn't stay up for a few hours," he says.
"We were struck by the makeshift tents we've seen in Lesbos. They were even more squalid," says Druker. "To see scores of people walking along the road with their belongings—it was horrific."
Druker spoke with an Afghan man who lost his heavily pregnant wife and young son in Wednesday's sinking.
Photographer Yolanda Visser was last in Lesbos in October, when she spent a week capturing images of refugees and the volunteers helping them. She has noticed a vast increase in the number of daily arrivals since she first visited in July and says refugees "lose all their dignity" once they arrive at camps on the Greek island.
"I'm glad I've got the photographs to show people because it's difficult to tell people what happens there if they can't see it themselves," says Visser.