Is It Wise to Name NATO's New Headquarters After John McCain?
Three former secretary-generals of NATO have suggested the alliance name its new Brussels headquarters after the late U.S. Senator John McCain.
In an open letter published in The Times, Anders Fogh Rasmussen, Lord George Robertson of Port Ellen and Javier Solana suggested that McCain's life and work embody the values around which NATO is built, and that naming the new building after him would be a fitting tribute.
In the message, the veteran diplomats write that even though he was an American senator, "across Europe we all felt that John McCain III was one of our own."
"Whether advancing the cause of freedom across the former Soviet states of eastern Europe or defending the multilateral international order at a time of skepticism, his work was a beacon for all of us who believe that transatlantic unity is the only means of ensuring peace," the former secretary-generals wrote.
The open letter came the day after British lawmaker Tom Tugendhat wrote to NATO also requesting the new building be named after McCain. In response, alliance spokesperson Oana Lungescu said the proposal would be "considered carefully."
Given President Donald Trump's animosity toward both McCain and NATO, such a move could be seen as a slight against the White House. Throughout his political career, Trump tussled with and maligned the senator. Even after McCain's death last weekend, Trump drew criticism for failing to fly the White House flag at half-staff for longer than two days.
But according to James Holtum, the media director at Rasmussen's political consultancy firm Rasmussen Global, "I certainly don't think their intention is in any way to try and put the White House's back up."
"It's more to honor a man they feel represented the values of the alliance," Holtum told Newsweek, explaining that the building itself is designed to be symbolic of NATO's attributes. "The building is very adaptable in the way it is set up so as to symbolize the adaptability" of the organization, he said, suggesting that naming the headquarters after McCain would be a way of recognizing a man "that defended the values" the alliance stood for.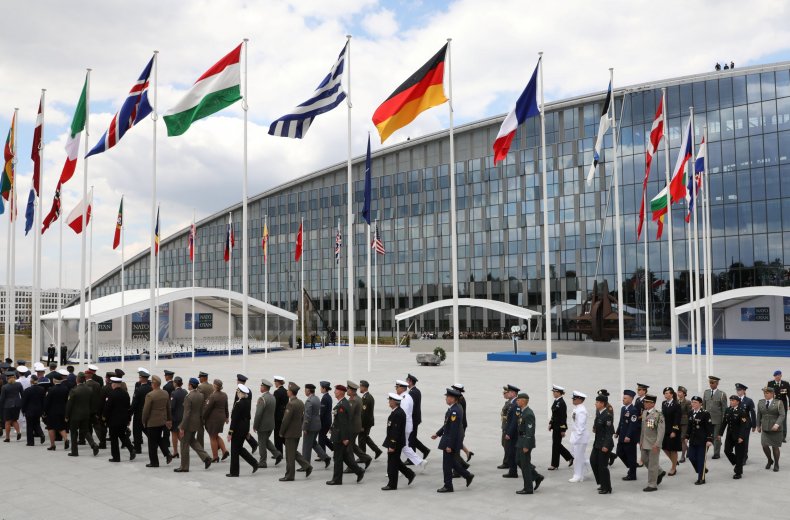 For all Trump's NATO-skeptic rhetoric, the alliance is holding firm. At his dramatic appearance at the bloc's summit in Brussels last month, for example, Trump spent much of his time criticizing U.S. allies for not spending enough in the defense of Europe, and reportedly even threatened to leave the group unless he got his way. But at the end of the meeting, the president declared that NATO was stronger than ever, supposedly thanks to his personal intervention.
Trump may not be breaking with NATO, but his resistance to its protocols has undermined the organization. "NATO is not just a military alliance; it is a political alliance as well," Holtum explained. "We also need to make sure that the political will is resolute," he continued, noting that this is one area in which Trump's behavior "has perhaps drawn some questions about the resolute support of the president."
Still, he added, "I think wider in Washington and the U.S.—and the Congress in particular—there is no change America's position." Holtum said his experience of discussions with U.S. officials on Capitol Hill remains very positive. In addition, meetings with Secretary of State Mike Pompeo and Secretary of Defense Jim Mattis, for example, make it clear that NATO support is still very strong, he explained.
If anything, Trumpian rhetoric has forced Congress and the Senate to take steps to guard against reckless foreign policy moves, for example withdrawing from NATO or unilaterally lifting sanctions on Russia. "We've gone from one person predominantly doing foreign policy in the U.S. to 101 people with the Senate. That's probably the biggest change," he suggested.