'It Would Drown Us in Debt': Mother Refused $60K Car for Step-Daughter
Commenters came to the defense of one step-mother who explained why she vetoed the purchase of a $60,000 car for her step-daughter's 16 birthday in a popular internet forum.
In a post published on Reddit's r/AmITheA**hole, Redditor u/WorldlinessOwn9245 said that her 16-year-old from a previous marriage recently received a $60,000 car for her 16th birthday, prompting her step-daughter to ask for the same thing. Titled, "AITA for refusing to buy my step-daughter a car like my daughter's?," the viral Reddit post has received nearly 18,000 votes and more than 2,000 comments.
Beginning with the explanation that she and her ex-husband, who divorced seven years ago when he came out as gay, share a 16-year-old daughter, u/WorldlinessOwn9245 said that when the couple separated, the family continued to live together in the same house. Calling her ex-husband a "high earner," the Redditor said that two years after the divorce, she remarried and her new husband moved in, too.
Despite the unique arrangement, she added that her ex-husband and current husband have a good relationship, and that eventually, her ex moved out of the shared home.
"[My husband] and my ex are great friends, especially since my ex is still very much a part of our life," she wrote. "As a wedding gift he gave me his half of the house. Now I own it in full."
Although both u/WorldlinessOwn9245 and her husband are on good terms with the Redditor's ex-husband, the same can not be said for their children.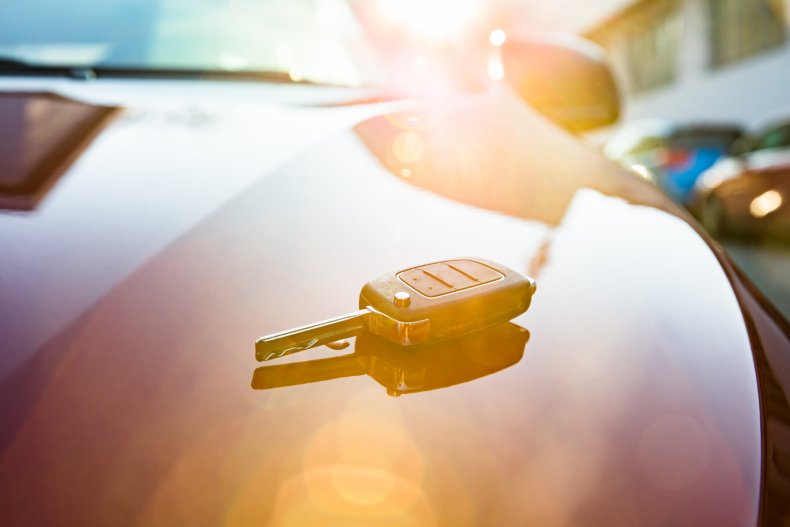 Explaining that her daughter and her husband's daughter "do not have the best relationship," u/WorldlinessOwn9245 said that after her ex-husband purchased a $60,000 car for her daughter's birthday, her step-daughter made it clear she expected similar treatment.
"She asked for the same car that my ex gave my daughter," she wrote. "We refused of course and said we would buy a car that fits our budget."
"She threw a tantrum and threatened my husband that she would never talk with him again if he didn't get her the same car," the Redditor added. "He is wavering but I refuse, $60K is just under what he makes a year, it will drown us in debt."
While Kelley Blue Book reported that the average price of a new car at the end of 2021 was over $46,000, and CNET reported that average used car prices were over $29,000, most first cars for teenagers still fall in a lower price range.
According to Joy Wallet, an online resource for financial advice, first-time car buyers should aim to spend between $5,000 and $10,000 on a reliable first vehicle.
However, financial realities can skew price ranges heavily.
While Joy Wallet recommends buyers spend no less than $5,000 to ensure they are purchasing a reliable vehicle, first cars are routinely purchased for $5,000 or less. And for parents who can afford to splurge on their teenager's first car, vehicles over $10,000 fall at the bottom end of their price range.
A decade ago, AutoTrader revealed that, of adults who have driving children, 53 percent reported having to buy their own first car, while only 14 percent reported receiving a vehicle from their parents. In 2012, those percentages flipped. 41 percent of those adults reported buying their child's first car, and just 17 percent reported that their children purchased a first car on their own.
In her original Reddit post, u/WorldlinessOwn9245 claimed that she and her husband planned on buying her step-daughter a reliable vehicle for her 16th birthday, but expressed some guilt that her daughter's $60,000 gift is a source of jealousy.
"[My husband] loves his daughter a lot, and I feel partly responsible since she wouldn't have asked for it if my daughter didn't get the car for her birthday," she wrote.
Responding to the viral post, many Redditors reassured the original poster, and told her that she was justified in refusing the lavish purchase.
In the post's top comment, which has received over 39,000 votes, Redditor u/missmistryl presented u/WorldlinessOwn9245 with a potential solution.
"Your ex bought your daughter the car, right?," they commented. "Tell your step daughter that her mother can buy her a car to make it equal."
Redditor u/Tired_Aunty, whose comment has received 7,500 votes, relayed a similar message and said it would be unwise for the original poster and her husband to make a purchase they can't afford.
"[Not the a**hole]," they wrote. "Like you said you can't afford it, that is enough reason to not buy it."
"If she continues, tell her in the spirit of fairness her mom should be the one getting it for her, since your daughter got it from the parent that is not part of your relationship," they added.