Italian Americans Fight Discrimination Battle in Boston—'Huge Disadvantage'
Italian American restaurant owners in Boston's North End, who claim they have been discriminated against by the city's Democrat Mayor Michelle Wu, say the outdoor dining policy that sparked a legal complaint leaves them at a "huge disadvantage" compared to other restaurateurs elsewhere in the city.
They argue that they have been singled out by city officials in a bid to deter tourists from the thronging neighborhood and have been sidelined in city advertising campaigns. The restaurant owners said Wu's decisions had impacted their businesses by thousands of dollars.
"It seems the philosophy of the progressive Democratic party today is to blame white people for everything that's happened in the United States," Jorge Mendoza, owner of Vinoteca di Monica and one of the complainants, told Newsweek. "She's grabbed the only European ethnic minority in Boston that still has a neighborhood that is vibrant, and she's taken us out."
Newsweek has contacted the Massachusetts Democratic Party for comment.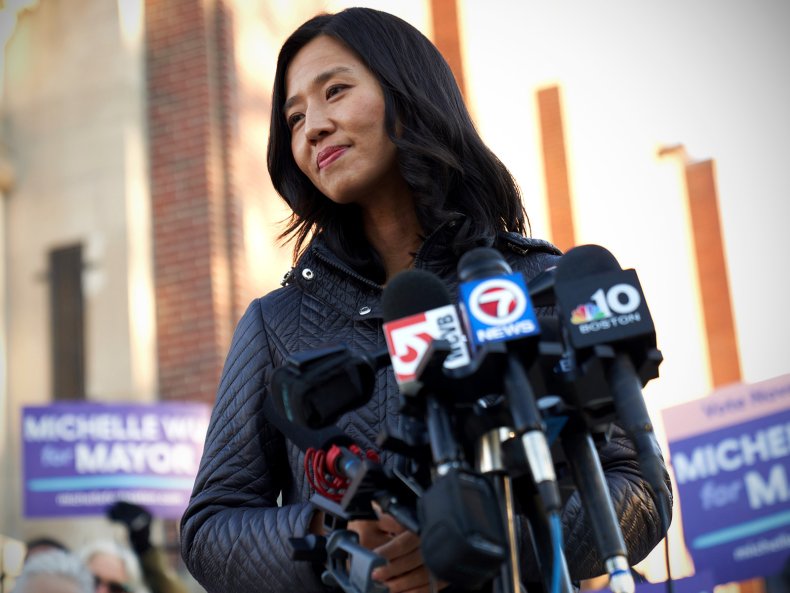 The legal dispute stems from the levying of a fee for restaurants in the North End area—which is known for its Italian heritage—to be able to place tables outside their restaurants for outdoor dining.
In 2022, Wu ordered that restaurants in the area that wanted to have outdoor dining for that summer would have to apply for a license to do so, which would cost $7,500, and the use of parking spaces would cost an additional $480 per space used—but this did not apply to the rest of Boston.
An initial complaint made by the restaurant owners was made in 2022, when the levy was introduced, but that was dismissed by a judge in October. An amended complaint, citing discrimination against the white, Italian American owners was refiled on Tuesday.
The complaint perpetuates a broader debate about what should be considered discrimination amid a shifting sense of power felt among different communities. A May 2022 poll found that 40 percent of Americans felt there was more discrimination against white people than there was five years ago.
Mendoza said that due to the "astronomical" fees, and a last-minute rule change requiring new barriers, it cost him $45,000 to get set up for outdoor dining last summer. "The cost for anybody else in the city was zero," he added.
In a good year of sales, he said his restaurant would look to make between 10 and 12 percent profit. "How much money do you think we make on twenty outdoors seats? That $40,000 dollars is your profit," Mendoza remarked.
For Christian Silvestri, co-owner of Rabia's Dolce Fumo, there was "quite a bit" of an impact on the business. "Before we even sold one plate of spaghetti, we were basically $15,000 down in the hole," he told Newsweek.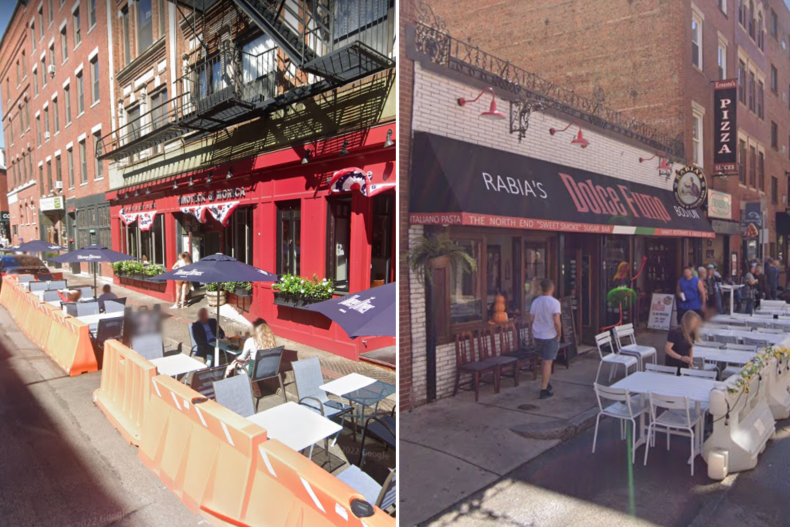 The legal complaint is calling for punitive damages of $1 million and compensatory damages of $500,000.
According to the Boston Globe, the mayor announced fresh changes to the outdoor dining rules for 2023 in February. Restaurants will this year only be able to have outdoor dining on sidewalks deemed wide enough, and will have to pay a monthly fee of $399 if they have a liquor license.
Both owners claimed that restaurants in the North End had been entirely excluded from this new policy. Mendoza said that this would draw people who wish to dine outside, especially in warm weather, away from the North End and to other areas that could facilitate it.
"Not having the opportunity to compete fairly with other businesses in Boston with outdoor patios is going to put us at a huge disadvantage on sunny days in the summer," he commented.
"What you're doing is you're taking them out of the North End and displacing them in other parts of Boston that do have the outdoor dining," Silvestri said. "That alone, hurts the small business owners. The North End is made all up of mom-and-pop shops; there's no franchises, there's no corporations, there's no big change."
The legal complaint against the city also claimed that white Italian restaurateurs were omitted from the city's All Inclusive Boston Campaign, which was aimed at attracting tourism and promoting minority-owned businesses.
"Our taxpayer dollars are being used against us, while she's advertising for every other neighbourhood except for the North End," Mendoza remarked.
"This is part of the effort that the Democratic party is doing to redistribute wealth—in this case, to redistribute business," he added. "She wants to take business away from those in the North End, who are some[what] of an ethnic minority... [who] through capitalism and opportunity have lifted the neighborhood and achieved tremendous goals."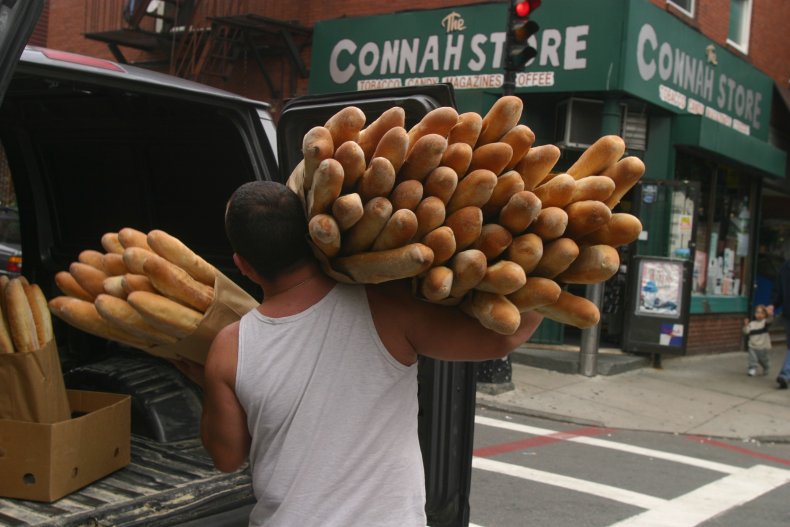 Silvestri, meanwhile, noted that "not one restriction is attached to Chinatown," but claimed: "For us, Italian, white Italian Americans, we get basically everything taken away from us."
In a motion to dismiss the original complaint, Wu's attorneys said that the patios created a "significant quality of life burden" in terms of noise, trash, and loss of parking spaces. It noted that the outdoor dining spaces restricted the North End's already narrow sidewalks, and suggested the fees were to "mitigate" the increased cost to the city of maintaining the streets.
But Silvestri argued that he hadn't seen city garbage collectors or street sweepers last summer, and that his trash was removed by a third-party disposal firm that his restaurant paid for. He wasn't sure how the money had been used.
Referring to road congestion, Mendoza said: "We are trapped in a huge traffic jam in Boston because of the doings of the Democrat administrations that have led this city for the last three or four administrations." In fact, Boston has had a Democratic mayor since 1930.
According to research by the Boston Planning & Development Agency, 88 percent of North End residents identify as white, compared to 45 percent in the wider Boston area. It's home to numerous Italian eateries.
"We're the longest lasting Little Italy in the United States," said Mendoza. "We are a vibrant neighborhood that is flooded with visitors constantly, and what she's doing puts us at a huge disadvantage."
As part of a motion to dismiss the previous case, Wu's attorneys wrote that the "unsupported assertion" that the traditional North End restaurateur was white Italian could not "create constitutional barriers to the city's ability to put in place reasonable constraints on local restaurants regulating congestion, noise, and excess trash in one of the most crowded and compact neighborhoods in Boston."
But for the restaurant owners preparing for a first summer without the a la carte dining that they see as typifying the European-influenced area, it feels like a personal attack.
"Being a minority means that your people represent a smaller slice of all of us, of society at large, but doesn't make you less because you're a minority," Mendoza said. "That is the case in the neighborhood I live in. We are Italian Americans, we have planted roots in our neighborhood over a hundred years ago, and we've very much worked to get out of the claws of government, of poverty, of welfare, of rent control—and we've done great, and we're very proud of it.
"We're a working-class neighborhood of very nice people," he added. "These are all small, family enterprises."
Newsweek has reached out to Wu's office for comment.