Italian Americans Have a Columbus Conundrum
Amid the ongoing protests over the death of George Floyd, controversial statues across the country have been defaced, vandalized and even removed, including those of Christopher Columbus. In some states, such as New York, New Jersey and Missouri, there are calls for statues of the 15th-century explorer to be removed.
The removal of these Columbus statues presents a conundrum for Italian Americans, many of whom believe they should remain standing, as they serve as a symbol of their heritage and their contributions to the country.
While some protesters in various parts of the country have defaced, beheaded or removed Columbus statues, some Italian Americans, including New York Governor Andrew Cuomo, have suggested they should remain in place.
"The Christopher Columbus statue represents in some ways the Italian American legacy in the country, and the Italian American contribution in this country," said Cuomo, the grandson of Italian immigrants, during a recent press conference when asked about the statue.
"I understand the feelings about Christopher Columbus and some of his acts, which nobody would support, but the statue has come to represent and signify appreciation for the Italian American contribution to New York, so for that reason I support it," the governor added.
A Change.org petition in New York City, which has gained traction recently, asks for the Columbus statue at the top of the tower in the center of Columbus Circle to be removed and the traffic circle renamed.
Columbus is a controversial figure in U.S. history. Critics say he should not be celebrated given the subsequent conquest of indigenous peoples in the Americas and the violence against them during colonization. On the other hand, some Italian Americans see him as an iconic figure and a representation of their heritage.
"The Columbus statue is a deeply rooted public celebration of the Italian immigrant heritage, and it's a public expression of our pride, our culture, our history and our identity," Basil Russo, president of the Order of Italian Sons and Daughters of America, told Newsweek.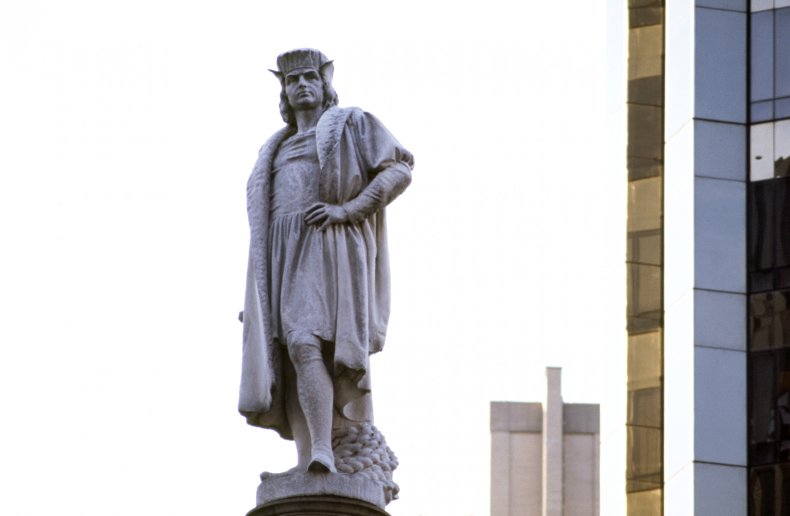 He added that "most people don't understand" that the statues were a "direct result of the largest mass lynching in American history." In that incident, which occurred in 1891 in New Orleans, 11 Italian immigrants were hanged and shot for their alleged role in the death of David Hennessy, a New Orleans police chief.
Russo suggested that many calls for the removal of the statues because of Columbus' actions are based on arguments that "are grossly exaggerated and, in some cases, they're fabricated."
"The effort is to try and demonize Columbus because he has become the poster boy for European colonization of America, and they choose to blame him for all of the ills that the Native American community believes he inflicted on them, which is very unfair because you can't judge a historical figure by applying contemporary standards to them," Russo added. "The strength of America lies in its diversity, and we don't celebrate our diversity by trying to erase our history.
"To us, Columbus' journey launched 500 years of immigration to America, attracting people from throughout the world that were seeking a better life for their families. That is the spirit that we champion and are fighting to preserve," he said.
The National Italian American Foundation (NIAF), which seeks to promote and preserve Italian American culture and history, released a statement saying that vandalizing and removing the statues of Columbus is "culturally insensitive and divisive."
"These statues were paid for through the donations from Italian immigrants in the 19th and 20th centuries. Although these new Americans had little in the way of monetary resources and were part of a marginalized community, discriminated against and exploited for their labor, they wanted to give what they could to have a statue of Columbus, representing their hope that one day they could be part of American life, achieve at higher levels and contribute to society," the statement said.
It added that the NIAF supports the rights of Americans to peacefully protest and condemns "intolerance, hate, discrimination and violence, as they are divisive to our democracy."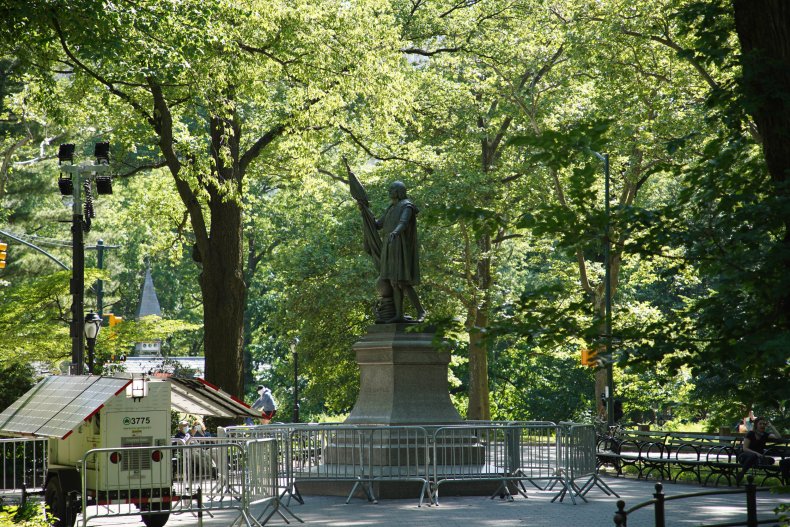 However, other Italian Americans have joined the calls to remove the statues and other tributes to Columbus, and four states have enacted laws that had Columbus Day—observed each year on the second Monday in October—changed to Indigenous Peoples' Day. Nevada marks both Indigenous Peoples' Day, on August 9, and Columbus Day.
"Our parents have told us stories about the level of discrimination they faced and the fear that what was worked so hard for might be lost, but this is not unique to Italians, being discriminated against," Heather Leavell, one of the founders of Italian Americans for Indigenous Peoples' Day, told the Associated Press. "We unfortunately allied ourselves with a white supremacist in our attempts to be recognized in this country."
Corrie Popp, a high school English teacher, echoed Leavell's thoughts while speaking to the AP, saying Italian Americans are "big-hearted people."
"But Columbus can't represent us as Italian Americans anymore," Popp said.
Betty Lyons, executive director of the American Indian Law Alliance, told CNN the Columbus statues serve as a symbol for "centuries of racism and dehumanizing of indigenous people" in the U.S.
"Until the larger society confronts those oppressions head-on and realizes that the symbols of that oppression go far beyond the Confederate flag, peace will not come to the land," Lyons told CNN. "Until then, Cuomo, as does [President Donald] Trump, continues to have his knee on our necks."
Correction June 19, 2020, 9:56 a.m. ET: This story has been updated to fix an error in one of Russo's comments to Newsweek.