Italian Doctor's Claim Coronavirus Is Getting Weaker Questioned by Experts
An Italian doctor's claims that the coronavirus is getting weaker and has almost disappeared from the country has been questioned by experts. Italy's health ministry has also urged caution, saying that as of yet there is no scientific evidence to support his thesis.
Alberto Zangrillo, Head of Anesthesia and Intensive Care Unit at the RCCS Ospedale San Raffaele in Milan, Italy, appeared on RAI television discussing the virus in Italy. The country was initially one of the worst hit when the outbreak began, with the region of Lombardy recording most cases. On March 27, the country recorded almost 10,000 deaths in a single day. According to Johns Hopkins University, there have been nearly 233,000 cases and 33,500 deaths across Italy.
Cases there have now fallen significantly. According to Italy's Ministry of Health, 355 new cases were reported on May 31.
"In reality, the virus practically no longer exists from a clinical point of view," la Repubblica quotes Zangrillo as saying. "The swabs performed in the last 10 days have a viral load from the quantitative point of view absolutely infinitesimal compared to those performed on patients of a month, two months ago."
Matteo Bassetti, Head of Infectious Diseases Clinic of the San Martino IST University Hospital in Genoa, told Reuters he had seen similar changes: "The strength the virus had two months ago is not the same strength it has today," he is quoted as saying. "It is clear today the...disease is different."
Zangrillo, who is also professor in Anesthesiology and Intensive Care at Università Vita-Salute San Raffaele, said he and other researchers had signed an editorial to say there was no need to create additional intensive care places, as "our emergency rooms and our intensive care units are empty." He said MERS (Middle East respiratory syndrome) and SARS (severe acute respiratory syndrome)—diseases also caused by coronaviruses—both "disappeared forever."
"It is desirable that this also happens for the third coronavirus epidemic," he said.
Concerns about his comments were raised by Sandra Zampa, the undersecretary at the Ministry of Health. She said if conditions across the country improve this is a result of the lockdown measures taken by the government. "In any case, pending scientific evidence in support of the thesis of the disappearance of the virus, whose reliability we would all be happy," she said in a statement. "I instead invite those who were sure not to confuse the ideas of the Italians, promoting risky behaviors from the point of view of health."
According to la Repubblica, Giuseppe Ippolito, director of Rome's Spallanzani National Institute for Infectious Diseases in Rome, said there was "no published scientific evidence or study showing that the new coronavirus SARS-Cov2 has changed."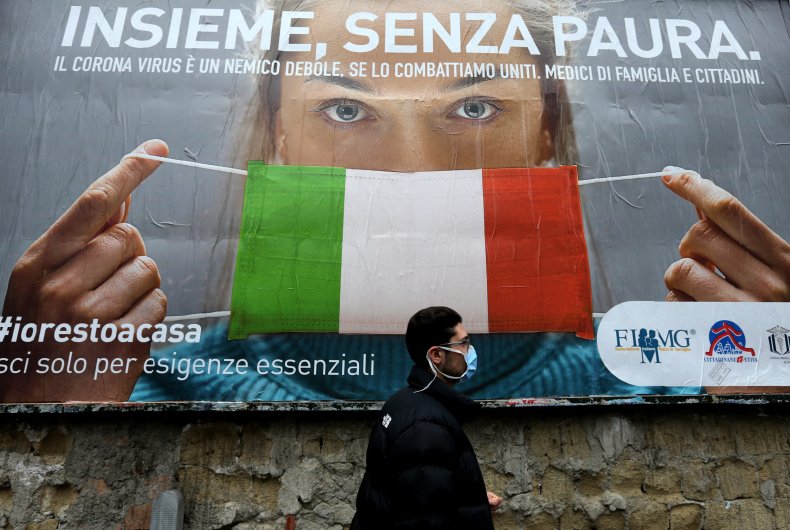 Willem van Schaik, professor of Microbiology and Infection at the University of Birmingham, U.K., told Newsweek it is difficult to assess the validity of the claims being made by Zangrillo because no scientific evidence has been published to support it.
"It is, in my opinion, unlikely that the virus itself is weakening but, if these observations from Italian hospitals are correct, I believe it is more likely caused by patients being infected with lower doses of the virus than any changed inherent property of the virus," he said.
"We still do not know whether infective dose is correlated to disease severity, but this has been observed in many infectious diseases, including SARS. Perhaps what these doctors are reporting on is an effect of individuals being exposed with lower levels of the virus due to social distancing measures being in place, including wearing of face masks which would reduce the number of infectious particles being spread."
Zangrillo also said the risk of a second wave is being overstated. "I really am laughing," he is quoted as saying. "Today is May 31 and about a month ago we heard epidemiologists say that we fear greatly a new wave for the end of month / beginning of June and who knows how many intensive care places there would have been."
Van Schaik said there are many examples showing new outbreaks can and do occur. Whether this will result in a second wave of infections will depend on testing and tracing infrastructure, which could help minimize transmission if used effectively.