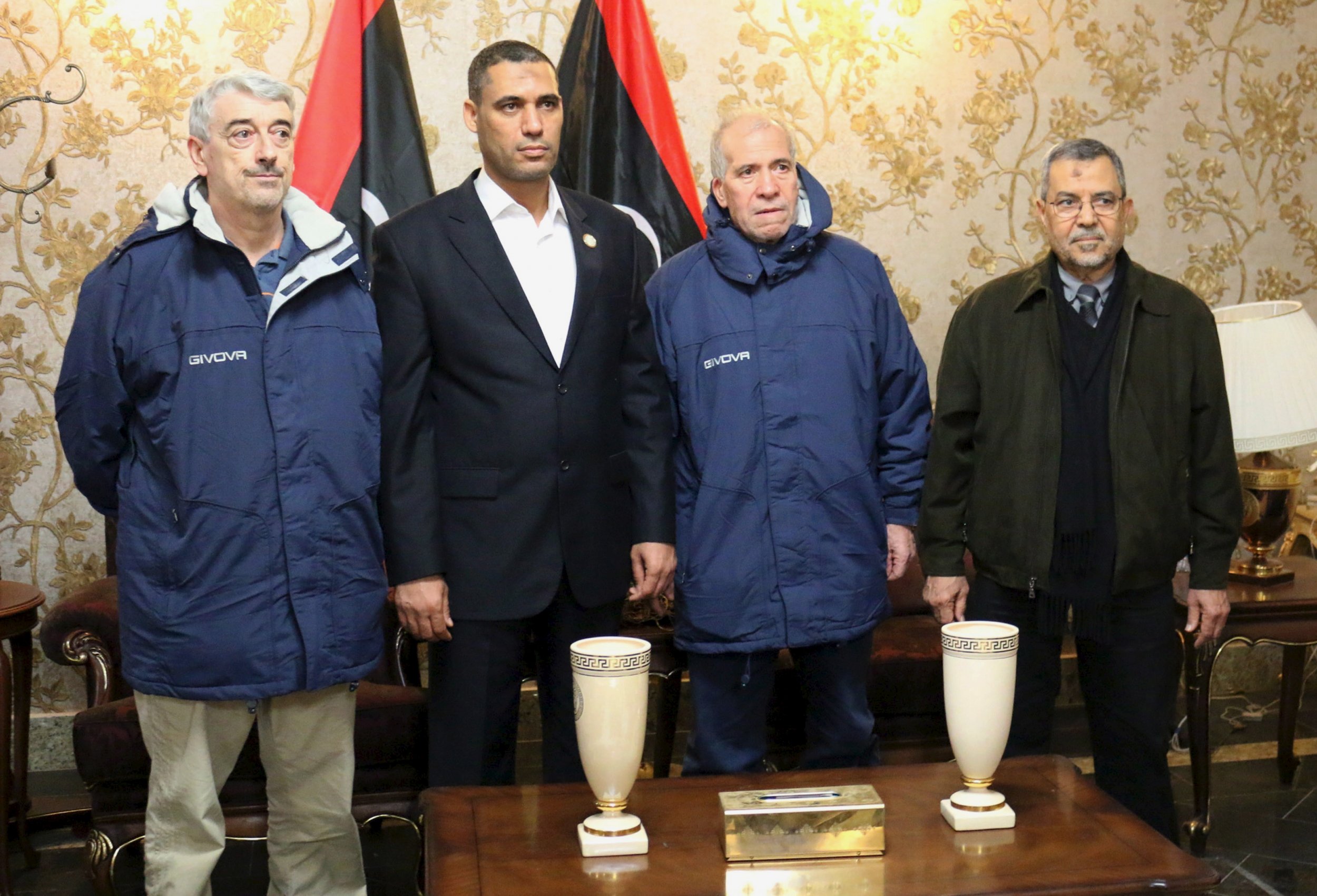 One of the Italian construction workers released from captivity in Libya last week has told of how he escaped from his captors using a nail to remove a lock on the door of where he was being held.
In July 2015, Filippo Calcagno and his colleague Gino Pollicardo, also released last week, were kidnapped near an oil and gas complex near the western Libyan city of Sabratha. Unknown assailants captured the pair along with two other workers, Fausto Piani and Salvatore Failla, who the Islamic State militant group (ISIS) killed in Libya last week. All four worked for the Italian construction company Bonatti.
The men were held together until the beginning of March, when their captors took Piani and Failla away. Using a nail, Calcagno worked on the door's lock until it finally came loose.
"Let's say, I worked a lot on that door. With a nail, I understood that you can do many things," he told reporters outside his home in Sicily where he returned on Sunday, according to the Associated Press. "Slowly, slowly, I weakened" the lock.
He then summoned Pollicardo so they could kick down the door together. A door on the other side was unlocked and the pair managed to reach an open street where they found local police.
Calcagno said that while the men were being held, their captors beat them and left them without food for prolonged periods. In their time together, "we spoke of everything, of what we thought we would do when we came back," he said. Pollicardo said that "psychologically it will be more difficult [to recover]" than it will from the physical impact of their captivity.
The two men were greeted by their relatives at Rome's Ciampino Airport on Sunday before being taken away by the Italian foreign ministry and intelligence services for debriefing. Both men referred to their captors as "criminals," saying that they did not know who they were affiliated to.
The deaths of their two colleagues at the hands of ISIS in Libya is an incident that could push Italy to send special forces into the North African state. However, Italian leaders have cautioned against rushing into a conflict, saying that any deployment would need the approval of parliament.
"We need to avoid Libya sinking into chaos where tragic episodes like this one involving our hostages can proliferate," said Italian Foreign Minister Paolo Gentiloni in an interview with Italian daily Il Sole 24 Ore. "It must be clear that there are no apparent shortcuts, muscular displays. It's true, time is short, but there is no quick war at our door."
ISIS has used the near-failed state as its African center, capitalizing on the security vacuum in the country since the NATO-led overthrow of Muammar el-Qaddafi at the height of the Arab Spring in 2011.
After establishing an affiliate in eastern Libya in October 2014, the group captured the central city of Sirte in July 2015, where it has imposed its radical version of Islamic law, carrying out beheadings, crucifixions and floggings.