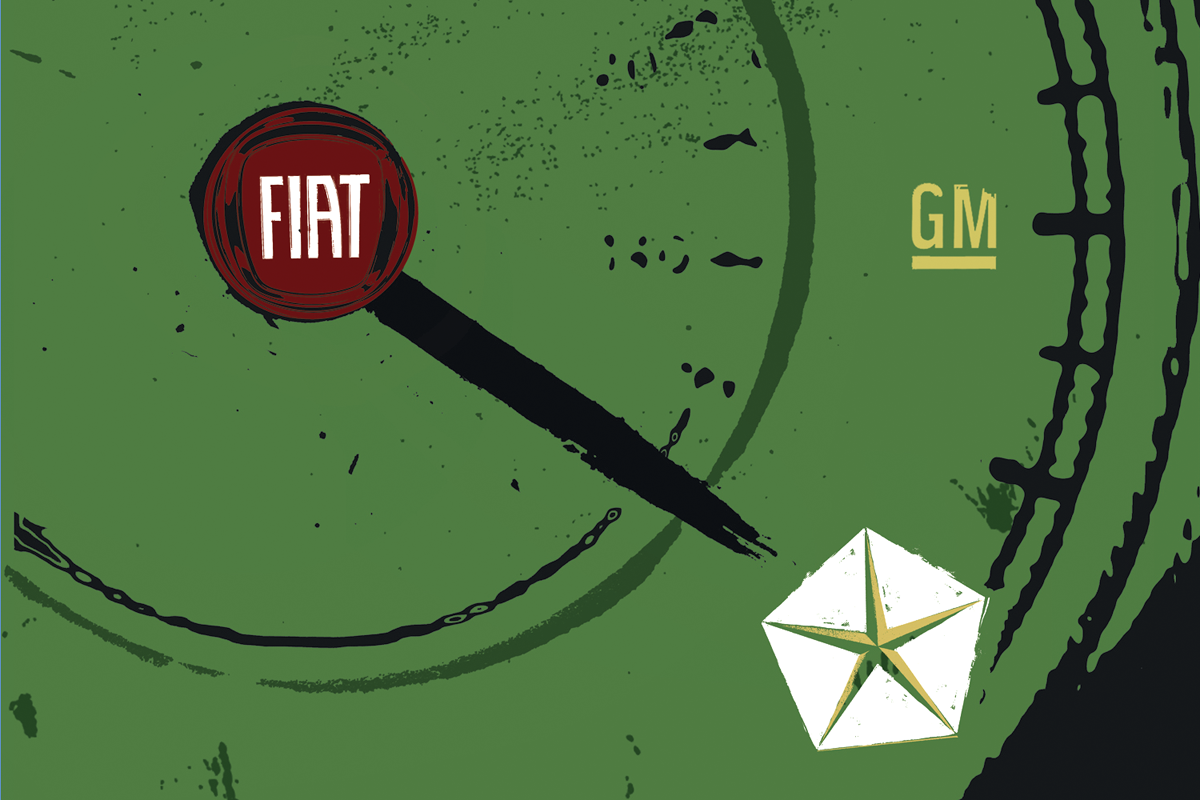 It's rare for a good Samaritan to have his life saved by the person he stops to aid. But that's what seems to be happening with Fiat and Chrysler, whose three-year-old marriage provides an object lesson in the strange and unexpected workings of the global economy.
July's U.S. auto-sales figures were a mixed bag. General Motors and Ford both saw sales fall, 6.4 percent and 3.8 percent from the year before. Yet Chrysler, the longtime runt of the American Big Three, notched its 28th straight month of year-over-year gains. Sales were up 13 percent. Just three years ago, Chrysler seemed destined for liquidation. In 2009, with its then-owner, private-equity firm Cerberus Management out of ideas and capital, Chrysler hooked up to the government's hastily constructed life-support system. Then, with no other U.S. investor or car company interested in taking on the patient, the Obama administration found a Dr. Fixit in Italy: Fiat.
Skepticism was surely warranted. The merger may have seemed like lashing an American-flagged leaky bucket to the Costa Concordia. And Chrysler had already gone through a period where it was (unhappily) owned by a European automaker—Daimler. But under the leadership of Fiat CEO Sergio Marchionne, the merged company has come roaring back. To a degree, Chrysler's rebound has been a triumph of visceral, smart marketing: Chrysler hired Clint Eastwood to craft an evocative, gritty Super Bowl commercial. The ads for the zippy Fiat 500, which feature model Adriana Lima seducing an American dork in Italiano, have added sex appeal.
But the Fiat 500, which has sold 24,416 units so far this year in the U.S., is a mere sideshow. The real story is Marchionne's reinvigoration of Chrysler's core American brands. Jeep is an iconic, highly popular brand, and Dodge pickup trucks are well liked. And the company rolled out new products, like the Chrysler 300 sedan, and the Dodge Dart, an old standby reinvented as a high-mileage vehicle. In the first half of 2011, Chrysler's U.S. sales rose 24 percent—far outpacing the market as a whole and other American carmakers. The company has sold more than 283,000 Jeeps so far this year. Demand is so high that several Chrysler plants skipped the traditional two-week summer shutdown in July.
The U.S. auto industry learned the hard way that sales without profits are meaningless. But Chrysler is now minting money: $909 million in net profit in the first half of 2011. So instead of sucking resources from Washington and Milan, Chrysler is paying economic and political dividends. Chrysler repaid the last of its government loans in May 2011, with the taxpayer taking a modest $1.3 billion on its $12.5 billion investment. (By contrast, GM still owes Uncle Sam $27 billion). Chrysler is adding workers at its massive Jeep plant in Toledo—a crucial swing district in a vital swing state. As a result, Fiat's move to buy Chrysler now looks less like a reckless act of charity than a smart act of self-interest. Auto sales are plummeting in Italy. Fiat told investors that without the profits provided by Chrysler, it would have lost nearly $300 million in its most recent quarter. Marchionne called it a "good quarter for Fiat, on the back of some really strong results over at Chrysler." Just three years after Fiat rushed to jolt Chrysler back to life, the American patient is now tending to the Italian doctor.