Slovakian police ordered the arrests of several Italian citizens as part of an investigation into the murder of investigative reporter Ján Kuciak and his partner, Martina Kusnirova.
At least seven people were detained on Thursday, following raids on properties in the eastern part of Slovakia. The estates were linked to individuals Kuciak was investigating as part of his reporting into Italian organized crime infiltration in the country, according to local media reports quoted by the Associated Press.
Slovakian news publication Korzar reported that one of the people arrested was Antonino Vadalà—an information confirmed by police President Tibor Gaspar. Vadalà is an Italian entrepreneur and a former business partner of Maria Troskova, a former model and assistant to Prime Minister Robert Fico who resigned on Wednesday along with national security council secretary Viliam Jasan.
Jasan and Troskova denied any links to the murder.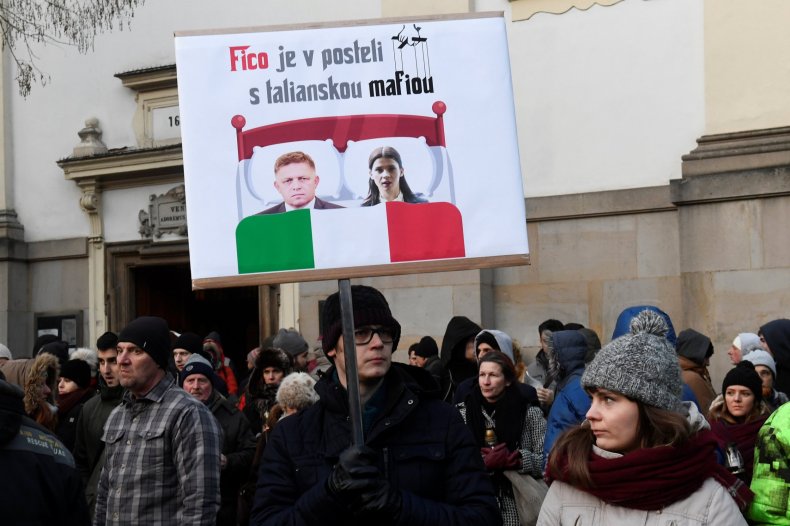 Vadalà's brother Bruno and cousin Pietro Catroppa were also arrested, sources told the news publication Aktuality.sk, the outlet where Kuciak worked. His latest investigation concerned alleged abuses of European Union funds, Italian businessmen operating in the agricultural sector in Slovakia and their links to the Italian organized crime and the Slovakian government.
Kuciak's report was part of an international effort involving the international Organized Crime and Corruption Reporting Project (OCCRP), the Czech Center for Investigative Journalism (CCIJ) and the Investigative Reporting Project Italy (IRPI). His uncompleted story linking Vadalà to the 'Ndrangheta crime syndicate—originating from the Italian region of Calabria and currently considered one of the world's most powerful criminal organizations—was published posthumously on Wednesday by Aktuality.sk and OCCRP in an effort "to set the record straight and minimize the danger for the reporters who have worked on it," the organizations said.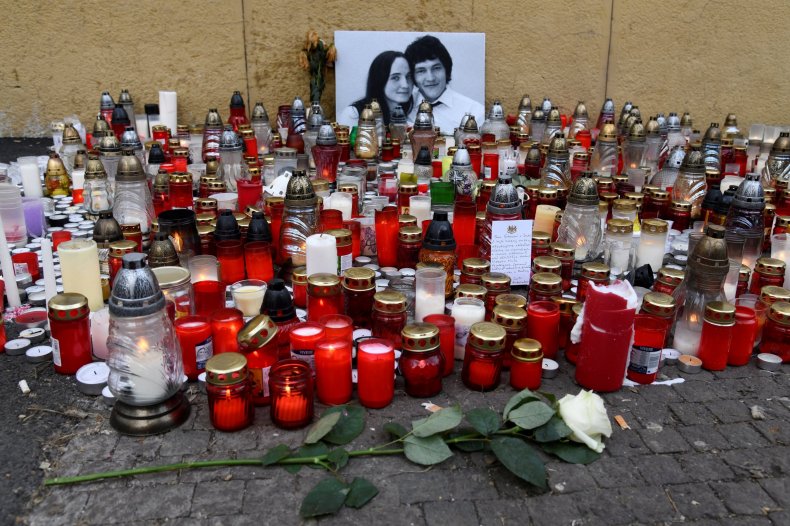 The bodies of Kuciak and Kusnirova, both 27, were found with gunshot wounds on Sunday evening in their newly bought home in Velka Maca—40 miles east of the capital Bratislava. The killings, the first murder of a journalist in Slovakia, horrified and shocked the country. Culture Minister Marek Madaric, a long-time senior member of Fico's Smer party, resigned on Wednesday saying he could not "put up with a journalist being murdered" during his tenure, Reuters reported.
Hundreds of people took part in an anti-corruption protest in Bratislava on Wednesday, and more demonstrations were planned for Friday in Bratislava and other European capital like Prague, London and the Hague.