PM Matteo Renzi to Resign After Italian Referendum's Stinging Defeat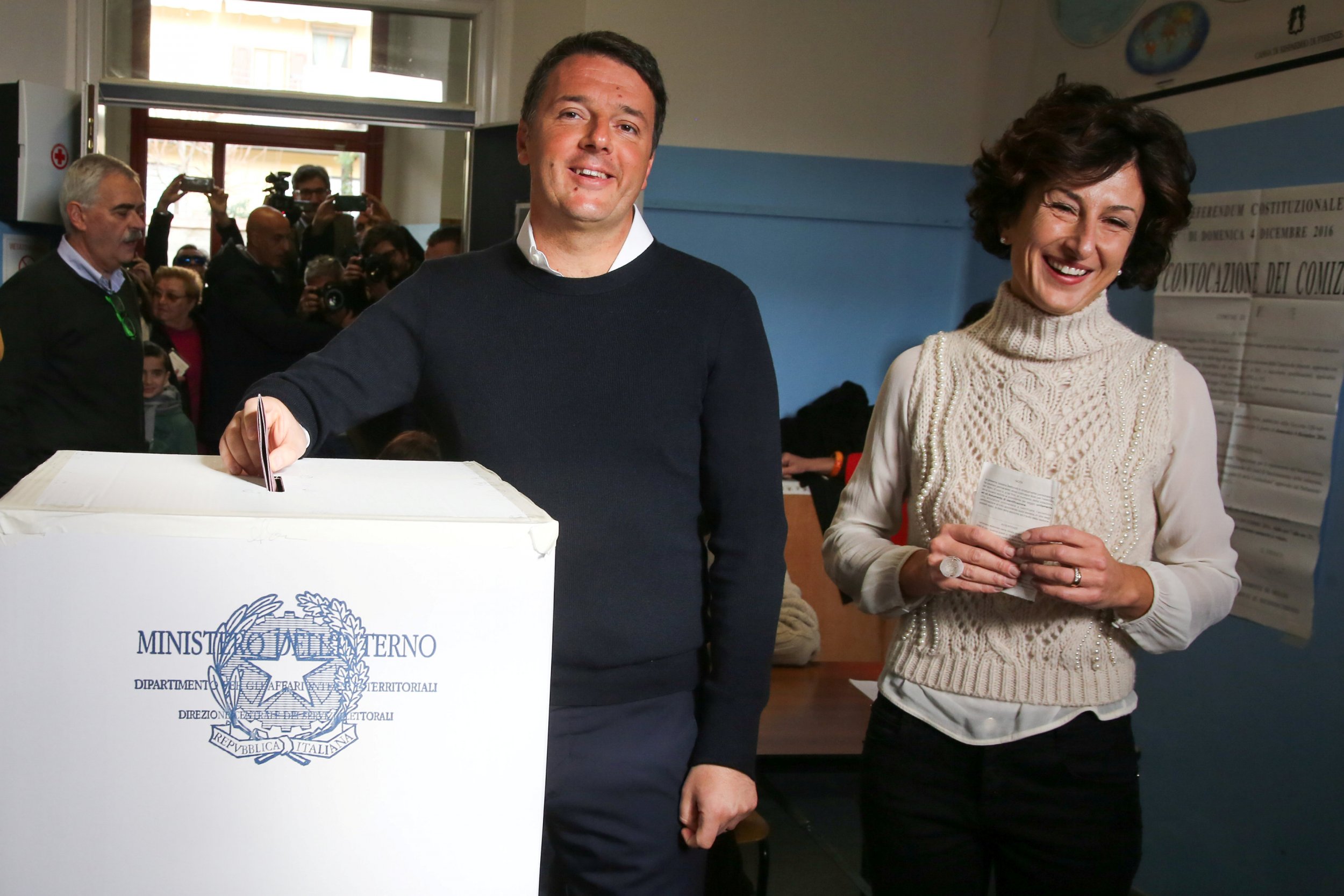 Updated | Prime Minister Matteo Renzi has lost a referendum on constitutional reform by a wide margin, exit polls and early projections showed on Sunday, and he will resign his office.
"The experience of my government ends here," Renzi said in a televised address to the nation after early voting results suggested his 'Yes' camp may have lost the referendum by as much as 20 points. Renzi said he took full responsibility for the "extraordinarily clear" defeat and that on Monday afternoon he would convene his cabinet and then hand in his resignation to President Sergio Mattarella.
The result would represent a fresh blow to the European Union which is struggling to overcome an array of crises and was eager for Renzi to continue his reform drive in the euro zone's heavily indebted, third-largest economy. Defeat could also prompt fresh market ructions, especially in the banking sector which has lost almost half its value this year on the Milan bourse, hit by fears over its huge exposure to bad loans accumulated during years of economic downturn.
Renzi, 41, took office in 2014 promising to shake up hidebound Italy and presenting himself as an anti-establishment "demolition man" determined to crash through a smothering bureaucracy and redraw the nation's creaking institutions.
Sunday's referendum, designed to hasten the legislative process by reducing the powers of the upper house Senate and regional authorities, was to have been his crowning achievement.
However, his reforms so far have made little impact, and the opposition 5-Star Movement has claimed the anti-establishment banner, tapping into a populist mood that saw Britons vote to leave the European Union and Americans elect Donald Trump president.
EARLY ELECTIONS
Under Italian law, Renzi had to call a referendum on his plans to overhaul the constitution, but it was his decision to pin his future to the outcome, arguing that if Italy was not willing to accept his recipe for change he should leave office. This move turned the vote into a defacto plebiscite on Renzi himself, uniting disparate opposition forces in a fierce battle to unseat Italy's youngest prime minister that played out over months of relentless campaigning.
As head of the largest party in parliament, Renzi would have a big say on who should succeed him.
After voting in Genoa earlier on Sunday, Beppe Grillo, founder of the anti-euro 5-star Movement which backs a 'No' vote, said the country needed to go to new elections as soon as possible. His party is running neck-and-neck with Renzi's Democratic Party (PD) in the opinion polls.
The biggest immediate loser if the 'No' camp has indeed triumphed could be Italy's third-largest bank, Monte dei Paschi di Siena, which is bowed by bad loans and is looking to raise 5 billion euros ($5.3 billion) this month to stave off collapse.
Investors are likely to shun the operation if political chaos prevails, meaning a state intervention will be needed to save it. Several other lenders also need a cash injection to stay afloat raising fears of a domino-effect crisis.
Economy Minister Pier Carlo Padoan sought to calm nervous markets on Friday, saying there was "no risk of a financial earthquake" if 'No' wins, though there may be "48 hours of turbulence."
This post has been updated to include news of Renzi's resignation.